News
Welsh language group launches fundraiser to buy home of the 'mother of direct action'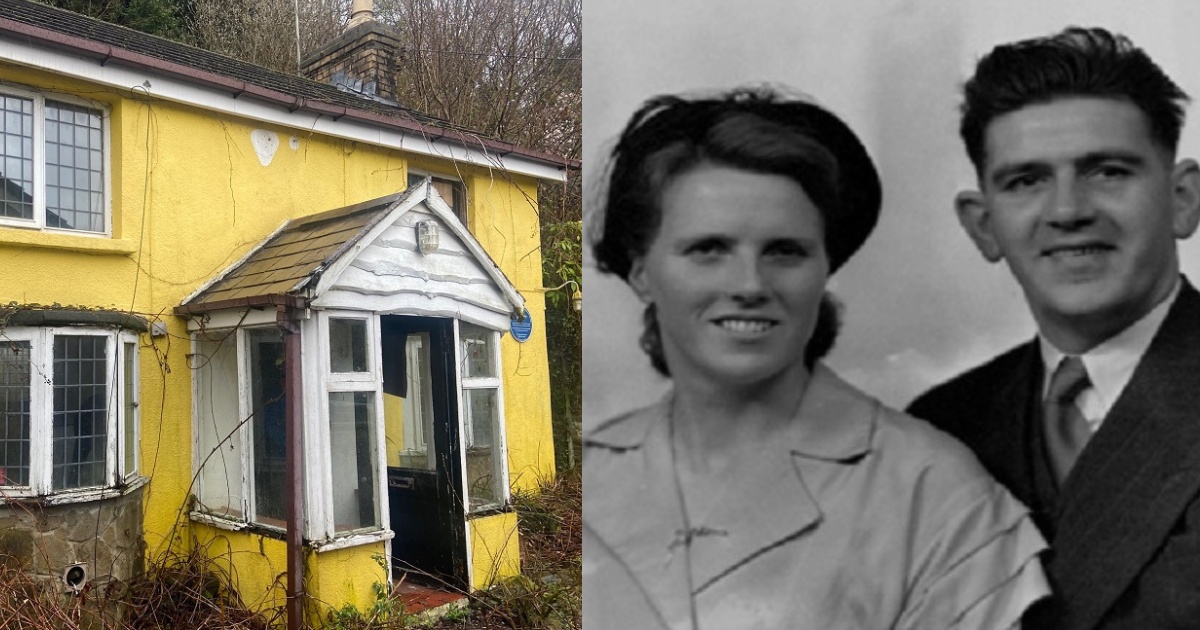 A campaign to buy and preserve the former home of the woman described as the 'mother of direct action' and her husband, has been launched by a Welsh Language group.
When Eileen and Trefor Beasley made the decision not to pay their council rates unless they were billed in Welsh, back in 1952, they did not know that their steadfastness would lead to them losing many of their belongings and result in a short imprisonment for Trefor.
But they hoped that by demanding this simple and basic courtesy from the council of their predominantly Welsh speaking town of Llanelli, that they would secure the right to use their first language in all matters.
Welsh language group, Menter Cwm Gwendraeth Elli is now hoping to raise enough funds to buy the Beasley's former home, which currently stands empty and derelict, so they can create a heritage centre in honour of their legacy, telling the fascinating story of the battle for the Welsh Language.
The group say that all of the campaigning and protesting that led to the Welsh Language being given official language status in its own country, stem from that one decision that was made by the typical, yet totally groundbreaking Welsh couple, whilst sitting on their sofa at 2 Yr Allt, Llangennech.
The sofa they sat on would soon be carried out of the house – along with chairs and tables, the piano, carpets, bookcases and even food from the larder – by bailiffs who were receiving their orders from the local council which refused to issue a bilingual tax bill, even though 90% of Llanelli spoke Welsh at that time.

Human right
The Beasleys refused to pay their taxes until they were asked for it in Welsh, something they considered was their basic human right.
They stood in front of a judge more than a dozen times and insisted that proceedings be carried out in Welsh, even when it resulted in their possessions, actually worth more than the rates, being carried out of their small cottage on the hill.
The council maintained that it was 'not under any obligation to print rate demand notes in any language except English', and battled the Beasleys for another eight years.
During that time, both Eileen and Trefor were elected as local councillors in 1955 for Plaid Cymru on Llanelli district council.
As their first female member, Eileen didn't even have a ladies toilet she could use.
Finally in 1960 the couple won their battle and received a bilingual bill, leading the way to what is now standard practice for all councils, government bodies and educational establishments in Wales.
Three out of the eighteen pages of Saunders Lewis' 'Tynged yr Iaith' radio speech refer to the Beasleys, inspiring people to stand up and correct the situation where Wales' native tongue had no official status.
Campaign
Derek Rees, one of the organisers behind the fundraising campaign, said: "I truly believe this house is as important a structure as Ty Mawr Wybrnant or Bont Drefechan when it comes to understanding the history of the Welsh Language.
"We have created a gofundme page and we kindly ask all of those who have benefitted from their stand or who are interested in the history to contribute.
"If anyone would like to contribute outside of the online campaign they are more than welcome to contact us at the center, 01269 871600 or [email protected]"
---
Support our Nation today
For the price of a cup of coffee a month you can help us create an independent, not-for-profit, national news service for the people of Wales, by the people of Wales.