News
Welsh Minister met 'apologist for Nazi collaborators'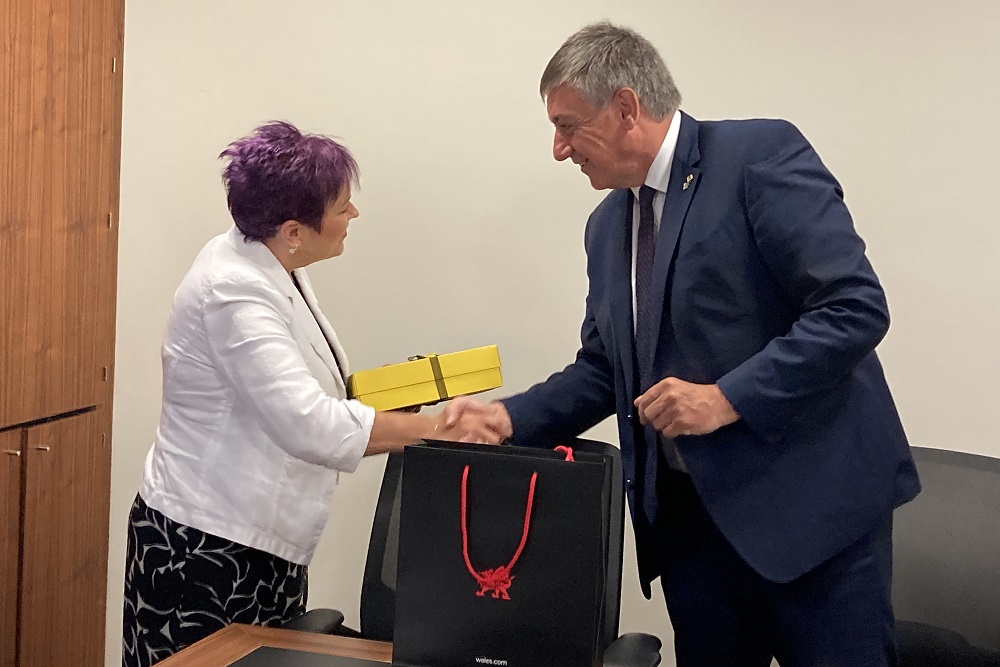 Martin Shipton
The Welsh Government has been criticised after Deputy Arts Minister Dawn Bowden met a senior Belgian politician who once made excuses for fellow citizens who collaborated with the Nazi occupiers during World War Two.
Jan Jambon is currently Minister President in the Belgian region of Flanders.
Last week, when he met Ms Bowden at the Senedd, the Welsh Government tweeted: "This morning Deputy Minister for Arts, Sport and Tourism @Dawn_Bowden was delighted to welcome Minster President of Flanders @JanJambon and speak about cultural opportunities between Wales and Flanders."
Mr Jambon has been involved in a number of controversies over the years. When, in 2014, he was appointed Interior Minister as part of a new right wing coalition to govern Belgium, opposition members of Parliament hijacked the policy speech of Prime Minister Charles Michel, demanding that he explain the attitude of Mr Jambon and another Flemish Nationalist Minister towards wartime collaboration with Nazi occupiers.
Mr Jambon had appeared to justify collaboration with Nazi occupiers in an interview published by French-speaking daily La Libre Belgique.
"Collaboration was a mistake, but those who collaborated with Germany had their reasons," Mr Jambon was quoted as saying.
He belongs to the nationalist New Flemish Alliance (N-VA), led by the controversial separatist campaigner Bart De Wever.

Waffen SS
In 2001, Mr Jambon spoke at a gathering of an ultra-nationalist group known to include former Flemish volunteer members of the Waffen SS.
He has also been pictured attending a rally by France's former far-right leader Jean-Marie Le Pen, who notoriously described the Holocaust as a "detail of history".
His comments in 2014 triggered a furious backlash, prompting his party to release a statement condemning both wartime collaboration and the "dishonest exploitation" of his quotes.
The row reopened old wounds over Belgium's wartime history, a divisive chapter in a country that is already bitterly divided between the richer Flemish north and the poorer French-speaking south.
The purge of Flemish collaborators after World War Two has left a sour taste in the country's north, where some believe that the French-speaking south failed to prosecute collaborators from their own ranks.
Mr Michel sought to quell the row over his two controversial cabinet ministers, telling public broadcaster RTBF that "both had assured [him] that they considered collaboration unacceptable".
Active collaboration
Belgium was occupied by Nazi Germany from 1940 to 1944, and there was active collaboration with the Nazis in persecuting Jews.
Some 50,000 Jews lived in Belgium in the 1930s and about half were killed during the Holocaust. In 2002, the then Prime Minister Guy Verhofstadt apologised to the Jewish community for Belgium's role in the Holocaust.
Jeff Jones, a former Labour leader of Bridgend council, said: "It is embarrassing that a Welsh Minister has met someone like Jambon. Clearly no one in the Welsh Government made elementary checks into his background."
A Welsh Government spokesman said: "Ministers meet representatives of governments across the world on a regular basis to discuss a range of issues, and to take forward work on shared priorities.
"While Welsh Ministers will not always share the views and values of the government representatives they meet, they always take the opportunity to promote Wales' values of fairness and respect for all."
---
Support our Nation today
For the price of a cup of coffee a month you can help us create an independent, not-for-profit, national news service for the people of Wales, by the people of Wales.