News
Welsh national parks urged to ban fox hunting on their land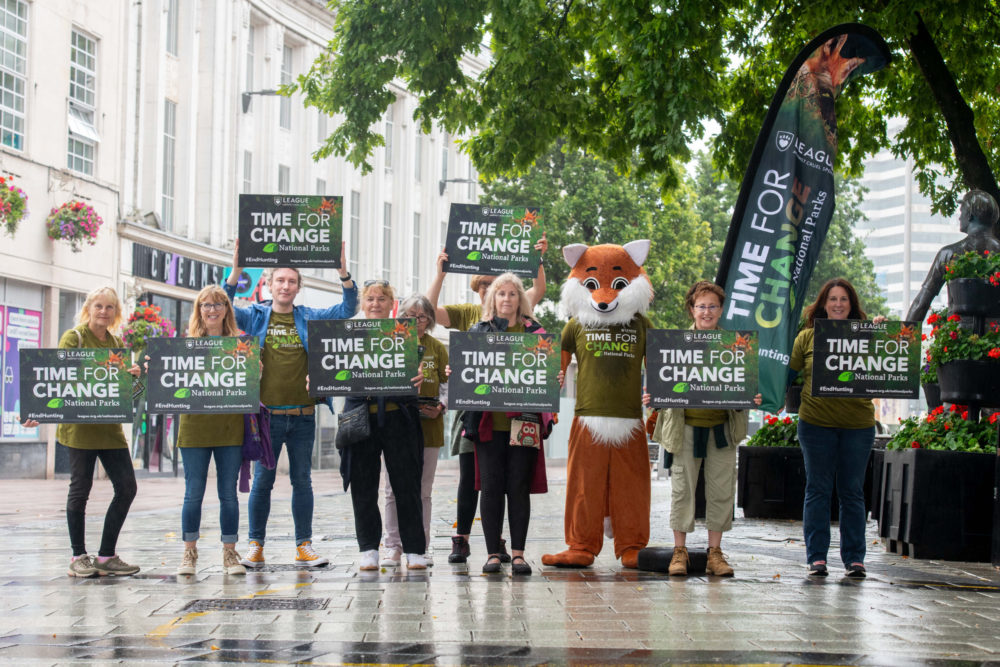 Martin Shipton
Anti-blood sports campaigners have launched the Wales leg of their drive to persuade national park authorities to end fox hunting on their land.
The campaign, spearheaded by the League Against Cruel Sports, calls on those who manage Bannau Brycheiniog, Eryri, and Pembrokeshire Coast national parks to do everything in their power to stop hunts chasing and killing foxes and wreaking havoc on rural communities.
It comes after a hunting season in which nearly 1,000 incidents related to suspected illegal hunting were recorded by the League across England and Wales.
John Petrie, senior campaigns manager for the League, was in Cardiff alongside volunteers to launch the campaign.
He said: "It's time for change. Hunts are still marauding around our national parks despite the fox hunting ban, so it's time to end this brutal activity once and for all.
"National parks have a responsibility to protect wildlife and preserve nature from the harm that fox hunts cause on their land, and the people we have spoken to are willing them on to end this barbaric cruel 'sport'."
At least nine fox hunts are still operating across national parks in Wales, which together make up 20% of the country's land mass.

End fox hunting
Campaigners called on the national park authorities to end fox or "trail" hunting on the land they own and manage, and to show leadership and work with landowners and land managers to deny fox hunts access to their land.
The campaign is backed by the Time for Change Coalition Against Hunting,which represents more than 30 organisations including the RSPCA. It is one of the largest single-issue coalitions of charities ever assembled in the UK and is united in calling on the next UK Government to strengthen hunting laws.
Mr Petrie said: "The vast majority of the Welsh public want to see a real end to fox hunting, and denying hunts access to the land where they operate will be crucial in achieving that.
"Our launch in Wales was part of a wider national campaign to strengthen hunting laws in England and Wales and finally consign fox hunting to the dustbin of history where it belongs."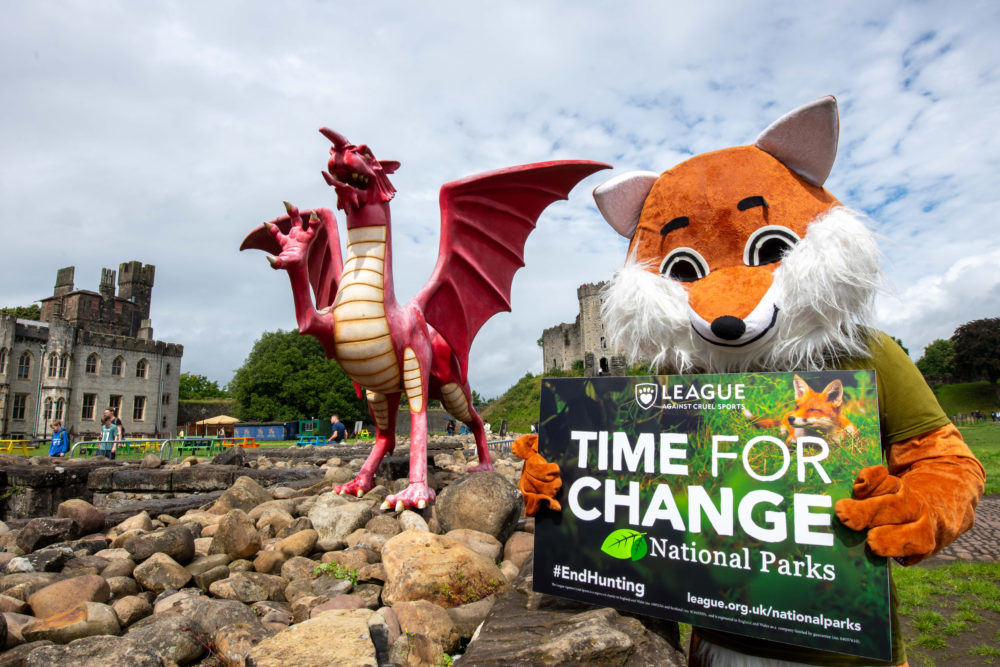 The fox hunting ban came into force in England and Wales in February 2005, but campaigners argue that hunts are still functioning despite the law having been on the statute book for nearly two decades.
Trail hunting, a term invented by hunts following the ban, is where hunts supposedly follow animal-based scents, but has been described by England and Wales' most senior policeman specialising in fox hunting crime as a "smokescreen" for the continuation of illegal hunting.
Chief Superintendent Matt Longman, the National Police Chiefs' Council lead on foxhunting, made the allegation in June at the campaign's launch in England. He said: "The Hunting Act is not working effectively and illegal hunting is still common practice."
Loophole
Under the act, hunting mammals with hounds is banned but trail hunts using the scent of animals are allowed to take place. Mr Longman said hunts were using trail hunts as a loophole to carry on hunting foxes and other animals.
He said: "The simplest reason for the lack of prosecution is that the law needs revisiting.
"Hunts are frequently trailing hunts in natural fox habitats, with hounds trained to locate and kill foxes. So-called terrier men are frequently present with shovels and terriers, while scent trails are often not present."
In October 2021 the director of the Masters of Foxhounds Association, Mark Hankinson, was found guilty of encouraging and assisting people to evade the ban on foxhunting.
The conviction centred on recordings of Hankinson at webinars at which he had encouraged other huntspeople to use legal trail hunting as "a sham and a fiction" for the unlawful chasing and killing of animals.
Mr Hankinson's conviction was, however, overturned on appeal in July 2022.
Smokescreen
In reference to the case, Mr Longman said: "There have even been online sessions that tell people how to avoid being caught by using trail hunting. I can only agree with the view that trail hunting has been used as a smokescreen for continuing illegal hunting."
He suggested the 2005 Act was unworkable, stating: "When new legislation comes to the police there's generally an accompanying toolbox of powers the police can use to enforce the spirit of that law. When the Hunting Act came in, and that toolbox was opened, all it really contained was a leaky sieve. That's been a significant challenge for policing."
He said the Act left police "caught in the middle" between both sides of the hunting debate, adding: "Public confidence in town and country cannot be eroded any further – it is untenable. The Hunting Act is not working effectively and illegal hunting is still common practice. I know it, you know it, the public and the hunts know it. But just in case there's anybody out there who doesn't know it, that is why I felt it was so important to come and speak today."
Tim Bonner, the chief executive of the Countryside Alliance, said: "Hunting remains an obsession for animal rights organisations, but the Labour Party must not repeat the mistakes of the past and fall into the trap of alienating rural voters for the sake of cosying up to single issue, ideological obsessives."
---
Support our Nation today
For the price of a cup of coffee a month you can help us create an independent, not-for-profit, national news service for the people of Wales, by the people of Wales.