News
Welsh police bosses call for empathy and sensitivity when speaking about refugees and vulnerable migrants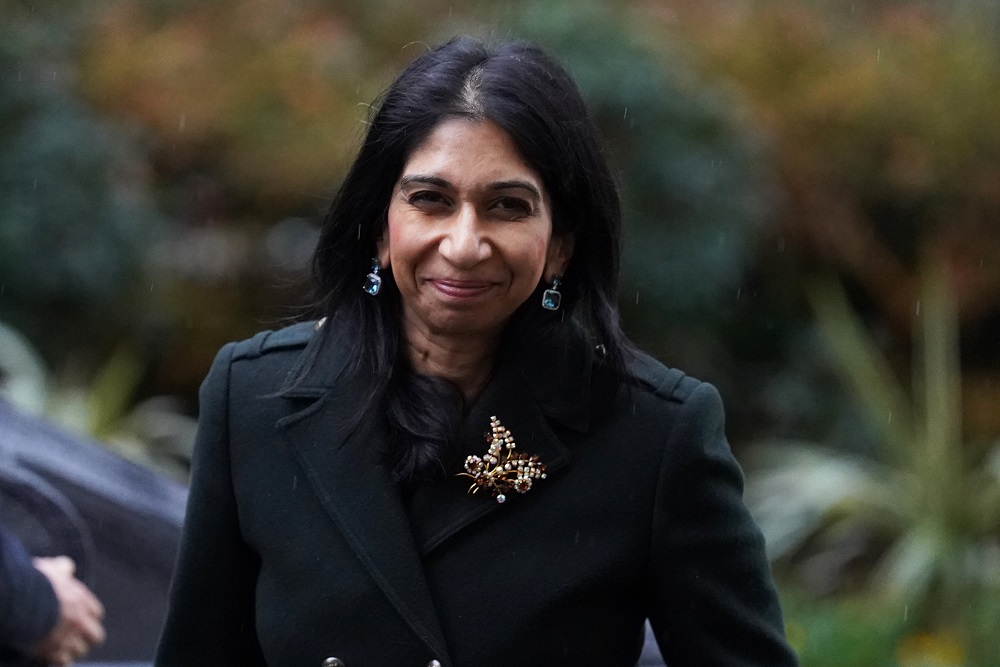 Siân Williams
Current and former Welsh Police and Crime Commissioners are calling for empathy and sensitivity when speaking about refugees and vulnerable migrants.
Their comments come after Home Secretary Suella Braverman was widely criticised for talking about an "invasion" of refugees into the UK, and her subsequent refusal to apologise for her remarks.
The minister added insult to injury when she recently refused to apologise for her comments when confronted by 83-year-old Holocaust survivor Joan Salter, during a meeting at Mrs Braverman's Fareham constituency in Hampshire.
In a video which can be seen online, Joan Slater slams the Home Secretary for her "dehumanising language".
BREAKING: a Holocaust survivor just confronted Suella Braverman to say: your hateful language has consequences pic.twitter.com/o8EjIkrLRA

— Freedom from Torture🧡 (@FreefromTorture) January 14, 2023
With microphone in hand, the elderly lady explains that she was a child survivor of the Holocaust. She says she was forced to flee from Belgium to the UK in 1947. She compares her journey across war torn Europe and across the English Channel to the journey refugees attempt in small boats today.
Joan Slater told Mrs Braverman: "When I hear you using words against refugees like 'swarms' and an 'invasion', I am reminded of the language used to dehumanise and justify the murder of my family and millions of others.
"Why do you find the need to use that kind of language?"
Thanking the Holocaust survivor for her comments, the Home Secretary, who is responsible for policing and law and order, refused to apologise for her choice of words.
Human rights charity Freedom from Torture has rejected a Home Office request to delete the video from their social media.

Vulnerable people
Three of the four current Welsh Police and Crime Commissioners, as well as one former commissioner, told Nation.Cymru that moderate language and sensitivity are called for when discussing vulnerable people who seek sanctuary.
Arfon Jones was North Wales Police and Crime Commissioner from 2016 – 2021 before he retired. Prior to that, Mr Jones spent 30 years as a police officer and reached the rank of Inspector.
He says that the answer given by the current Home Secretary to the Holocaust Survivor, "Was totally inappropriate – her attitude towards this lady had no empathy whatsoever and I thought it nasty.
"These people are smuggled into the country, they are exploited, and then populist politicians accuse them of being illegal immigrants. Many of these vulnerable people are totally without blame.
"Suella Braverman is Home Secretary and responsible for policing and law and order – she shouldn't be allowed to get away with this kind of behaviour. It is unacceptable and if I were still a PCC, I would have publicly called her out on it."
Her predecessor, Priti Patel, who was Home Secretary from 2019 to 2022 also showed a complete lack of sympathy towards, "vulnerable people many of whom are victims of modern slavery," added Mr Jones.
When he was a serving police officer, Mr Jones said: "I worked under many a different Home Secretary. But the one we have now is not fit for purpose.
"I am completely surprised that current Police and Crime Commissioners (PCC) have not called her out already."
Nation.Cymru contacted the offices of Wales's Police and Crime Commissioners.
We received a statement from them all except Alun Michael who represents the South Wales region.
Jeff Cuthbert, Police and Crime Commissioner for Gwent said: "Maintaining good community cohesion is very important for policing as is reducing tension. Comments such as these are troubling and very unhelpful."
Dafydd Llywelyn, Dyfed-Powys Police and Crime Commissioner said: "Migration has always existed and will always exist.  The communities of Dyfed-Powys have always welcomed families to the area who are fleeing their country because of conflict and difficult circumstances – most recently, from Syria and Ukraine for example.  These are vulnerable people, including children, all of which who are in need of international support and protection, and I would urge public figures to discuss matters in relation to migration with sensitivity and empathy."
Andy Dunbobbin, Police and Crime Commissioner for North Wales said: "I know that in Wales we have an ambition to be a Nation of Sanctuary – something which I fully endorse. In very recent times, we have welcomed families from Syria, Afghanistan and families from war-torn Ukraine. They come over in the hope of remaking their lives here and positively contributing to our communities.
"I would urge all sides to use temperate and moderate language around what is a sensitive issue, involving vulnerable people. Changes to the law around migration are not within the power of a Police and Crime Commissioner, but all public figures have the power to discuss these matters in a way that is balanced and takes into account the feelings of all those directly affected by a particular issue."
Home Office
Nation.Cymru contacted the UK Government's Home Office for a response.
A spokesperson said: "The Home Secretary attended an event and took questions, including on immigration policy. Footage of a conversation with a holocaust survivor is circulating online. The video has been heavily edited and doesn't reflect the full exchange.
"The Home Secretary listened carefully to the testimony. She thanked her for sharing her story.  The Home Secretary also expressed her sympathy and set out why it is important to tackle illegal migration.
"Since the footage misrepresents the interaction about a sensitive area of policy, we have asked the organisation who posted the video to take it down."
---
Support our Nation today
For the price of a cup of coffee a month you can help us create an independent, not-for-profit, national news service for the people of Wales, by the people of Wales.