News
Welsh politician linked to men accused of being Kremlin agents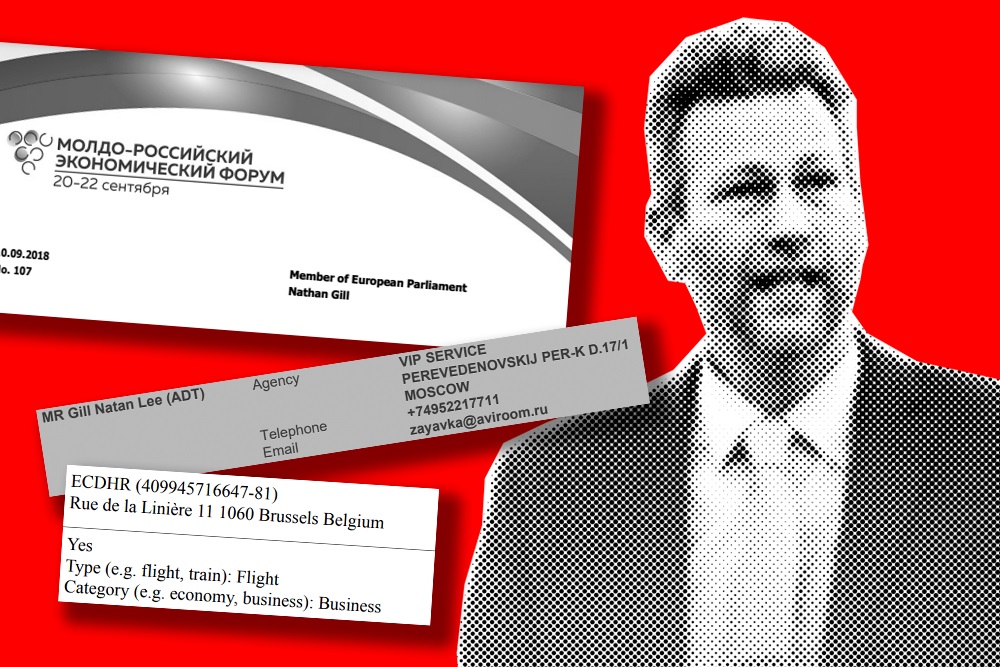 Luke James
A Welsh politician met pro-Russian leaders in Ukraine and Moldova on multiple trips organised by men now accused of being Kremlin agents, Nation.Cymru can reveal.
Nathan Gill was a member of the European Parliament for Wales when he made three visits to Ukraine and one to Moldova between May and November 2018.
Three of those trips were paid for or arranged by an organisation run by Janusz Niedźwiecki, a Polish national now in pre-trial detention on espionage charges, while at least one also involved Oleh Voloshyn, a Ukrainian considered an "FSB pawn" by the US Government and suspected of high treason by Ukraine.
The two men were part of a Russian lobbying operation targeting western politicians which members of the UK Parliament have been warned to avoid.
Gill was among those who "played into the hands of the pro-Russian forces in Ukraine", according to Anton Shekhovtsov, a Ukrainian academic and author of "Russia and the Western Far Right."
"[Gill was] low level maybe but he was at that time still a member of the European Parliament so it's a position that was enough for those pro-Russian politicians for their purposes," Shekhovtsov told Nation.Cymru.
"You need to show some foreigners, members of the European Parliament, who approve of your activities and that gives you more legitimacy on the domestic level."

Victory Day
The former UKIP and Reform UK leader in Wales first visited Ukraine in May 2018 to attend a Victory Day parade in Dnipro organised by leading figures in the country's pro-Russian party known as the Opposition Block.
According to transparency documents published by the European Parliament, the three day visit was funded by the "Ukrainian Perspective Charity Foundation" of Oleksandr Vilkul.
At the time, Vilkul was one of the country's leading pro-Kremlin politicians, although he unexpectedly took a leading role in the defence of Ukraine when Russia began its invasion.
The two men who organised the trip did not make a similar conversion.
Gill's primary contact was Niedźwiecki, a Polish national who acted as a "facilitator of international contacts for Ukrainian pro-Russian politicians", according to a report on his activities by Shekhovtsov for the European Platform for Democratic Election.
In early 2018, Niedźwiecki wrote to Gill with the practical arrangements for the visit and also extended an invitation to meet him in Strasbourg during a session of the European Parliament.
"If you have time I would love to invite you for a dinner so that we could discuss all the details in person", wrote Niedźwiecki.
In the letter, Niedźwiecki indicated that he was a representative of the 'ECDHR', an acronym for the "European Council on Democracy and Human Right".
"The very idea of launching the ECDHR came from [Leonid] Slutsky," according to Shekhovtsov.
Slutksy is the chairman of the Russian parliament's committee on international affairs and was one of the first seven people to be sanctioned by the US Government following Russia's annexation of Crimea in 2014.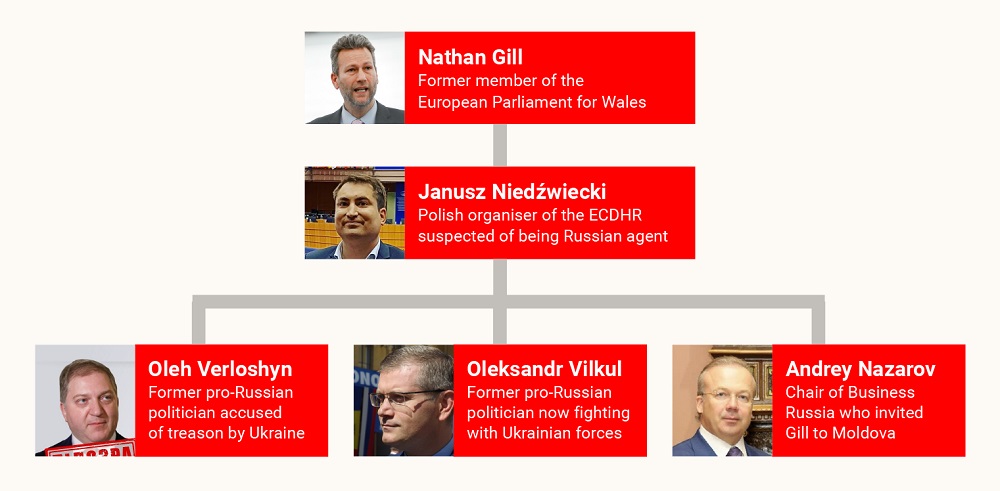 ECDHR
It was the ECDHR who financed Gill's next two trips, according to Welsh politician's transparency declarations to the European Parliament.
First, in September 2018, a three day stay at a five-star hotel in Moldova, where Gill took part in the "Moldo-Russian Economic Forum" at the invitation of Andrey Nazarov, the chairman of Business Russia.
Gill's business class flight to Chișinău was booked by Moscow-based travel agency "VIP Service."
According to the agenda for the event, Gill spoke alongside Nazarov on the topic of "the economic multi-vector nature of Moldova."
The moderator of the debate was Manuel Ochsenreiter, the editor of a German far-right magazine, who acted as a Russian propagandist in Germany and was suspected of involvement in an arson attack in Ukraine. The case was dropped when Ochsenreiter died in Moscow in 2021.
A month after his visit to Moldova, Gill embarked on another visit apparently funded by the ECDHR, again involving business class flights and a five-star hotel.
"It is unlikely that ECDHR would use its own money for this purpose," notes Shekhovtsov's report.
Fact finding trip
This time, it was for a "fact finding trip" to Kyiv about the "situation of freedom of press in Ukraine", alongside two other UKIP MEPs.
After returning, Gill became a board member of two pro-Kremlin TV stations which were shut down by the Ukrainian government,  112 Ukraine and News One, and twice spoke about them in the European Parliament.
Welsh Government minister Mick Antinow, who is of Ukrainian heritage, wrote at the time that it was "interesting that Nathan Gill is so keen to support this TV channel which is widely believed in Ukraine to be a pro-Putin Russian propaganda front."
In May 2021, Niedźwiecki was arrested in his home country on suspicion of espionage for Russia, which carries a prison sentence of up to 10 years.
More than €65,000 and a large number of data storage devices were seized as part of the ongoing investigation.
"The suspect conducted his activities in Poland, the European Union and other countries," the office of Poland's national prosecutor said in a statement.
"They were part of Russian propaganda and disinformation activities undertaken in order to weaken the position of the Republic of Poland in the EU and on the international arena. The suspect is still subject to a preventive measure in the form of pre-trial detention."
Gill was a "prominent example" of the network developed by Niedźwiecki, according to Shekhovtsov.
Niedźwiecki was though "just an organiser" who was "in charge of logistics", added the expert.
He said: "I believe the first contacts with Gill were made by the Ukrainian side, by those pro-Russian politicians, namely Oleh Verloshyn. Verloshyn is the main man here."
Sanctioned
Oleh Voloshyn was a pro-Russian politician in Ukraine who was last year sanctioned by the US Treasury for "having acted or purported to act for or on behalf of, directly or indirectly, the Government of the Russian Federation."
His name appears, along with that of his partner, in emails provided by Gill to the European Parliament as proof of his first visit to Ukraine in May 2018 for the Victory Day parade.
Voloshyn is believed to have fled to Belarus at the outbreak of the war and was last month placed under suspicion of high treason by the Ukrainian authorities.
"He deliberately acted to the detriment of the sovereignty, territorial integrity, inviolability, defense capability, state, economic and information security of Ukraine," the Security Service of Ukraine said in a statement.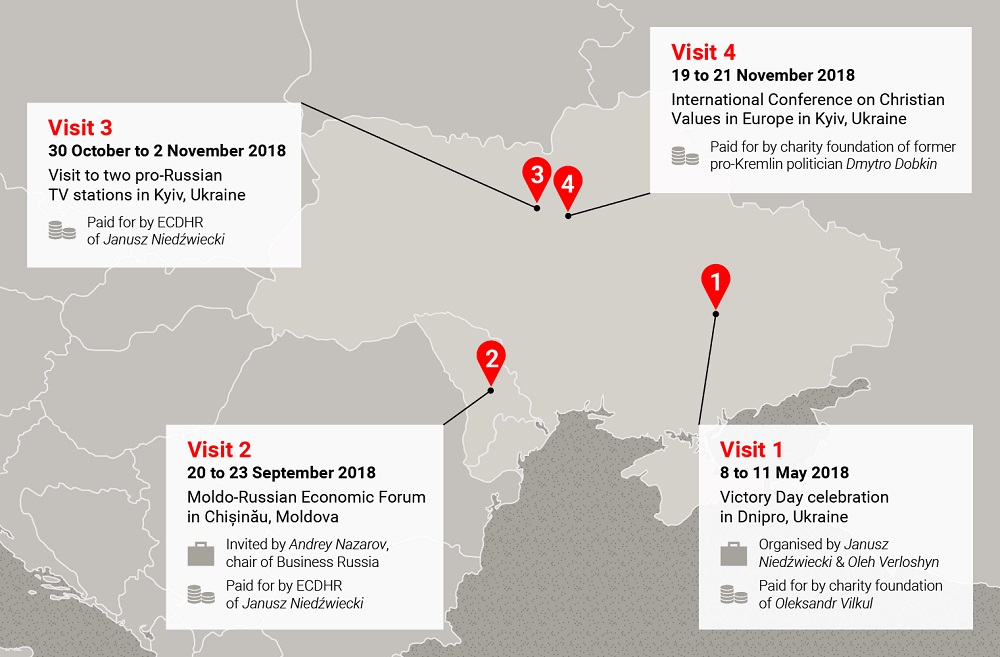 Gill's fourth and final visit to the region in 2018 was to Kharkiv, Ukraine, where he took part in a conference on "Christian values" organised by Mikhail Dobkin, who was at the time a "pro-Kremlin" politician who was sanctioned following Russia's annexation of Crimea in 2014.
Earlier the same year, Gill had invited Dobkin to speak at a similar event in the European Parliament.
Like Oleksandr Vilkul, Dobkin has since switched allegiances to support the defence of Ukraine. "Unsurprisingly, some formerly pro-Russian politicians are trying to adapt to the new reality by adopting a pro-Ukrainian stance," according to Ukraine expert Konstantin Skorkin.
Gill could not be contacted for comment by Nation.Cymru.
Interest
The former UKIP and Reform UK MEP showed an interest in Ukraine from the start of his political career.
In his maiden speech in the European Parliament in 2014, he said: "The Ukraine is a buffer zone between NATO and Russia; the EU has taken away this buffer zone, potentially putting NATO tanks on the border with Russia. What you are doing today is throwing petrol onto the bonfire which the EU lit."
His penultimate contribution as an MEP was also on the issue of Ukraine and the closure of the pro-Russian TV stations he had visited.
He has not commented publicly on the invasion of Ukraine although, speaking in the European Parliament in 2018 about the annexation in Crimea, he said: "We all stand by Ukraine and we support its sovereignty and its territorial integrity."
Nation.Cymru also contacted UKIP, the part of which Gill was a member at the time of the visits.
In a written statement, UKIP leader Neil Hamilton said: "I cannot recall hearing about this at the time. Gill was a very part-time member of the Welsh Assembly, whilst double-jobbing as an MEP, until Dececember 2017. I don't think I ever encountered him after that.  He was completely useless but very interested in expenses and freebies."
---
Support our Nation today
For the price of a cup of coffee a month you can help us create an independent, not-for-profit, national news service for the people of Wales, by the people of Wales.