News
Welsh Refugee Council wins top award for helping those fleeing persecution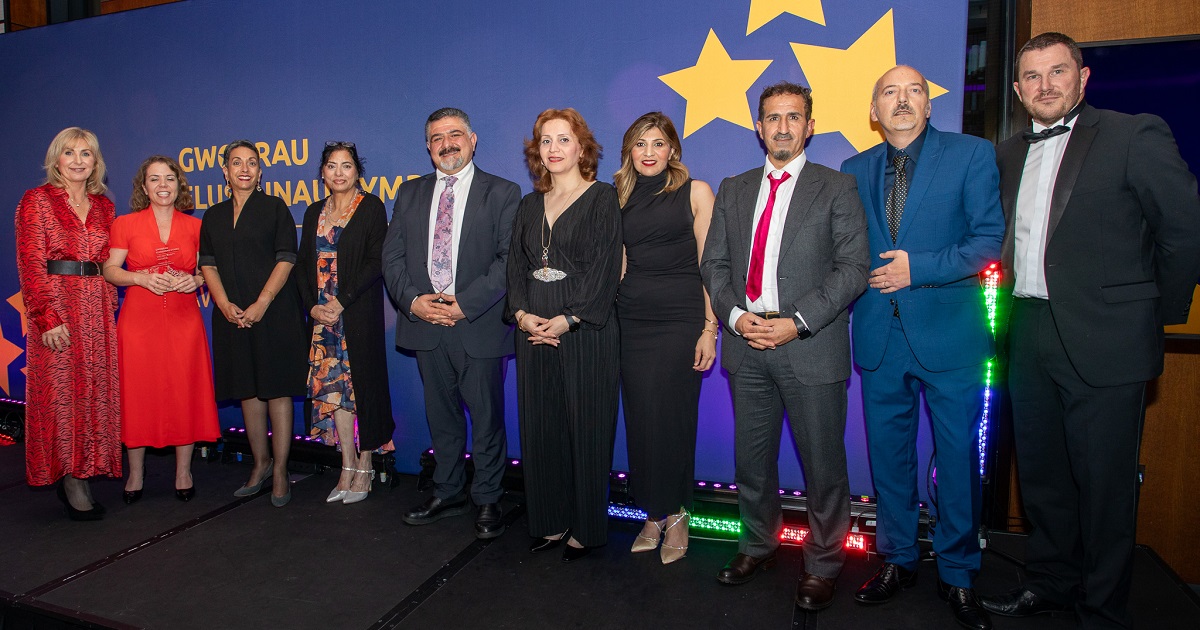 Martin Shipton
The Welsh Refugee Council has been named Organisation of the Year at this year's Welsh Charity Awards in recognition of its outstanding contribution in supporting asylum seekers and refugees across Wales.
The accolade follows a period when the UK and Welsh Government have been at loggerheads over the reception given to asylum seekers.
While the Welsh Government has declared Wales a "Nation of Sanctuary" where refugees are welcome, the UK Government has been accused of demonising refugees by pushing the narrative that many are illegal "economic" migrants arriving on small boats.
Against the hostile backdrop of the Nationality and Borders Act and the Rwanda Plan, the Welsh Refugee Council (WRC) has worked tirelessly to support asylum seekers and refugees across Wales. Trusted by the diverse communities it serves, the team speaks over 30 languages, with over half of staff having migrant heritage. WRC has succeeded in securing 15 new funding streams and increasing its income by 60% since 2020. Altogether, WRC has delivered 3,000 support sessions to 700 sanctuary seekers from over 50 countries, securing homes for well over 200 refugees who would have otherwise been homeless.
In 2022, the WRC launched the only pan-Wales Ukraine Project, providing immediate advice and welfare support to over 1,700 Ukrainians. New projects were also developed to directly support people from Afghanistan and Sudan. Among WRC's other initiatives was a public campaign, launched in response to the Nationality and Borders Bill, which included the award-winning short film Wales is a Nation of Sanctuary. This led to a public debate at the Senedd, where the Bill was symbolically rejected by MSs.
In addition to fielding 33,000 calls as part of their freephone helpline, and sitting on 44 forums, the WRC team led the Welsh Refugee Coalition and organised the Wales Sanctuary Awards 2023, which successfully attracted 11 new sponsors.
A recruitment training partnership with Ikea led to the company hiring 17 refugees, with WRC also organising weekly drop-in digital sessions in Cardiff and almost 40 employability workshops and one-to-one meetings.
Through the Move On scheme, WRC supported well over 1,000 new refugees and their families to start new lives this past year, delivering over 130 play sessions for their children.

Marginalised
Speaking at this year's awards ceremony at Cardiff's Parkgate Hotel, Matt Brown of the Wales Council for Voluntary Action (WCVA), which organises the event, said: 'Like the Urdd, which won last year's Organisation of the Year, the WRC exemplifies all that is good about the sector. In addition to creating direct services for asylum seekers and refugees, it has given a voice to those that are most marginalised in our society and has been an embodiment of Wales as a Nation of Sanctuary.
"The WRC, like all of our other seven winners, has achieved so much over the past year and is well respected and admired by others in the sector for changing lives for the better. We're thrilled, at WCVA, to be able to honour these eight worthy winners."
Andrea Cleaver, chief executive officer of the WRC, said: "I am delighted to accept this award on behalf of our volunteers and staff helping sanctuary-seekers rebuild their lives in Wales. Despite the hostility shown by the UK Government, I am deeply moved by the daily acts of kindness shown by our staff and volunteers. I am so proud that Wales is a Nation of Sanctuary."
Ms Cleaver said it was important to dispel myths about asylum-seekers and refugees. Contrary to the narrative promoted by some right-wing politicians and media outlets, the Home Office's own statistics showed that the majority of people arriving in Britain on small boats met the criteria for being treated as refugees. The reason why they resorted to small boats was because of the highly restrictive nature of the UK Government's official channels for applying for refugee status.
It was also the case that most refugees went to countries close to where they were fleeing from. Only a small proportion come to Britain, with three times as many being taken by France. Those who come to Britain mainly do so because they have an existing connection or because they speak English.
Ms Cleaver said: "Among the refugees are many with skills that will be of great value to Wales – highly prized scholars, engineers and scientists, for example.
Competition
WRC fought off stiff competition to win the top award from finalists Calan DVS, Cycling4all,FareShare Cymru, and Llamau to win the top award.
Other winners included Nicola Harteveld, who was named Volunteer of the Year. She founded Megan's Starr Foundation after her daughter, Megan, took her own life. She now volunteers 40 hours a week to raise awareness of bullying and to promote good mental health among disadvantaged young people in Pembrokeshire, organising more than 300 hours of training to date.
Young Volunteer of the Year (for volunteers aged 25 and under) is Sara Madi, a 21-year-old asylum seeker, who has become a vital volunteer at the African Community Centre as leader of the Women Breaking Borders young women's group, as an Arabic interpreter, and kick-starting counselling training with Trinity St David University for BME young people.
Income generator of the year is Tŷ Hafan. The cost-of-living crisis led to a 50% drop in donations for Tŷ Hafan, which kick-started a 60-hour public fundraiser using the Appeal Champion model, sharing end-of-life care stories that helped raise £344,649, the most ever for the charity.
The Champion of Diversity award went to Women's Equality Network (WEN) Wales, which collaborates extensively to champion gender equality. Its recent successes include securing gender quotas in Senedd reform and obtaining funding for domestic abuse survivors who have no access to public funds.
The Best use of Welsh Language award was won by Alzheimer's Society Cymru Dementia Support Telephone Service, which supported 281 Welsh-speaking service users through its telephone service in 2022/23 by funding Welsh-speaking dementia advisers to travel to areas without fluent staff and refining its translated materials.
The Trailblazer award went to Community Volunteers Wales. The Pantri, initiated by Community Volunteers Wales in February 2023, is an innovative community food pantry that diverts 400kgs of food from landfill by empowering its members to make sustainable and affordable choices through a £2 food basket subscription.
The Health and Wellbeing award was won by Wye Gymnastics & Galaxy Cheerleading, which uses sport to create positive change, offering inclusive gymnastics and cheerleading opportunities in Monmouthshire and Newport, as well as other diverse initiatives, to successfully transform the health and wellbeing of participants.
---
Support our Nation today
For the price of a cup of coffee a month you can help us create an independent, not-for-profit, national news service for the people of Wales, by the people of Wales.