News
Welsh Tories accused of playing 'grubby little games' with 20mph speed limit petition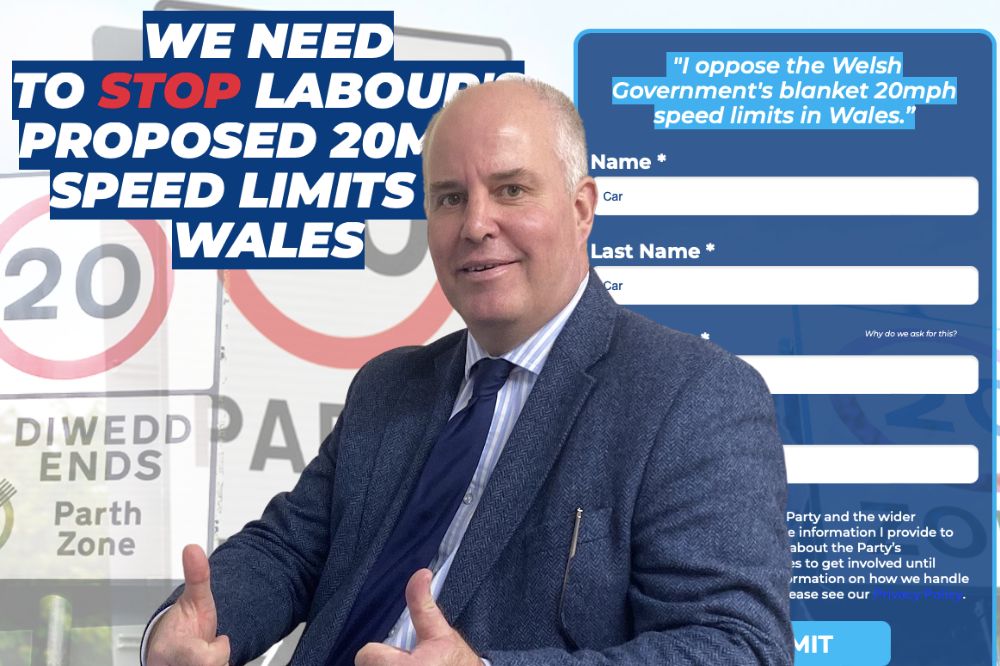 Emily Price
The Welsh Conservatives have been accused of playing 'grubby little games' with a 20mph speed limit petition which they've launched on their own website.
The petition, 'Stop Labour's blanket 20mph Speed Limits' calls for people who disagree with the new speed limit to provide their name, email address and postcode so that their signature can be recorded.
It is not an official Senedd petition meaning there will be no debate as a result of the signatures that are gathered.
Commenting on the petition, Deputy Minister for Climate Change, Lee Waters MS accused the Welsh Conservatives of trying to "weaponise" road safety reform.
The Welsh Tories said the petition had been launched to allow people to voice their "opposition and anger" toward the speed limit change which will come into force in Wales on September 17th.
A 'tickbox' has been included with the petition which once clicked will allow the Conservative Party to use the personal details of signatories to keep them "updated via email about the party's campaigns and opportunities to get involved until further notice".
Plaid Cymru described the petition as an "information gathering exercise" which is being used by the Welsh Tories to "further sow division".
The petition does not include an up to date counter of how many people have signed it and there is no date for when it will close.
The page states that a signatory must provide their postcode in order for the Welsh Conservatives to confirm that "responses have come from within Wales" so the party can record answers against signatories electoral register record.
Nation Cymru tested whether there were any measures in place to validate the details of the people signing the petition.
We used a false name, false email and a non-existant postcode to sign the petition.
Our signature was still counted and we were also able to sign the petition more than once.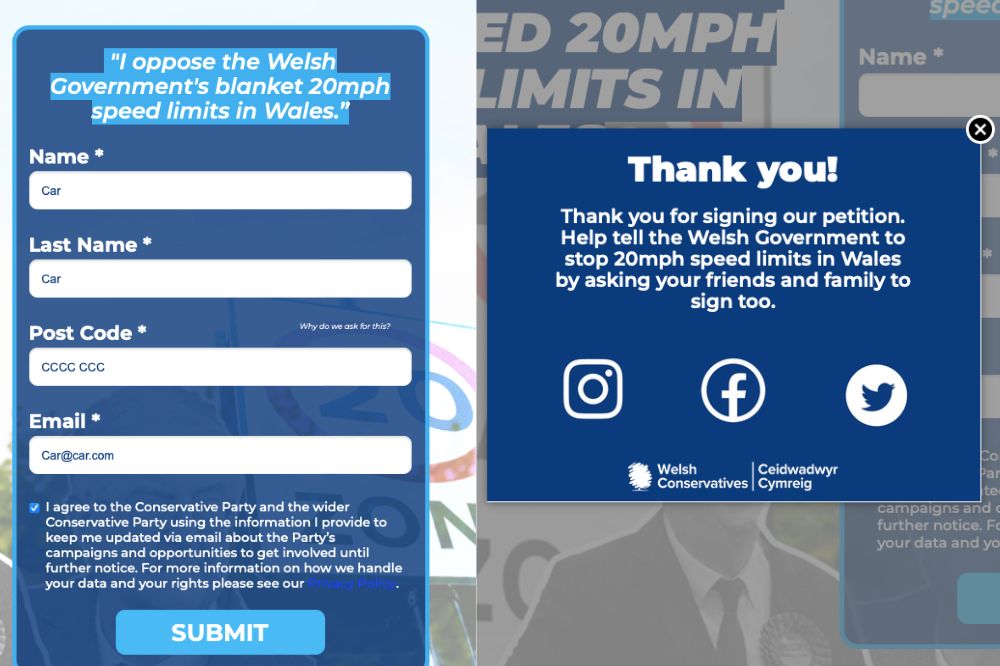 Measures
Deputy Minister for Climate Change, Lee Waters MS said: "The Welsh Tories are trying to weaponise a common-sense road safety reform as part of their culture wars.
"An area-wide 20mph speed limit is being taken forward by Conservative controlled Cornwall Council and the Welsh approach was passed with the votes of Tory Senedd Members just three years ago.
"They have no integrity and no serious interest in making Wales better, they just want to play grubby little games to get some attention."
Nation Cymru asked the Welsh Conservatives what they planned to do with the results of the petition once it had been closed.
We also asked what measures had been put in place to stop people from using false details and signing the petition from outside of Wales or multiple times.
They declined to respond to our questions on how their petition is validating signatories.

"Anger"
Leader of the Welsh Conservatives, Andrew RT Davies MS said: "This is another anti-Welsh Conservative story from a website that is part funded by the Labour Government.
"We make no apologies for representing the views of the people of Wales, along with using petitions, social media and the platforms our elected members have in highlighting the extreme policies of the Labour and Plaid Government, and the harm they are causing."
Also commenting, Welsh Conservative Shadow Minister for Transport, Natasha Asghar MS said: "Our Welsh Conservative petition on blanket 20mph speed limits will allow the people of Wales, whom we represent, a chance to voice their opposition and anger towards this change.
"This is another failed policy by the Labour Government which has been inadequately advertised, and continues to flood the inboxes of MSs.
"Our already stretched and under resourced local authorities will now be inundated with complaints and queries from furious residents.
"Blanket 20mph speed limits will slow the people of Wales down, and cost the economy £4.5bn. Welsh Conservatives will continue to call on the Labour Government to scrap this ludicrous policy."
"Division"
Plaid Cymru warned that anyone concerned about the upcoming speed limit change should be "cautious of the Conservatives' disingenuous actions."
A Plaid Cymru Spokesperson said: "All political parties conduct information gathering exercises to a certain degree. However this must always be done ethically and not used to further sow division.
"In the case of 20mph, the Conservatives would do well to remember their previous support for the cause rather than stirring tensions.
"Plaid Cymru would like to see more community consultation on the 20mph rollout, and would like to remind the public that exceptions can be made on a local government level to this issue, where appropriate.
"By all means contact your local MS to raise that in the Senedd, or your local councillor to raise it locally, but Plaid Cymru would urge people to be cautious of the Conservatives' disingenuous actions."
---
Support our Nation today
For the price of a cup of coffee a month you can help us create an independent, not-for-profit, national news service for the people of Wales, by the people of Wales.