News
Welsh university creates clever paddle board adaption for disabled teenager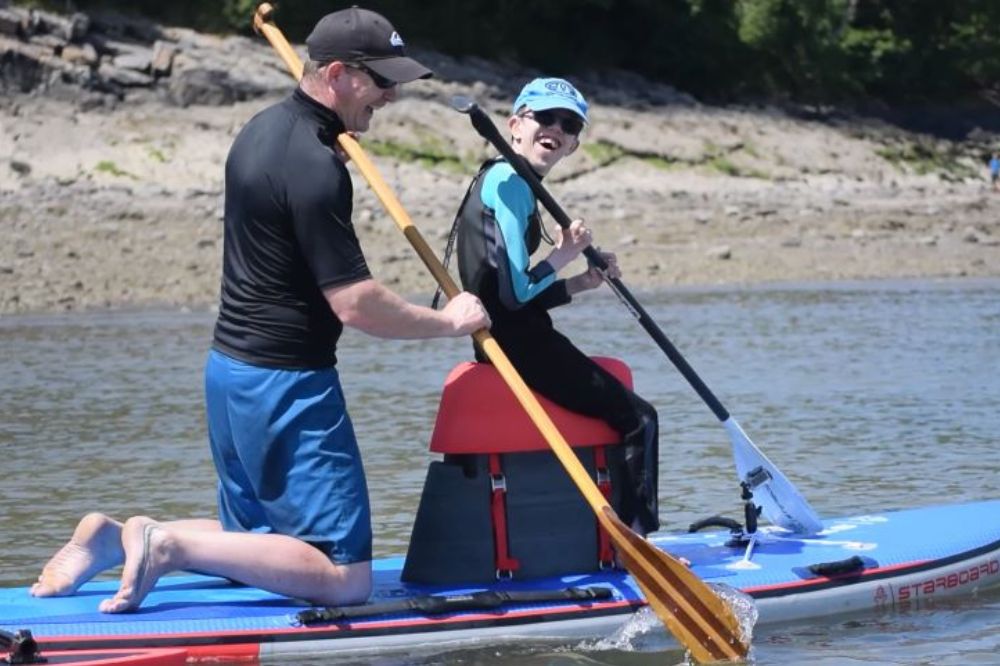 A Welsh university has created a clever adaption to help a disabled teenager discover the thrill of paddle boarding.
University of Wales Trinity Saint David's Dr Ross Head and the team at the university's Cerebra Innovation Centre (CIC) used clever engineering to design a wedge seat that mounts on top of a standard paddle board.
The design allows Rhys, who lives with a rare, progressive genetic condition which affects his extremities and his physical strength, to sit comfortably and unaided.
Dr Ross and his team are renowned for their creative adaptations, having previously adapted a surfboard to allow children with disabilities to experience surfing safely.
Comfort
Rhys had previously tried surfing, and enjoys it when the sea is calm, but found that getting wet and cold was difficult for him.
His mum, Adele, contacted the Innovation Centre to see if they could come up with a plan to help Rhys enjoy the ocean in a different way.
Dr Head said that because Rhys has low muscle tone, designing something that would allow him to sit comfortably and most importantly, safely, was extremely important.
Floats attached to either side of the board give an extra level of safety, ensuring that the paddle board is less likely to capsize.
The adaption met Rhys' needs perfectly as the design of the seat can be adjusted depending on the level of support Rhys needs on a particular day – if he's not feeling great he can drop back to a more supportive chair.

Low risk
Rhys' Mum, Adele gave the board her seal of approval saying: "What I liked about the paddle board is that there is low risk of Rhys falling off it. As he can wear his hearing aids and glasses he's able to see the wildlife and have a better experience in the water.
"Getting out and about is so good for his health and wellbeing. Being able to go out on the board helps Rhys keep fit; it keeps his strength and maintains his physical and mental wellbeing. It has a number of benefits to it as well as him being able to do ordinary things with friends, which keeps it social.
"I have always pushed Rhys a little bit as part of his condition means that he is likely to be deaf-blind when he's older and as his condition progresses he will be more nervous as things change.
"Being able to go out onto the sea and feel comfortable with it now, while his sight and hearing is fairly good, will mean that in the future it'll be a familiar space for him, and he'll have the opportunity to stay active to help his physical and mental health."
Following a successful test run of the paddle board by Rhys, he said: "I really enjoyed paddle boarding. We saw jellyfish! We saw crabs!
"I enjoyed the paddling; it keeps me fit. I feel safe and comfortable on the board. I'd like to go paddle boarding again and I'd like to take my friends."
Professor Ian Walsh, Provost of the Swansea Campus at UWTSD said: "This is a wonderful example of the amazing, life changing work done by the Cerebra Innovation Centre, a partnership between the University of Wales Trinity Saint David and Cerebra."
---
Support our Nation today
For the price of a cup of coffee a month you can help us create an independent, not-for-profit, national news service for the people of Wales, by the people of Wales.