News
Windfarms won't deliver Net Zero, argues leading campaigner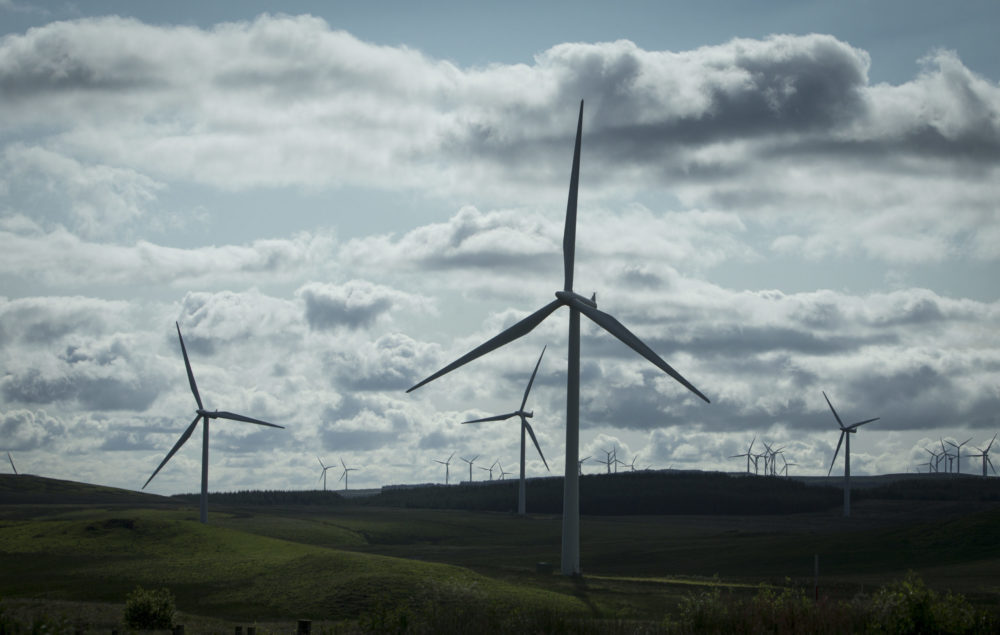 A leading opponent of onshore windfarms by big developers believes she has identified an unanswerable argument to prove her case: the distinction between energy and power.
Lorna Brazell, a retired lawyer who is now secretary of the Cambrian Mountains Society, has written an article for members of the body in which she spells out her reasoning.
At the outset she acknowledges that the escalating climate crisis means humanity/ Wales has to take drastic steps to reduce fossil fuel emissions as quickly as possible. She goes on to state: "In the eyes of the Welsh Government and many individuals, not to mention the investors and developers who propose to build and profit from them, more and larger wind farms (on and/or offshore) are a large part of the solution to this problem.
"The fundamental reason for opposing further commercial wind farms, or the extension/ expansion of existing ones, in and around the Cambrian Mountains, is that for sound technical reasons they do not offer the claimed optimal pathway to materially mitigate Wales' dependence on imported energy, or its carbon emissions, let alone eliminate them.
"In brief, there are two principal problems. The first, the issue of intermittency, is reasonably well known: weather patterns are broadly consistent across the relatively small land area of Wales so that if the wind is not strong enough in one part, it will on average not be strong enough in another. More turbines will not produce more power when, as the existing turbines are not turning because the breeze is light, more power is needed. If there is no national-scale storage system available (and there is not; nor is the provision of one under any serious discussion), generating more power when the wind is blowing simply means more power has to be exported.
"This inconvenient truth is usually disguised by conducting the discussion in terms of the energy produced by renewables, which is their output over a time period. Although on a monthly or yearly basis consumers consume energy, what they need hour-to-hour is power: an average of 10MWh of energy generated over each month does not guarantee enough power to run a toaster being generated at any given time of day.
"The second issue is the supply of power when solar and wind cannot provide it. Unless all consumers (domestic and commercial) change their behaviour to consume power only when renewables are available, a back-up system has to be provided. At present the only technologies available are fossil fuels or nuclear.
"On some occasions, these back-ups will be required to provide all the power the nation needs for periods of weeks at a time. Accordingly, unless nuclear is embraced, governments will continue to support fossil fuel-based power stations. More turbines does not result in zero carbon. Nor does exporting surplus renewable power but then importing fossil fuel-derived power when renewables are low, lead to 'net zero'.
"In the light of these facts, many of the reasons put forward for building more turbines fall away. Meanwhile, the landscape, conservation and well-being disadvantages of commercial windfarms are increasing with the race for ever larger turbine heights. The developers' invariable choice of above-ground pylon chains to connect these new farms to the grid (being cheaper than underground cables) is a further landscape and well-being disadvantage."

Ambiguity
Expanding on her argument, Ms Brazell continues: "The fundamental issue which leads to ambiguity in discussions of renewable energy is the distinction between Energy and Power. Power is like the static pressure in a pipe. It has the potential to do something. Appliances – a tap, a hose – need pressure to operate. Turn it on and, if the pressure is adequate, the device operates. You get a flow of water over time, and the volume of water is what you pay for. With low pressure you can still fill a bath, but it may take all day or week. It will use the same amount of water and cost the same but is of little practical use.
"Electrical appliances consume power: that is, they need energy delivered at a particular 'pressure'. A 2kW toaster needs 2kW of power to run it; if run for two hours it consumes in total 4 kWh of energy. A 1 kW power system would still be able to deliver 4 kWh of energy (by running for four hours) but as at no
point would it deliver the needed 2kW of Power, so it would never turn the toaster on. What flows through the grid is Energy; but it is no use unless the grid delivers sufficient Power."
Turning to the policy of governments subsidising windfarms, Ms Brazell states: "In the supposed name of fighting climate change, governments across Europe are approving the subsidised roll-out of huge quantities of renewable generation capacity. The Welsh Government rationalises the subsidies which it pays for this by supposing 'equivalence': when Wales has surplus, it exports to the UK and Ireland, and when it has a shortfall, it imports. Onshore wind therefore is thought to represent an important possible independent government income stream.
"But in practice the weather systems affecting the wind in Wales affect not just the British Isles but often large areas of Europe too. On average, when Wales has surplus renewable power, Europe has surplus renewable power. When Wales has insufficient renewable power, Europe too has insufficient. Of course Wales can import power, but often at the times it needs to do so, that power will have been produced in the UK or Europe either by burning fossil fuels or from nuclear. This means that the balancing import/export regime does not equate to Wales ceasing to be responsible for burning fossil fuels elsewhere.
"It merely hides the fact of that consumption through a convenient sleight of hand: 'we've sent them 10MWh of renewables to offset the 10MWh of gas-fired energy they have sent us'. "The argument assumes that the supply country will burn fewer fossil fuels when it imports renewable power from Wales. But since, when the weather causes that surplus to arise in Wales, the supply country probably already has weather appropriate to generate enough of its own renewables to meet its ordinary needs, it will already have turned its gas and coal-fired stations down. It will use Wales' exports to undercut its domestic producers' prices, or to increase its own exports elsewhere.
"On some occasions, Wales' ability to export renewably generated power to neighbours which at that point would otherwise be using fossil fuels to generate it, will reduce carbon emissions to some degree. This is, however, highly unlikely ever to come close to full equivalence. The only way not to participate in burning fossil fuels is neither to burn them nor to pay others to burn them for us out of sight."
We sent Ms Brazell's article to Bute Energy, the company wanting to build a network of windfarms across rural Wales.
Climate crisis
A spokesperson for Bute Energy said: "We welcome the Cambrian Mountains Society recognition of the climate crisis, and what they describe as the drastic steps that need to be taken to reduce fossil fuel emissions as quickly as possible.
"There is endless potential for renewable energy in Wales, and action is required now if we are to respond to the Climate Emergency, and meet future Carbon Budgets, and the Welsh Government's target for electricity to be 100% renewable by 2035.
"So we don't agree that new nuclear power stations are the only solution, especially considering planning, development and construction timelines. For example, Hinkley Point C in Somerset will have taken at least 18 years to deliver, while being 50% over budget.
"By comparison, onshore wind is a tried and tested technology, and one of the cheapest forms of renewable energy. It can be developed quickly and at scale.
"The UK Government, the Welsh Government, National Grid ESO, and other expert organizations across the world agree that wind will be the predominant source of clean, green electricity in a Net Zero world."
---
Support our Nation today
For the price of a cup of coffee a month you can help us create an independent, not-for-profit, national news service for the people of Wales, by the people of Wales.