News
WRU officials warned they are 'in the last chance saloon' at Senedd hearing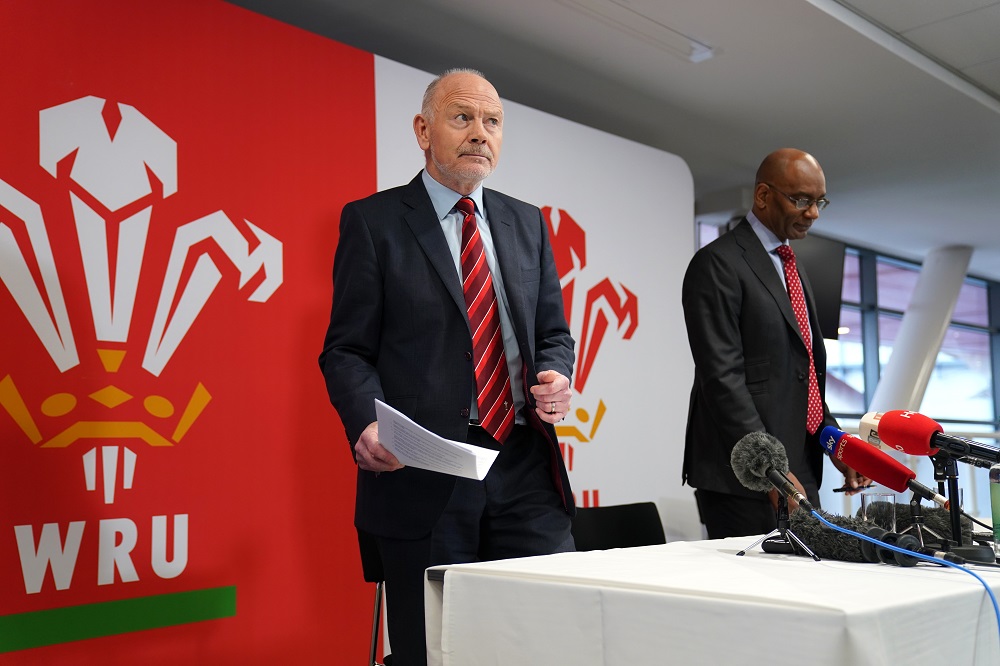 The two most senior figures in the Welsh Rugby Union (WRU) have been told they are "in the last chance saloon" when giving evidence to Senedd Members this morning (2 February).
Current WRU Chair Ieuan Evans and Acting Chief Executive Nigel Walker were hauled before the Culture, Communications, Welsh language, Sport and International Relations Committee.
The meeting was to consider the allegations of sexism and discrimination at the WRU that were made in a BBC Wales television programme aired on 23 January.
Mr Evans has been in post since last November, whilst Mr Walker was appointed on 29 January, replacing Steve Phillips who resigned.
Mr Walker was previously Performance Manager of WRU and was appointed to that post in July 2021.
Both men have played rugby for Wales.
In his opening statement, Mr Evans said: "We are aware that we have disappointed the rugby family across Wales. The experience has been sobering for us … I am determined to make the changes. WRU is a £100 million turnover business which includes public funding."

In denial
Committee Chair Delyth Jewell MS asked Mr Evans: "Why do you think the WRU are in this situation?"
A straight answer was not forthcoming so Ms Jewell asked again.
Mr Walker stepped in to say: "I think in any organisation, especially a large one like the WRU, it's possible for things to occur over a period of time, and for people to turn a blind eye … The key now is to understanding the scope and scale of the problem."
Ms Jewell wanted to know why it took a graphic BBC Wales programme to be aired for the WRU to take action?
To which Mr Walker replied: "We have been in denial as to the extent of the problem.
"There have been cases in the past which have been – in theory dealt with … but people have not joined the dots. (But) when you see it presented over a 30 minute programme in the way it was, unless you're going to bury your head in the sand … you have to take action."
Sexism
Alun Davies MS said he'd been reading Mr Evans's autobiography (Bread of Heaven) "which was scathing of the WRU in different ways," so why does he claim to be shocked by the BBC programme?
Mr Davies had to ask this twice of Mr Evans before Mr Walker stepped in again to answer.
"It was the graphic nature of the sexism and misogyny in the programme that was particularly distressing, and I know Ieuan shares that point of view."
Women's rugby
Chair Ms Jewell wanted to know how the WRU responded to the review of the women's game in 2021, "and will you commit to making those findings public?"
Mr Walker replied: "When I read the review I was shocked as to the extent of the problem … but we have made progress and about 32-33 of those recommendations have been implemented."
Ms Jewell asked again: "And the report will be published?"
To which Mr Walker replied: "We have a little bit of an issue with the full report being published … it was conducted on the basis it would be internal …"
Explaining that no one would want to compromise anyone's anonymity, Ms Jewell asked whether a redacted version could be published.
Mr Walker said "We're working on that – we are completely transparent. The report will not make comfortable reading for those involved in the WRU …"
Investigation
On 27 January the WRU announced that a new, external taskforce will investigate the culture within the organisation.
Hefin David MS asked: "What are your minimum expectations of the external task force?"
Mr Walker replied that it was: "To look at the culture of Welsh rugby, look at sexism and misogynism cases going back to 2017. Although if the panel uncovers things, we will go back further than that …"
He explained that an independent chair will be named very shortly and confirmed that this individual has no connection to the WRU.
Mr Walker added: "I suspect that this individual is English and they have worked in the judiciary" and the person is a "she".
The proposed chair he said, will appoint an independent panel of three or four people. Their report will be made public and Mr Walker confirmed that the Committee will receive interim reports.
It will be up to the review panel to go in whichever direction they choose, explained Mr Walker, adding that details of who will sit on the panel will be made public next week.
The WRU will also appoint London based Sport Resolution which is an arbitration service.
Non-Disclosure Agreements (NDAs)
Alun Davies MS said: "One of the allegations that has been made is that the WRU has used NDAs to prevent staff from speaking about what's happened to them.
"Will you (lift those NDAs) now because it's a legal instrument. The WRU designed these NDAs so it's up the WRU to lift those restrictions."
Mr Evans replied: "We are taking every opportunity here to ensure that anything the panel find we will act on it."
Revolution
Last up was Jenny Rathbone MS, who said the WRU had been aware of problems around misogyny and racism for nearly two years.
Ms Rathbone asked: "The key question now is the capacity of WRU to change?
"Ieuan Evans you were aware of the serious culture problems within the organisation. Were you just a lone voice crying in the wilderness?"
Mr Evans replied: "I wasn't aware of the wider aspects – this has come to the fore now. I was aware of the need to address certain issues … culture and governance being two distinct aspects.
Further questions from Ms Rathbone: "To enable us to understand the size of the tasks you both face.
"How many NDAs have been signed in the last five years?
"How many members of staff have been disciplined following complaints about behaviour in the last five years?"
Neither man knew and said the information would be forwarded to the committee.
Analysis
Ms Rathbone then asked: "Could you tell us how patterns of complaints are analysed and reported to senior members of your organisations?
Mr Walker replied: "We have not trained sufficiently our managers to spot what is poor behaviour, and how to differentiate between poor behaviour or banter.
"When cases are presented, the way they are treated depends on who has seen that behaviour and that's the bit we need to standardise."
Ms Rathbone replied: "You can have training until the cows come home, you had a training session last October … it doesn't appear to have pushed the organisation into the revolution that is required …
"You are in the last chance saloon," concluded Ms Rathbone.
---
Support our Nation today
For the price of a cup of coffee a month you can help us create an independent, not-for-profit, national news service for the people of Wales, by the people of Wales.