News
YesCymru members publicise Swansea march with creative designs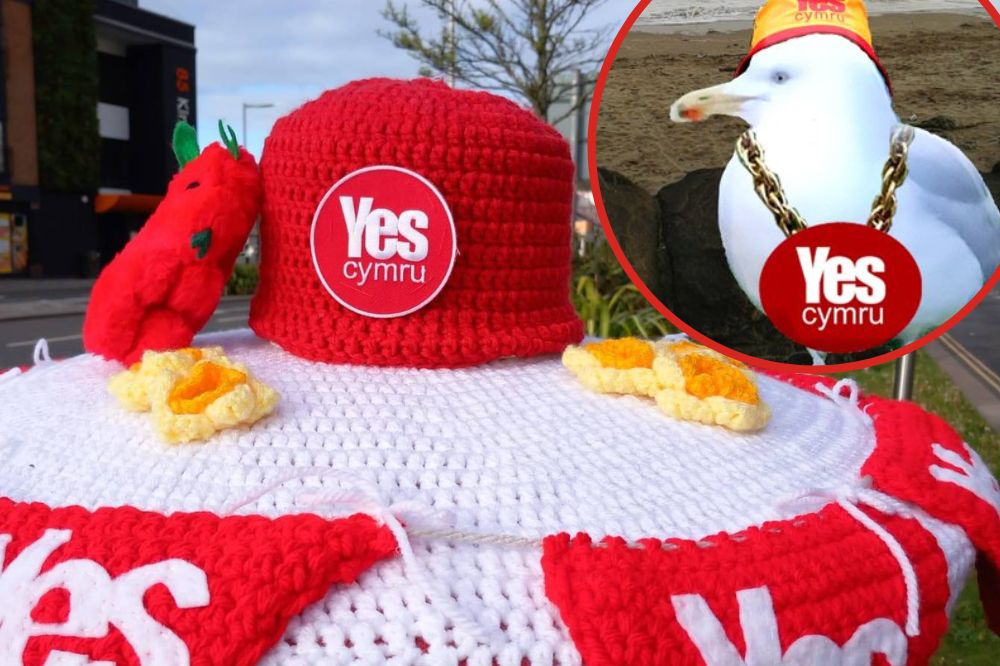 Members of YesCymru Abertawe have been designing GIFs, graphics and yarn creations to publicise the indy march set to take place in the city this weekend.
Creations have been cropping up on social media and include a Swansea seagull wearing a gold chain, a crocheted postbox cover and custom logos encouraging wheelchair users to lead the march.
YesCymru is a movement dedicated to the goal of an independent Wales and the group's events can bring in thousands of supports.
Yarn creations have been carefully crafted by the Guerrilla Yarnbombing group which grew from an idea earlier in the year, when some knitters and crocheters were making hats and scarves for two local food banks.
Yarnbombing members Rhiannon Barrar, Lindsay Thomas, Kat Watkins, Kathryn Murphy along with Canadian visitor May Stewart, have been producing bunting, post-box covers, bollard hats and tree banners in readiness for the march.

Popular
The group have been displaying their designs around the city and photographing them for social media.
Rhiannon said: "It's a Guerrilla campaign. We don't leave them there in case they get stolen or vandalised. Our aim is to get them across social media and they're really popular."
They group are hoping to festoon Wind Street with their designs during the march on Saturday (May 20).
Graphic designer Nigel Cousins has also been advertising the march with his series of GIFs for social media called "Thank You Swansea".
Nigel has also designed logos for members with disabilities who will be leading the march on electric scooters and wheelchairs.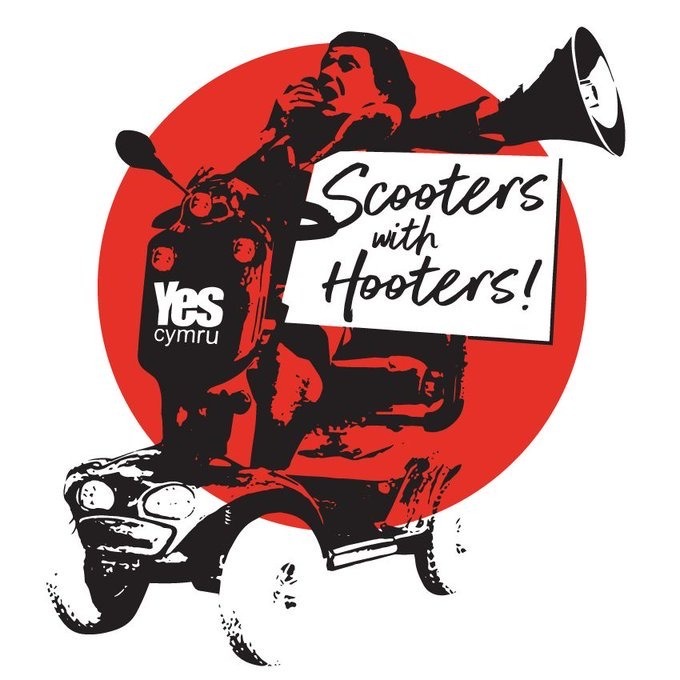 Blinged up
He said: "Previous marches have had a band at the front, so I designed two logos to attract people with scooters and wheelchairs to come and lead the march."
Writer and filmmaker Melvyn Williams has designed a graphic of a Swansea seagull draped in a gold chain.
Melvyn has been posting edited images of the seagull to social media which feature the bird perched at different stops around the route of the march.
Melvyn said: "I came up with the idea of a blinged up seagull strutting around the city in a goldie-looking chain and a big YesCymru medallion. It's an iconic look and people seem to love it."
The Swansea Seagull has also been teasing local people with quizzes about his location.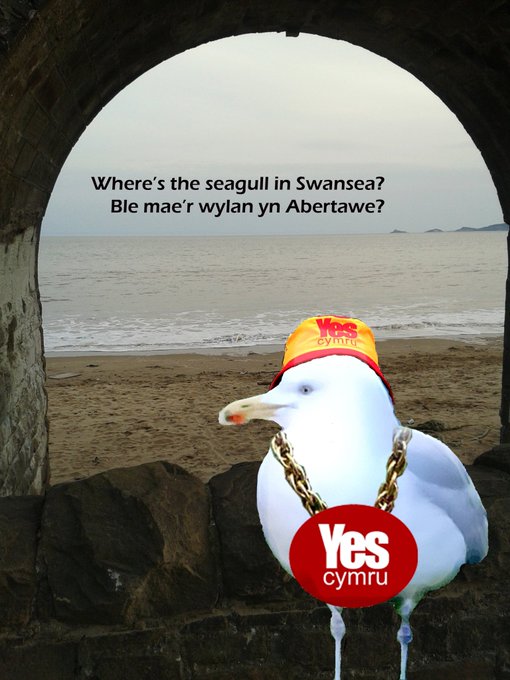 Poverty
Artist and Chair of the Swansea branch, Rose Davies, said: "Swansea is an immensely creative and cultured city, and has a terrific sense of humour and social justice.
"We wanted this march to focus on poverty but also to mix up the serious with the, frankly, plain daft to get the message out there."
The event in Swansea will begin at Wind Street at 12pm and finish at the Waterfront.
Elfed Williams, Chair of YesCymru said: "There is something special about coming together to march for an independent Wales and it's great to see that the marches have grown every time with the Swansea march being the most ambitious yet.
"We look forward to working together with the people of Swansea to welcome people from all over Wales on 20th May.
"The cry for independence increases week by week as the people of Wales realise that the only way our country can thrive is to break away from this crumbling union."
---
Support our Nation today
For the price of a cup of coffee a month you can help us create an independent, not-for-profit, national news service for the people of Wales, by the people of Wales.