Opinion
A day in the life of an active traveller in Wales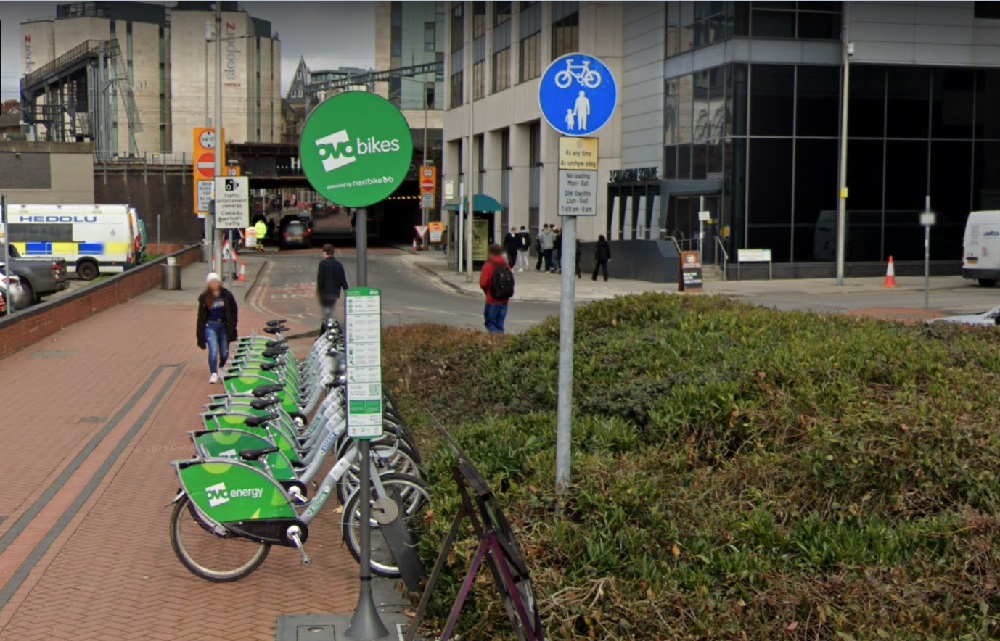 Simon Ross
The Welsh Government's target is that 'for people in Wales, we want walking and cycling to become the preferred ways of getting around over shorter distances.'
Friday 16th June 2023 – travelling back from London to Swansea today, want to attend the Wales Mens football match in Cardiff on route.
My initial train from Paddington was cancelled. It was already being routed via Gloucester, which was expected to add 45 minutes to the journey. The next train was an hour later, this also was delayed and routed via Gloucester.
I ended up arriving in Cardiff 80 minutes late which through my plans for the day into disarray.
Simplest and easiest thing to do in Cardiff would have been to leave my luggage (I had travelled to London from Amsterdam earlier in the morning) in left luggage at Cardiff station.
There isn't one. I have recently been Interrailing in Europe and every city centre train station has left luggage.  There are some private baggage storage facilities that are nothing to do with the railway companies, but they are away from the station and based in shops which wouldn't be open on my return after the match.
To deal with the luggage issue I had planned to get a Nextbike from outside the station and cycle to my parents' house in north Cardiff, picking up the luggage from them later in the week. However, the 80 minutes delay meant that all Nextbikes from outside the station had gone.  There were some in place if I had arrived at the scheduled time.
Chasing my losses I walked to five different Nextbike stations.  One travels in hope, and the app will often say to you that there is one bike present. Arriving at the docking stations, I variously found the one bike to be one without a seat, or one that just simply didn't exist.
Someone who doesn't use the system could easily think there are plenty of bikes available. There are often multiple bikes at the stands, but for some reason often these can't be hired.

Cathays Park
Finally, making it up to the docking station near the Welsh Government building in Cathays Park, I saw a bike, it was available in the app, it looked like it might work. I had been keeping my eye open for a bus whilst walking up North Road, but there hadn't been one.
This bike would be a start at least in getting my plans back on track. I hired it in the app and then went to release it from the dock. It wouldn't come out, but the hire 'meter' on the app was running.
So, I definitely need to get a bus then…. I run to the bus stop whilst being on hold to Nextbike on the phone to cancel the hire. I'm still on hold when the bus arrives. I jump on.  Even though it is taking me about quarter of a mile out of my way at the far end of the journey it feels worth jumping on just to make some progress north.
About halfway through the bus journey I finally get through to Nextbike and cancel the bike hire.  This process used to be tricky, but now the call handler processes it with a swift familiarity. I guess it happens a lot, it certainly has in my experience.
I'm meeting a friend before the match. I've been keeping him updated. He is being very patient with my ever moving estimated time of arrival.
Getting off the bus I try and pick up another Nextbike, crazy I know, but it would be useful for the next leg of my journey. I bump into someone who is having a similar experience with them as me. He is also going to the game, we have a laugh about it and then I head to my parents' house on foot.
I had intended to see mum and dad for an hour and a half or so but instead I drop off the luggage and head straight out again, being already quite late. I get a bus back towards town and jump off in Maindy, walking through Pontcanna Fields to meet my friend who has been very patient in Pontcanna. I'm very glad it's not raining.
The next few stages of the plan are fairly bulletproof as we walk to the match and back into Canton after.  We had a pint in the pub after the game as my train home was delayed and then I walked to Cardiff Central.
Finally, I arrived in Swansea station. My train from Cardiff to Swansea was over an hour late. A Nextbike to get me home would be a really useful option (don't laugh!).
However, the bike share system in Swansea has a small number of stops along the waterfront only, with none by the station or near my home. So taxi it is then! Home at last, with over three hours of cumulative delays!  My friend texts with a tale of his Cardiff taxi driver demanding £20 for a £12 fare.
Lack of resilience 
The lack of resilience of our transport infrastructure for those who would like to travel without a car is painfully obvious. These experiences aren't exceptional, but familiar and repetitive.  My day only 'worked' because I am capable of walking miles, some with heavy luggage, and didn't have things in it like needing to pick up my kids from school or attend an appointment.
Tonight, I would like to go to the cinema, the bus service is quite a walk from my house and over the last three years has become particularly erratic. I'd like to cycle, but there is nowhere to lock my bike safely in town.
The left luggage issue at Cardiff Central is particularly frustrating – a fairly simple fix. To be useful it really needs to be in the station itself – both because you don't want to cart your cases around the city to a shop but also that you would feel much safer accessing your goods in an environment that is well lit and has security guards at night.
These sorts of things were removed decades ago under the guise of preventing terrorism, but plenty of other European cities have the same low level risk of terrorism as us, and almost all have these facilities.
Transport isn't a 'nice to have', it is only of any use whatsoever if you can reasonably rely on it.  If the Welsh Government really want to get people out of their cars they need to make the non-car infrastructure far more resilient.
---
Support our Nation today
For the price of a cup of coffee a month you can help us create an independent, not-for-profit, national news service for the people of Wales, by the people of Wales.