Opinion
A Whole Other Country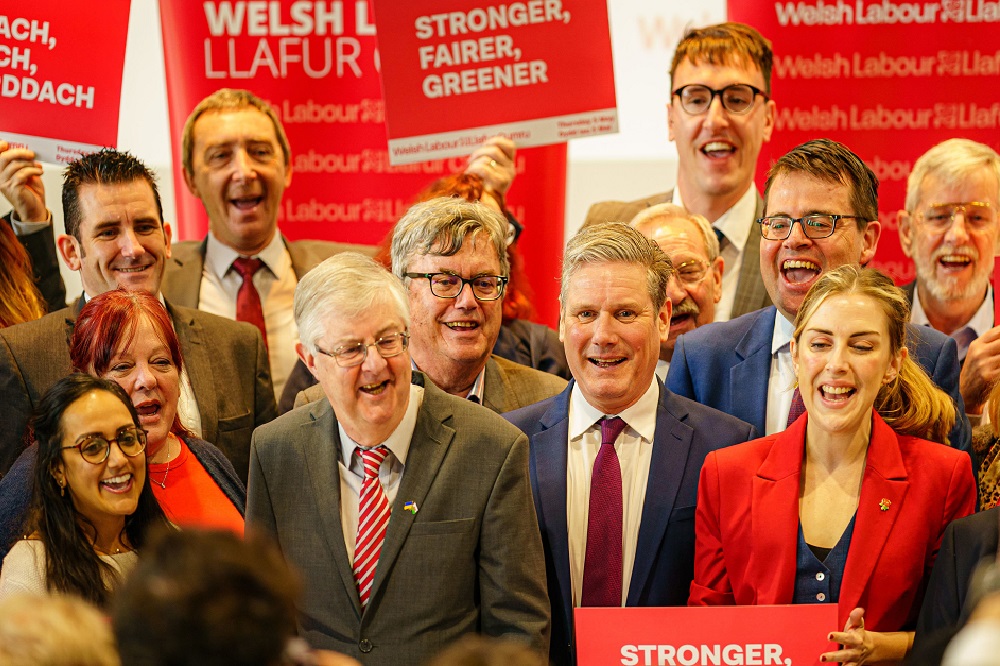 Ben Wildsmith
Speaking from HMP Cardiff, Sir Keir Starmer cuts a forlorn figure in his prison-issue blues.
'Nobody told me about the new speed limit,' he protested. 'I never drive above 25MPH because of my tendency to drift into the right-hand lane, so I assumed I was safe.'
Sinking tearfully to his knees, Sir Keir looks confused.
'Patriotism…tool-maker…fiscal responsibility…' he babbles.
Sensing his cellmate's distress, the story is taken up by Ron 'Viral' Thomas, currently serving 15 years for crossing the Cardiff/Caerphilly border during lockdown.
'It's shocking. They won't let him have a Union Jack in his cell and are charging him a tourist tax for every night he is here.'

Gateway drug
It can sometimes seem as if Mark Drakeford is the only person in the UK who views devolution positively on its own terms. For supporters of independence, it is window dressing that obscures Wales' subservience in the union. Unionists, meanwhile, fear that it's a gateway drug that leads to separatism.
'I stopped paying prescription charges and thought I could handle it. The next thing I knew, I'd converted the Welsh Office into a youth club and seceded from NATO.'
The matter is complicated by the awkward reality that we're a de facto one-party-state. With Labour seeming certain to win power in Westminster, the Welsh Government will lose its comfortable position in opposition to remote Tory rule and have to reckon with a UK Labour government with centralising instincts and a mandate from recently Tory voters.
So, the time is ripe for Welsh Labour — a non-existent entity — to carve out an identity separate from Head Office in London. Drakeford has long hinted that this was an ambition and this week we saw a step in that direction.
"I've not had that conversation with him, nor should I need to."

First Minister of Wales Mark Drakeford tells @PGMcNamara that he did not consult Labour Party Leader Sir Keir Starmer MP about lowering the speed limit on most Welsh residential roads to 20mph. pic.twitter.com/U3XCLBGRYJ

— Channel 4 News (@Channel4News) September 8, 2023
Galvanising
Sir Keir can, it seems, read Nation Cymru if he wants to find out about devolved matters in Wales. Mark Drakeford is too busy for his bullshit and is living his best life.
This, for me, is peak Drakeford: galvanising Wales with a long overdue assertion of self-determination but choosing to do so in support of a measure that has enraged half the nation. He could have gone rogue over the NHS, or the Crown Estate, or drugs policies. But no, the flag has finally been planted on behalf of your right to attend a speed-awareness course.
We can, however, unite over Channel 4's Paul McNamara reacting with mirthful disbelief to the notion that the First Minister might decide anything at all without clearance from Starmer.
For all Drakeford's insistence on the primacy of his mandate, it's clear that even Channel 4 News, traditionally the progressive end of TV journalism, sees Welsh democracy as inauthentic; a 'My First Sovereign Decision' playset granted by the grown-ups in Westminster.
Clueless toffs
Looking at the chaos of Westminster politics over the last few years, it has been comforting to emphasise our distinctiveness and fall back on traditional contempt for clueless toffs and those in England who, seemingly against their interests, vote for them.
Labour in Wales benefits electorally from the very existence of people like Boris Johnson and Jacob Rees-Mogg: cartoonish villains who look and sound as if they would force our kids down the pits if given the chance.
With Starmer in charge, that dynamic will change. As the Welsh Government seeks to position the nation at the forefront of progressive governance, particularly on environmental matters, UK Labour is busily reneging on promises to do the same.
It is difficult to see a way through this that doesn't involve conflict within a party that also has to coexist with powerful devolved entities in London and the English North.
Wales is perennially at the sharp end of the UK's woes. Disadvantaged in terms of investment, transport links, and influence, our case has always needed to be argued.
If our advocates are wearing the same kit as the Westminster decision-makers, they will need to hold them to account and be seen to do so. Mr. Drakeford made a welcome gesture this week, but it needs to be a taste of what's to come rather than an exception.
---
Support our Nation today
For the price of a cup of coffee a month you can help us create an independent, not-for-profit, national news service for the people of Wales, by the people of Wales.