Opinion
All Aboard The Reshuffle Special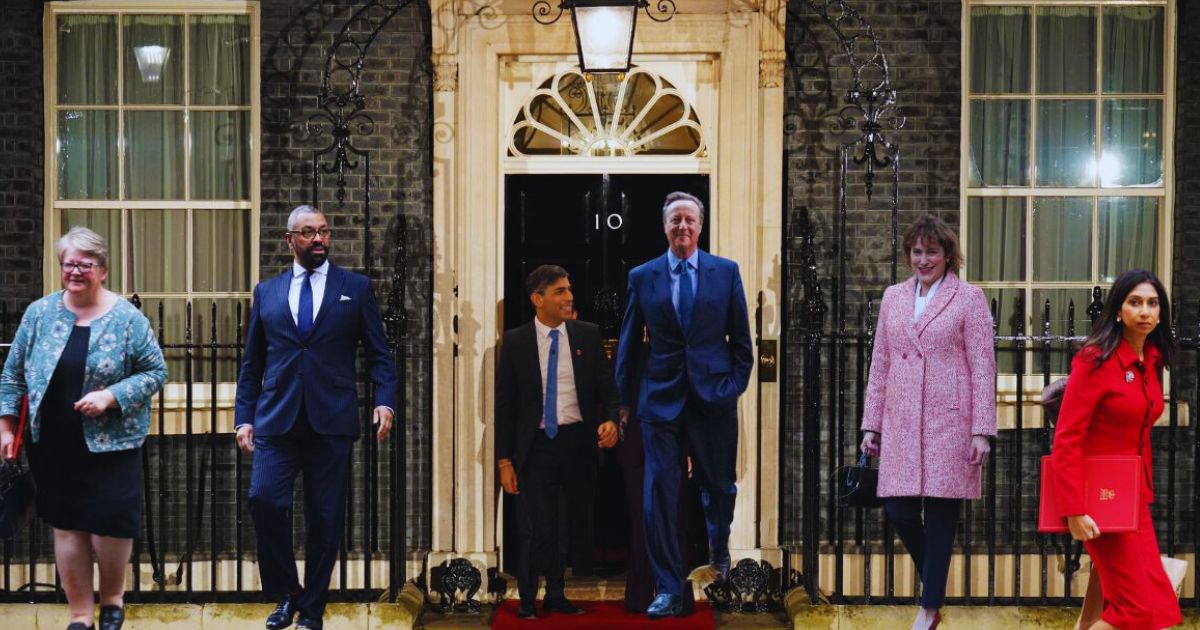 Ben Wildsmith
When former Tory Chairman Jake Berry told struggling citizens to 'go out there and get that new job', he was subjected to ridicule from sections of the press who suggested that he had failed to properly assess the range of opportunities available. Well, they're not laughing now as an unemployed man from Witney, Oxfordshire has landed two plum roles in a single day.
Not long ago, David Cameron was reduced to spending his days in a shed with only his memoirs for company. What a pitiful sight he must have been, hunched over his laptop in claret-stained Chinos and an Aston Villa/West Ham top researching a synonym for 'bastards'.
'What time's Countdown on, Sam?'
It wasn't a lifestyle choice, though. Call Me Dave is, you'll remember, a striver, not a skiver. So, borrowing Norman Tebbit's dad's bike, he set out to earn an honest penny in Sunak's Britain. Carrying a placard proclaiming 'Will Look Sensible For Money', Honest Dave positioned himself on the M40 roundabout at Banbury and made a stand for underappreciated 50 somethings everywhere.
And look what can be achieved in this wonderful country if you are willing to show a bit of initiative! Within seconds of posting his CV on Indeed, Dave was contacted by a promising new startup enterprise.
'Yah, so we're looking to move into tech-based reputation salvage. It's a tech-based solution to widespread revulsion and moral outrage that we've we're piloting, well now actually. It's tech. And based.'
'Is that you, Rishi?'
So, the next time you hear some flag-dodging, extreme rationalist talk Britain down, point to Dave and explain that it's perfectly possible to become both Foreign Secretary and a peer of the Realm in the time it takes to cancel someone's benefits.

Guilty
So, what are they up to? When, at 15, I was hauled up before the headmaster for expulsion-qualified offences against the school ethos, I rushed to get a respectable haircut for the showdown. A friendly teacher, who noticed my new, scrubbed image outside the headmaster's office, shook his head sadly.
'You've made yourself look guilty.'
Cameron is the haircut. After years of unhinged, Brexit-fuelled hubris which has threatened the cohesion of society and faith in democracy, the Tories want to be the sensible one again.
That Cameron is the best option they have to project authority tells its own story. The misery deriving from his economically illiterate austerity programme will be tallied for decades to come, and it was his complacency and misjudgement over Brexit that sparked our descent into hateful idiocy. He is a walking pastiche of Tory beneficence: The Secretary of State for Savoir Faire.
In tacking back to the pseudo-sensible Tory waters of 2015, Sunak was aware that his party contains a disproportionate contingent of combustible members whose reaction to the news is set to reverberate through painful Christmas dinners across the land.
'Ding dong merrily…'
'Sunak has betrayed my legitimate concerns about immigration!'
'…on high.'
For these people, the pain will be real. Imagine spending your life harbouring beliefs so socially unacceptable that you are compelled to suppress them. Then imagine an actual cabinet minister voicing them and freeing you from your shame.
It's fair to assume that Suella Braverman's upcoming resignation speech is unlikely to comprise an apology for her shortcomings. For the faux-patriotic, racist malcontents that have sustained her, she will offer herself as queen in exile. Liz Truss must be tamping.
Common sense
Sunak's offer to the right is Esther McVey as a cabinet attendee with responsibility for 'common sense'. As recently as April,  I was having a jolly jape about 'Wokefinders General' and Sunak has now appointed one to his new, super-sensible cabinet. No prizes for guessing what's getting blamed for us being skint this Christmas…
Overall, you might argue, it's a positive thing that the Prime Minister has finally let Braverman go. It might be a bit late but at least he's recognised that she was beyond the pale, and we need a reset. Not really. Sunak sat there all week whilst his Home Secretary whipped up division at risk of civil disorder.
Instead of intervening, he waited to see what happened at the marches last weekend before abandoning the possibility that there might be a route to electoral success in Braverman's populism.
If the day had gone as Braverman predicted, I wonder if, instead of David Cameron, the mystery guest might have been Nigel Farage.
---
Support our Nation today
For the price of a cup of coffee a month you can help us create an independent, not-for-profit, national news service for the people of Wales, by the people of Wales.