Opinion
Anthem for doomed truth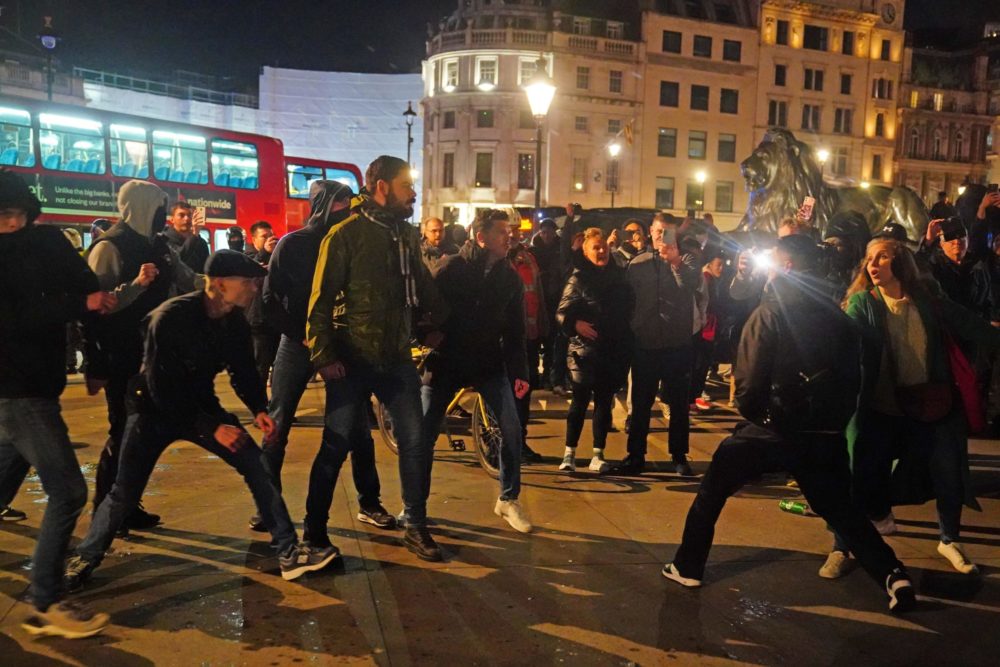 Ben Wildsmith
Quite how Stella Artois became the official lager of right-wing extremism is lost to history.
Some believe its ubiquity to be a homage to the imperial fervour of King Leopold II of Belgium, whilst others point out that its embossed can is easier to hold with underdeveloped thumbs.
No matter, like Ben Sherman shirts and cocaine, it is an essential component of a tradition that harks back to a simpler, less existent England.
Imaginary England was a wonderful place. Every day was a hot August Bank Holiday spent in the beer garden of a pub. Even the wasps were top blokes, a bit lairy but salt of the air and never stung the kiddies.
These woke wasps you get nowadays don't care who they sting. No respect.

Dispiriting
Yesterday's counterdemonstration in London was as dispiriting as it was predictable. Whilst somewhere between 300 000 and 800 000 people marched calling for a ceasefire in Gaza, an uncertain number of 'patriots' assembled to protect the Cenotaph from attack.
It wasn't attacked. Nobody suggested they were going to attack it and organisers routed the march to avoid it.
The marchers were inconveniently peaceful, spoiling what could have been a day of recreational aggro to see in the Christmas period. Denied the thrill of a proper dust up, the counterdemonstrators were reduced to scuffling with police in the 'hold me back' performative fashion beloved of drunken cowards everywhere.
Around a hundred of them were arrested and that was it. Hardly Agincourt.
All of which leaves the government in a bit of a bind. With last week's King's Speech revealing that the cupboard is bare as regards policy, fighting the Culture War is all it has left to do. Fortunately, it is as useless at this as it is at everything else.
At the height of China's Cultural Revolution, industrial production was disrupted because so many raw materials had been diverted to satisfy public clamour for Mao Zedong badges. If you're going to whip up public derangement to cover up your impoverishment of a nation, at least do it properly.
Suella Braverman
The efforts of Suella Braverman and right-wing commentators to confect an Alamo mentality around remembrance events ran into a wall of reality. The public of their imagination: insecure, uninformed, pliable, and xenophobic, is a product of condescension to and detachment from the lives of people they have never bothered to try to understand.
Remembrance is an authentically felt experience for nearly everybody. It's a moment to appreciate the size and shape of what is missing from our lives thanks to the failure of politicians.
It is a brief pause in the infantile screeching of public life; a communion of quiet decency that is respected by all but imbeciles. The Home Secretary bet big on there being far more imbeciles than she got.
The late Robert Runcie, whilst Archbishop of Canterbury, once described the Anglican Church as being a swimming pool in which all the noise came from the shallow end. The Home Secretary is so tin eared as to mistake childish yelping by the water slide for the sound of Britain.
Rishi Sunak, increasingly resembling Kendall Roy in Succession, cut a pathetic figure all week. Had he sacked Braverman, or addressed the crowds yesterday, he could have earned some respect. Instead, the lifestyle hedge fund manager prevaricated and sank further into irrelevance.
Despite desperate propagandising, remembrance is not acceptable political currency for the overwhelming majority of UK citizens.
Neither are the deaths of civilians in Israel and Palestine, nor the fears of Jews and Muslims across the world that their lives are about to be ruined yet again by the coarse posturing of failed politicians.
These things are real and have no place in the immature fantasies of those who seek to manipulate us for career advantage.
Flags & Bones by Ben Wildsmith is available to pre-order from Cambria Books and will be launched on 23 November, tickets available here
---
Support our Nation today
For the price of a cup of coffee a month you can help us create an independent, not-for-profit, national news service for the people of Wales, by the people of Wales.