Opinion
Anti-Austerity Lessons from New Zealand's Cyclone Gabrielle Disaster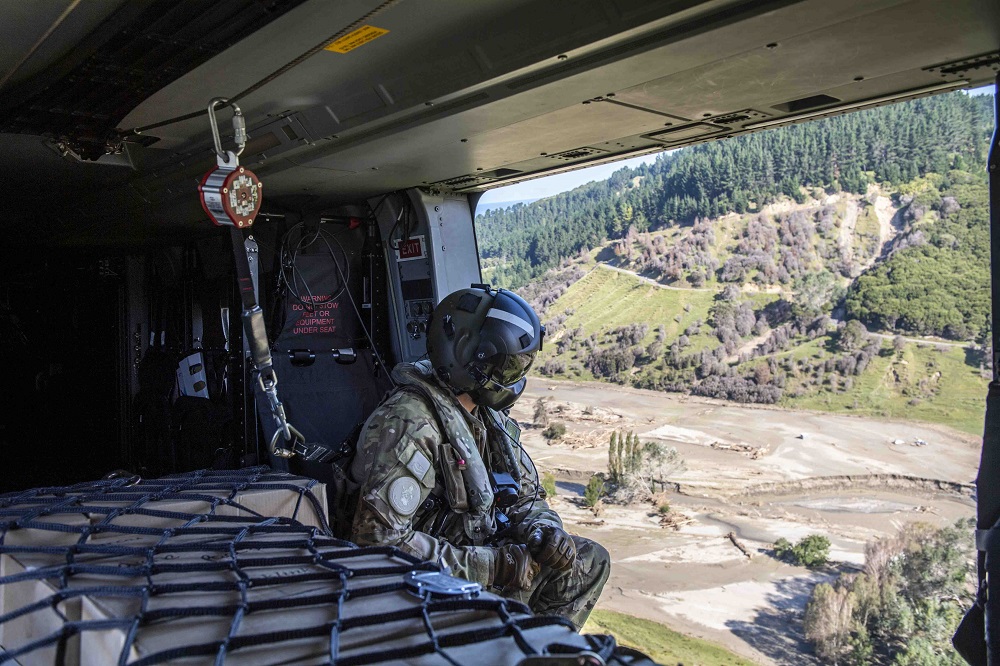 Hayden Williams
Three years on from Storm Denis, Wales has a revised strategy for dealing with flooding, but still little improvement on the funding front. Climate change means Wales will experience higher rainfall with more frequent and severe storms. Preparing for this means investing in expensive flood-proofing infrastructure.
Both the Welsh and Westminster governments have considered how to tackle this problem, and in particular, the problem of who will pay.
With EU funding no longer an immediate prospect, the Welsh government especially will need to look elsewhere if it's going to make good on assurances Wales will be flood-proofed to an acceptable standard.
Meanwhile, on the other side of the world, New Zealand's new prime minister, Chris Hipkins, is facing a similar dilemma. Cyclone Gabrielle has sparked a huge rethink. Conventional political wisdom seems to have stalled or collapsed, because suddenly there's a catastrophic clean-up bill, and no-one's been saving for a rainy day of this magnitude.
In no uncertain terms, Cyclone Gabrielle has shown the results of not only climate change inaction, but years of infrastructure underinvestment.
Tale of Two Kitties
Wales and New Zealand, apart from an obvious size difference, have comparable geographies.
In the wake of Cyclone Gabrielle, New Zealand now has comparable economic problems too.
Rebuilding critical infrastructure, and helping thousands left homeless and in need, will be an enormous financial, as well as logistical, undertaking. The cost is expected to be in the multi-billions of dollars.
It's becoming increasingly apparent that the fashion of fiscal conservatism — an approach now common to governments on both the right and centre-left of the political spectrum — is primarily what's caused the chronic underinvestment that's made this natural disaster so dire.
The economic damage is now inundating New Zealand households already barely coping with high costs for everyday items, ballooning inflation, and increased pressures on the food supply. Sound familiar?
Eat the Rich
The New Zealand government has so far approved a $50 million interim relief package for affected regions, and $250 million for rebuilding roads. It's nowhere near enough.
Reserve Bank governor Adrian Orr has advised imposing more taxes, or redirecting money already allocated to other things, because borrowing won't help rising inflation.
Since 'money allocated to other things' is already screwed down to the fullest degree, the finance minister Grant Robertson has at the same time refused to rule out new taxes to help pay for the damage.
It would be cruel and unusual to impose more tax on people already up to their ears in hardship, so, the solution's obvious. New Zealand's home to 14 billionaires, most of whom have been getting richer, collectively sitting on wealth worth nearly $37 billion.
Besides those guys, at the last count there were 347,000 New Zealanders worth US $1 million or more. Among these will be many homeowners who've seen the value of their house skyrocket lately, but many are not. Many will simply be the kind who own multiple properties: accumulating assets, living off leverage, giving nothing back.
Perfect Storm
How long can the governments of wealthy western countries go on telling people in poverty that the money's just not there, and expecting them to believe it? In Wales, where the phrase "the system is broken" can easily be applied to just about any institution you care to make a cutting edge documentary about, it's a perfect storm for a fully devolved tax system aimed at retrieving some of that wealth.
According to the Knight Frank wealth report for 2022, Ultra-High Net-Worth Individuals — individuals with capital to the value of US $30 million or more — increased in the UK by 11% from 2020 to 2021. The researchers also believe the number of such individuals will grow globally by 28% within three years. Such individuals are highly eligible to be targeted for heavy taxing. Unfortunately for Wales, at the moment, there also happens to be a few of them governing the UK.
But the second homes tax in parts of Wales has already shown some good effects. That's a beginning, isn't it?
Other reliable revenue-raisers, such as a greater wealth tax, a capital gains tax, a higher tax on trusts, and a 'windfall profits tax' (which even the British Tories have imposed on businesses which made a killing during the pandemic), should surely be applied willy-nilly by Welsh policy makers in a further devolved Wales, because it's a far, far better thing than riots or rolling out guillotines.
Let's hit them where it won't even hurt, because they've already got so much. Let's make it rain with their money, instead of letting money continue to reign irresponsibly.
Hayden Williams is a New Zealand based journalist, a member of Plaid Cymru, and a member of the New Zealand Labour Party.
---
Support our Nation today
For the price of a cup of coffee a month you can help us create an independent, not-for-profit, national news service for the people of Wales, by the people of Wales.