Opinion
Birth, school, work, death: Hunt's budget for the ages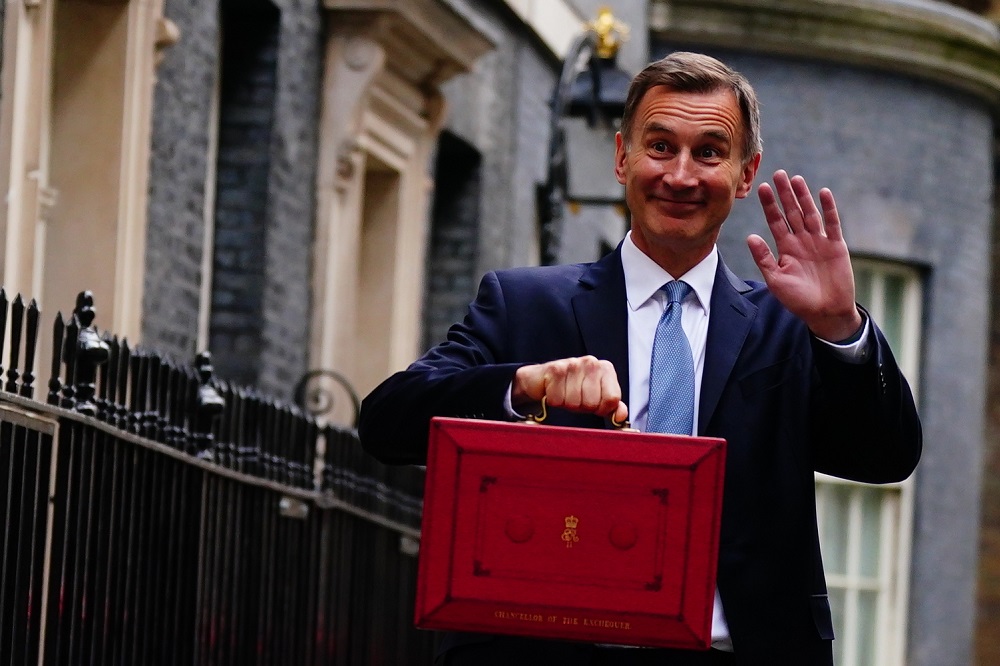 Ben Wildsmith
Like you, I will always have a special place in my heart for Jeremy Hunt.
With the news full of striking workers and collapsing public services, it's easy to forget the worry that can be caused by capping a person's annual pension contribution at £40k per year.
Here in the Rhondda, this week's budget was met with such unbounded joy that an expectant mother gave birth on the shop floor of the Morrisons Daily in Pontygwaith, promptly naming the baby Jeremy.
Baby Jeremy himself was dismayed to learn that he should have been aiming for a gestation period of two years in order to take advantage of the Chancellor's enhanced childcare offer but resolved to enter the 'Great British Workforce' in the meantime, provided he doesn't succumb to rickets.
The Chancellor seemed to be under the impression that his budget represented the dawning of a brighter future for us all.
Adopting his best approximation of an upbeat tone, the ascetic Mr Hunt delivered his nondescript package of half- measures and deferred solutions as if they were a reward for the financial chaos we have all been suffering since his predecessor discovered that the bond market didn't share his penchant for fiscal edgelordism.

Fantastical ordure
As with last week's fantastical ordure concerning refugees, there was a distinct suspicion that very little being proposed was actually going to happen.
The extension of childcare to younger children was the flagship policy for the masses and was safely punted beyond the date of the next election.
Hunt was keen to herald the 'help' he will be offering to the disabled so that they can find work. The specifics of this, however, were alarmingly vague.
The work capability assessment is to be scrapped but with no indication as to what system will replace it. Alongside this, benefits claimants can look forward to a 'strengthened' sanctions regime which will, increasingly, be automated.
'Conservatives believe,' the Chancellor reminded us, 'that work is a virtue.'
Well, not according to my Bible, but with charity, hope, prudence, temperance, fortitude, and justice plainly off the table, Mr. Hunt could perhaps rely on faith to explain how abolishing a test of fitness to work is actually going to make anyone fitter for work.
The rationale offered on Tuesday was that new modes of working, such as Teams and Zoom, will liberate employment-hungry disabled people from dependence on the state.
Presumably, these potential workers have failed to notice such technological developments themselves so they can count themselves lucky that the new sanction-issuing AI programme is there to help them out.
After all, if anything is crying out to be stripped of its humanity it's the DWP, hitherto the governmental branch of the Samaritans.
Politburo of zealots
Brexit got a mention, not of course as the reason for our labour shortage, heaven forfend, but because the Chancellor has found a way to reduce the taxation on draught beer that would have been forbidden by the EU.
Here it is at last, the Brexit benefit.
I hope that Plaid Cymru have taken note of this as it is plainly the key to unshackling a nation from its supranational oppressor. No financial planning at all will be necessary to emerge victorious from an independence campaign.
Adam Price need only to hold aloft two pints of beer, one 11 pence cheaper than the other, and the case will be won.
Still, I suppose Hunt didn't crash the pound and on recent form we can take that as some sort of win.
Keir Starmer's response, however, was magisterial.
Rising to the despatch box draped in a red flag and flanked by a politburo of zealots who pledge to bring the old order to its knees, Starmer unveiled plans to organise the southeast of England into a collective farm where the landlord class will be forcibly re-educated and brought to enlightenment by the masses.
Promising to redistribute wealth from executed bankers to all corners of the realm, Starmer was interrupted by an ecstatic Stephen Kinnock who screamed,
'Caws a bara!' repeatedly and was joined in his call by a parliamentary Labour Party that stands ready to liberate the British worker by any means necessary.
They'll raise the minimum wage to a tenner an hour, apparently.
---
Support our Nation today
For the price of a cup of coffee a month you can help us create an independent, not-for-profit, national news service for the people of Wales, by the people of Wales.