Opinion
Blaming Westminster for the state of the NHS in Wales won't wash any longer
Dr Andrew Potts
The NHS has more resources now than ever before but is struggling to treat as many people as it did before the pandemic.
And while Wales' health minister Eluned Morgan said she was "hopeful"[1] ambulances would reach the most serious calls during the paramedics' strike, hope isn't really a strategy for running the NHS.
Speaking about the recent strikes, Mark Drakeford has observed that increasing [nurses' and paramedics'] pay "would have meant fewer treatments, fewer nurses, less money for the health service itself."
He also acknowledged that the Welsh Labour administration "chose not to [increase pay]. "We're accountable for that decision".
But he still found his usual wiggle room when he added that: "we don't have the money to be able to increase our pay offer, while the UK Government refuses to put more money into the pay bill in England."
So what started as a statement of Welsh Labour taking responsibility turned into, well, a hospital pass.
It's not a state secret that our population is increasing[2], with the number of people in Wales aged 65 and over projected to rise by about 16% over the next decade, while those aged 75 and over is expected to rise by a quarter over the same time period.
Logically we need more hospital beds to meet the needs of that population since, while we may be living longer we aren't necessarily getting healthier.
As a nation Wales is getting sicker, with the number of people receiving Personal Independence Payments increasing from 186,000 to more than 218,000 in the last three years alone. This is partly a result of the pandemic but it is likely that those people affected will have long term conditions, making it inevitable that they will sooner or later need medical intervention.
So you'd expect that a devolved administration which is set to spend half its £20 billion budget next year on health and social care would be presiding over a health system with more beds than it inherited in 1999.
Unfortunately not. Chart 1 shows[3] the average number of staffed beds available in which inpatients are being or could be treated without any changes in facilities or staff.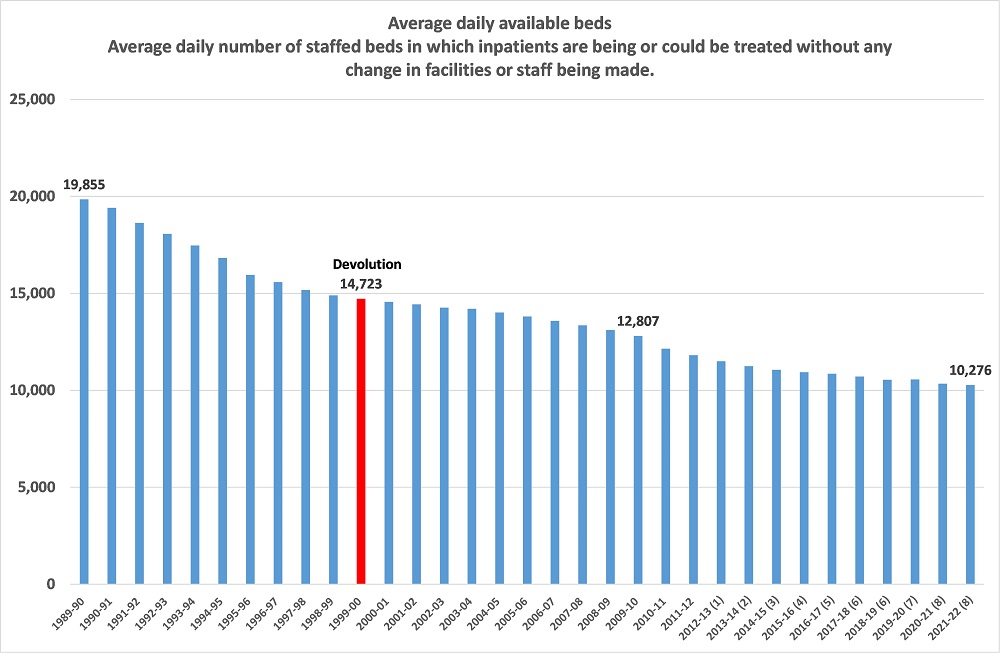 The number of hospital beds in Wales has halved over the last three decades, including a 30% fall since devolution.
At the same time a quarter of the Welsh population are on a waiting list, with over 95,000 waiting more than a year for their first outpatient appointment.
It's true that 'bed blocking' due to a lack of social care packages is having an effect, but so too has reducing the number of hospital beds available in the first place. Fewer beds, fewer patients able to be treated.

Funding
Of course, funding obviously determines both the quantity and quality of resources the NHS can use to provide healthcare.
Roughly half of the budget goes on staffing costs. Chart 2 below shows that the total number of staff increased by 2,505 (2.8%) last year to almost 91,000 (and a headcount of 105,000), with the largest increase (2,100) seen in Administration and estates staff.
The above illustrates that there are more staff across all staff groups in 2022 than the previous year. Indeed, the chart below shows that the number of staff has increased to record highs across almost all staff groups (the number of Healthcare assistants fell by ten per cent) since 2009.
Worryingly, although the number of nurses, midwives and health visitors has gone up by 16%, the number of administrators has risen by 41% over the same period). It means that for every three nurses there are two people employed in administration roles.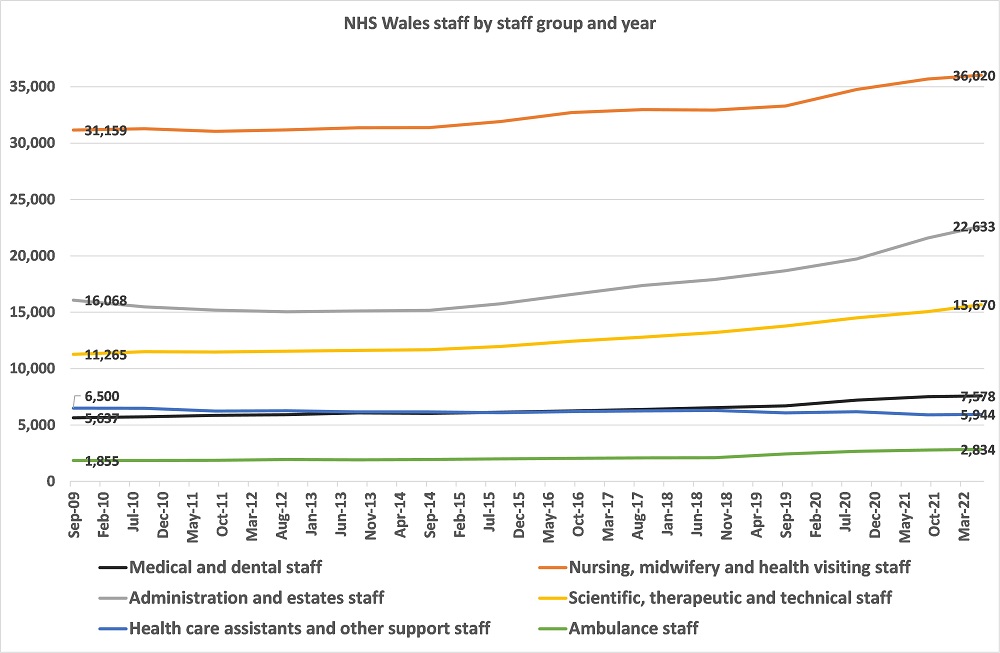 But record staff numbers don't necessarily mean that there are enough staff. Post-pandemic fatigue may mean that more staff are needed to provide the same level of care. And we can't estimate how much is 'enough' particularly as this can be dependent on national and regional political decisions over what care is provided where (a merry-go-round of centralisation/localisation of services).
So despite record staff numbers NHS Wales spent over £130 million last year on agency nurses to cover gaps in rotas, with around 3,000 current vacancies.
And sickness[4] absence rates have increased over a similar period from 6.3% to 7.2% of all staff (see Chart 3), meaning additional staff doesn't automatically translate to more staff being available.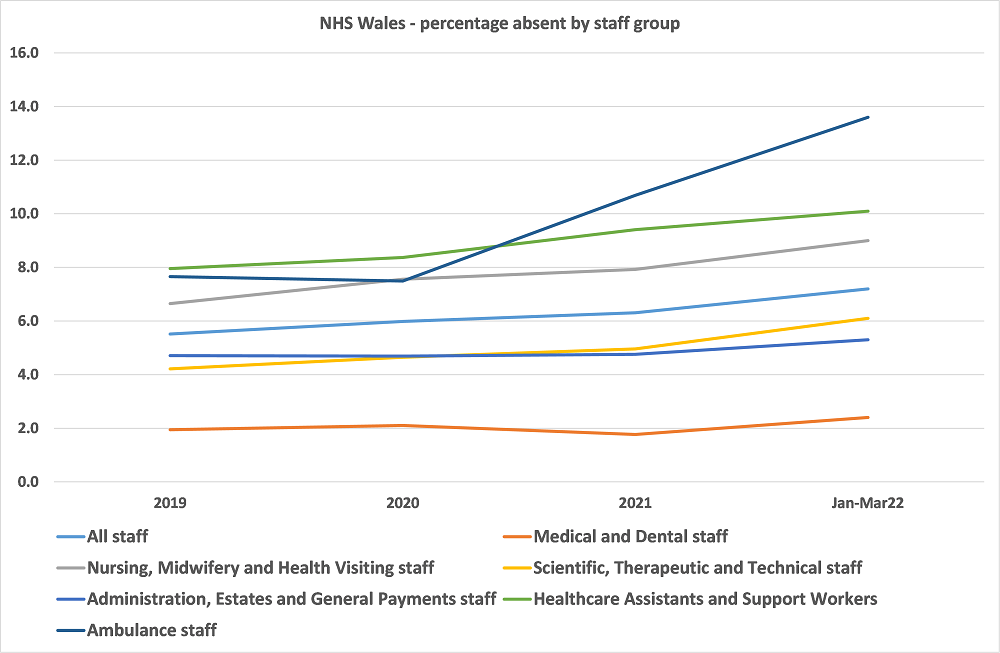 The number of ambulance staff went up by 113 (4.2%) over the last three years, but sickness rates went from 10.7% to 13.6%. This means the 'effective' ambulance staffing levels fell by more than 9%. In other words taking on more staff has not had the desired effect. Sometimes more is less.
We have an ageing population and an increasing number of people who are long-term sick or disabled.
Staff numbers, spend, waiting lists and waiting times are all at record highs. In a Yes, Minister world where a department's success is measured by the size of its staff and budget then the health service is ticking all the right boxes.
So successful that if you live in Wales there's a good chance that you're either working for the NHS or waiting to be treated by it. Indeed, Wales is fast becoming a giant waiting room for a health service, which is just not sustainable.
Accountability
Welsh Government cannot simply expect more money to funnel into the NHS without any accountability. Betsi Cadwaladr[5] health board demonstrates what happens when you do.
The borrow-and-spend of Trussonomics failed miserably (and thankfully quickly). Both Drakeford and Keir Starmer have ruled out the tax and spend of old. In an interview for The Spectator Rishi Sunak said as chancellor he was dismayed that little of the extra money he announced for the NHS seemed to help patients.
Nigel Lawson said that the National Health Service was the closest thing we have to a religion. Thirty years on and the problems facing the NHS – rising waiting lists, ambulances queueing outside A&E departments, difficulty getting a GP appointment, and seemingly unresolvable strikes over pay and conditions – are well known, and our health service (whichever side of the border you live) remains a system crying out for reform.
The Welsh Labour Government simply spending more money clearly isn't working. And continuing to claim it's Westminster's fault just won't wash any longer.
The time has come that with so many of us waiting for treatment by the NHS, perhaps we should be a bit more agnostic in our treatment of the NHS.
Dr Andrew Potts is a Conservative Party activist from Neath
---
Support our Nation today
For the price of a cup of coffee a month you can help us create an independent, not-for-profit, national news service for the people of Wales, by the people of Wales.