Opinion
Campaigning for equality for disabled people is a long, and often frustrating journey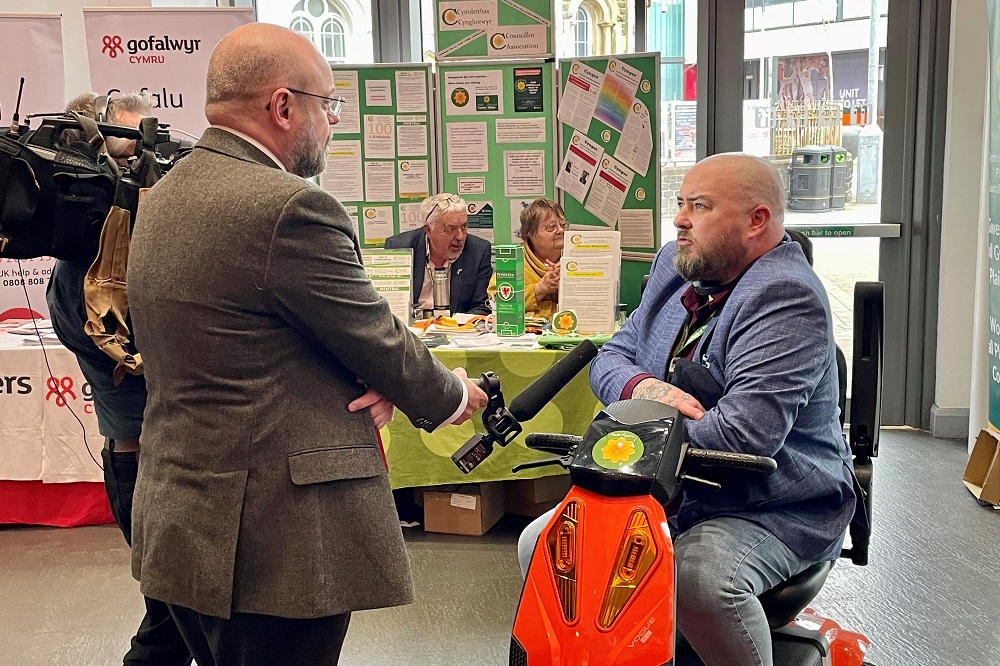 Kevin Harry, Rhondda Plaid Cymru Disabilty Officer.
Creating equality and diversity has been an ongoing struggle and campaign for decades, and there is no silver bullet. My experience of specifically campaigning for equality for disabled people has shown me that it is a long, and often frustrating journey.
I believe there is a way we can supercharge the equality campaign and create a more diverse political landscape, more representative of our communities. For me, the only way to achieve this is by having a Plaid Cymru Welsh government in place. Let me explain why.
Only with a Plaid Cymru Welsh government in place would we have the ability to create more of a compassionate system towards disabled people. I am confident that a Plaid Cymru Government would tackle the disability issue with more urgency and avoid the mistakes made by the Labour Government, and are continuing to be made.
For example, back in 2017 the Labour led Welsh government made a commitment to enshrine the United Nations Convention on the Rights of Persons with Disabilities (UNCRPD) into Welsh law.
We are still waiting for this to happen.
While Welsh government shifts responsibility onto Westminster and vice versa, nothing changes. It is evident that waiting nearly six years to enshrine such an important document into law is way too long, and this is a damning indictment of both the Welsh and Westminster governments.

Perceived stagnation
Back in 2022, Disability Wales worked alongside disabled people to produce a "shadow report" to look into how the UNCRPD has been implemented by Welsh government in Wales since 2017.
It found that although there 'had been some progress made' – including the publication of their action plan on disability rights – 'a significant amount of progress still needs to be made.'
The report also found that there still is 'a clear sense of frustration' among disabled people at the 'perceived stagnation' of Welsh Government policy, with many of their policies failing to improve disabled peoples' circumstances.
There have also been incidents reported where disabled people have had to move away from loved ones and support networks, for accommodation and when the people affected challenged this, they were usually told that a court order would be issued to force them to accept the accommodation.
The report also found that transport in Wales was a cause for concern has it has been 'repeatedly raised as a major limitation on living independently.'
Also highlighted was 'the significant barriers' faced by disabled people when trying to access education.
The report also shows that 68% of COVID-19 deaths in Wales were of disabled people, and the report concludes that 'there is a persistent gap between the experiences of disabled people and those in power in Wales.'
This was evident in 2020 when Disability Wales carried out a survey and 76% of respondents didn't think their circumstances would improve over the next five years. That is appalling and very disheartening to read.
Insulting
At the 2022 local authority elections, the access to elected office fund was launched for the first time here in Wales. This may have been a positive for disabled candidates like me, but it pales in comparison to the equivalent scheme in Scotland.
Under the SNP government, an applicant gets access to the fund up to a year before the elections. Here in Wales, we could only access that fund a month before the elections.
What was the Welsh government thinking here? Didn't anybody in Welsh government speak up to mention that disabled people need a lot longer to complete a task than non-disabled people? If they did speak up or consider this matter, why wasn't it taken on board?
Having just one month's access to a fund that could be used to fund a disability assistant – something that would make a huge difference to a disabled person, like myself – is insulting.
Anyone who has been involved in local election campaigns knows that it takes longer than a month to mount a successful campaign.
How did the Welsh government think that by giving a disabled person access to a disability assistant for only a month would create a level playing field?
I pride myself in being an independent person despite my disabilities, but it is undeniable that a disabled person like myself takes longer to canvass a patch or deliver leaflets to a street than a non-disabled person.
Having access to the fund for up to six months before elections would have been really beneficial. It would not have given me an edge over my political rivals, but it would have created more equality.
Social model
Let me give you some more facts; back in 2002 the Labour Government in Wales adopted to the social model of disability.
This model is essentially the understanding that disability is created by society because disabled people face daily barriers that prevent them from taking part in everyday life to the same extent as non-disabled people.
It wasn't until 15 years later in 2017 that the Labour Government made a commitment to enshrine the UNCRPD into Welsh law. This international treaty identifies the rights of disabled people and utilizes the social model of disability. After six years of no action, it's time for action.
The statistics show why enshrining this in to Welsh law is desperately needed. For the year ending December 2021, the disabled people employment rate (ages 16-64) was 48% compared to non-disabled people being 80.9%.
The pay gap between disabled people and non-disabled people for the year ending 2021 rose from 7.5% in 2016 to 11.6% in 2021. For the year ending March 2020, 41% of disabled adults experienced anti-social behaviour compared to 36.9% of non-disabled people, and 17.5% of disabled adults experienced domestic abuse compared to 6% of non-disabled adults.
If these figures were not shocking enough and proves this Welsh government does not take disability seriously, the following will truly make your mind up.
For the year 2021-2022 only 9.4% of Senedd external jobs were offered to disabled applicants and for the year 2020-2022 only 5.3% of Senedd internal jobs were offered to disabled applicants, also 84% of the Senedd workforce are non-disabled, 6.3% disabled and 9.4% preferred not to say.
All this in our Senedd, where equality is supposedly paramount.
Silver bullet
These figures are the only figures available to date and they make terrible reading for this Welsh Government. Disabled people need and deserve a Welsh government who are going to treat disabled people the same as non-disabled people.
For the past 21 years – as I have laid out – this has not happened, and worse still, the Welsh Government are continuing to keep disabled people at the back of the queue.
The Welsh Government will say that they have a new report coming out later this year. The report is 21 years too late. Is that good enough for a strong, vibrant, inclusive Wales? No, it is not.
I wrote at the beginning of this article that there is no silver bullet of delivering diversity and that is true, but what we can do, is get as many disabled people elected at local authority, Senedd and Westminster level.
To do that we in Plaid Cymru have to put disabled candidates in as many winnable seats as possible. That way, not only will we have a more equal representation of the Welsh population, but we will be making sure that disabled people are in the room when decisions are being taken concerning them.
I whole heartedly believe it is only Plaid Cymru who can achieve what I have set out, and it is Plaid Cymru who are the only political party who are on the side of disabled people.
If given the opportunity, step by step I am confident our party can take disabled people where we need to be.
---
Support our Nation today
For the price of a cup of coffee a month you can help us create an independent, not-for-profit, national news service for the people of Wales, by the people of Wales.