Opinion
Cometh the hour, cometh the liar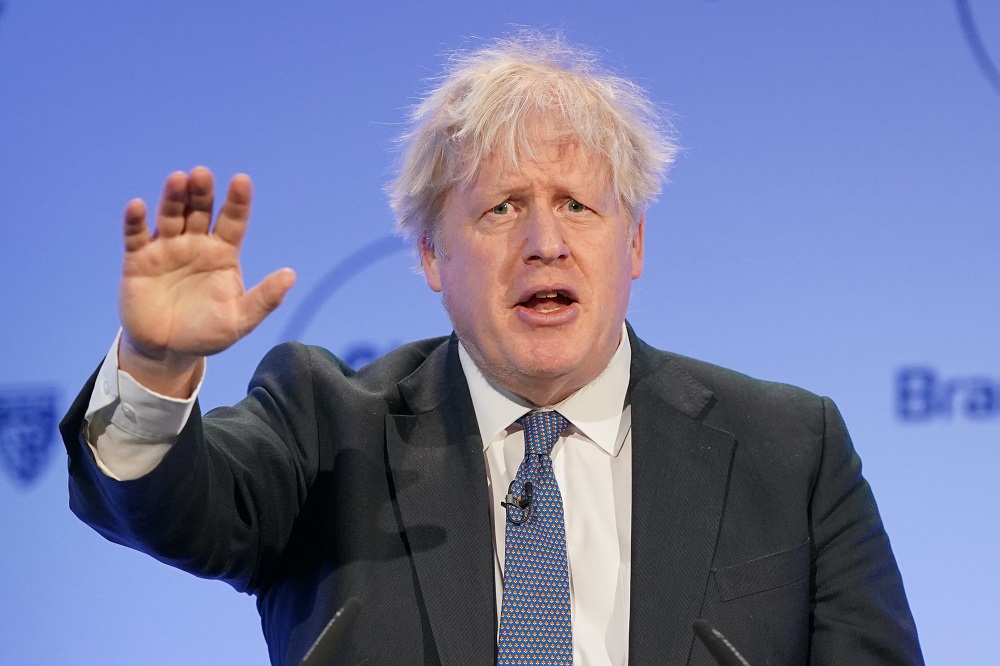 Ben Wildsmith
There was a grim inevitability to Boris Johnson's governmental adventure concluding with him and Nadine Dorries emerging into a hail of bullets like Butch Cassidy and Sundance Kid.
The only mystery is why the gods took so long to be angered by a display of hubris that made Louis IV look like John Major.
I suspect that, like the rest of us, they were paralysed in rapt disbelief that such a character was actually being permitted to cavort on the world stage at all. It was a thing to watch, you can't deny.
A clue as to how he got away with it for so long lies with the craven invertebrates he leaves behind in Westminster. Sunak, who seems to view the premiership as a sort of gap-year volunteering placement before returning to a proper job in 'tech', didn't see fit to comment on the Privileges Committee report at all.
He knows right well that his former boss can spill the beans on him whenever he likes, and one can picture him anxiously refreshing the Daily Mail's website to see what Johnson's first column had in store.
That it turned out to be a genial lifestyle piece on slimming can only have prolonged his suffering. He's food.

Incompetence 
Further down the menu, the collective 'I always knew he was a wrong 'un' mumbling from Parliamentary also-rans who were happy enough to 'back Boris' when there were still votes in it dignifies nobody.
Tory MPs never tire of telling us how their policies reward 'risk- takers' who create wealth for the country. How telling that they should wait until Johnson's head has been spiked in Parliament Square before venturing an ounce of their own political fortunes on such an outcome.
We are already being told that we want to 'move on' from the Johnson affair. In a week or so any mention of it will be met with eye-rolling sighs as if it were a non-event that's only of interest to embittered obsessives with an agenda.
You've seen this manoeuvre before when we were told we wanted to move on from Brexit, Grenfell, Covid etc. etc. etc.
We are encouraged to view each of these calamities as stand-alone misfortunes rather than a narrative arc of incompetence and malfeasance.
In this instance, the convenient take is to ascribe the entire business to Johnson alone, as if his dishonesty was an aberration of which we have now been rid.
Crackpot economics
I put it to you that Johnson was, and remains, the perfect standard bearer for the United Kingdom in the 21st Century.
Take a look around you at the deserted, hollowed-out town centres, the potholed roads, the years' long waiting lists for medical treatment, the food banks, the falling life expectancy, the endemic mental health problems, the skills shortages…
We're not going through a bad patch; all of this is the logical result for a country that has been ruined by crackpot economics and straightforward larceny for decades.
Kept afloat on a sea of debt, we have seen our industrial base, in other words our usefulness, decimated in favour of a financial services industry whose profits spread no further than the Home Counties.
The rest of us either scrap over the bones it throws our way or prosper via the artificial inflation of house prices in a Ponzi scheme that has left our young people at the mercy of an increasingly venal rentier class.
Toxic patriotism
All of this has been obvious for most of my adult life but rather than address it, our leaders, and we allow it whether we voted for them or not, have offered up toxic patriotism, xenophobia, and bullying of the disadvantaged as displaced channels for the nation's unhappiness.
The unhinged self-mutilation of Brexit isn't the cause of our woes, it's the latest and grandest event in a long tradition of self-deception.
I was in the pub one afternoon (yeah, I know), when a bloke pitched up in white Gucci loafers and plenty of gold jewellery. He stood at the bar having a pint and making sure everyone noticed him before leaving in a haze of Paco Rabane cologne.
An old boy in the corner looked up from his newspaper and observed,'
'Thousand pound millionaire.'
'What do you mean?' asked the landlord.
'Merc on the drive and f*ck all in the fridge.'
That's where the UK is as a nation. Wheeling out Charles in a golden coach to receive the baubles of an empire none of us can remember, the Sceptred Isle is all fur coat and no knickers.
Uniquely dishonest
There are only so many tears in the social fabric that you can patch up with union flags before it disintegrates and reveals the Great British sham in all its decrepitude.
Boris Johnson wasn't a uniquely dishonest Prime Minister; he was the Prime Minister of a uniquely dishonest country. His blustering appeal to a supposed former greatness echoed round the derelict ruins of post-industrial Britain like a hospital radio jingle.
It's ironic that the UK's attachment to the lies of empire should prove to be its undoing as former colonies surge past it towards prosperity.
As the death throes of the old bulldog find voice in Johnson's outrage at being removed as Bullshitter in Chief, Scotland, Northern Ireland, and Wales should take stock.
Project UK isn't getting better any time soon.
You can find more of The Shrewd View and the rest of Ben's writing on Nation.Cymru by following his links on this map
---
Support our Nation today
For the price of a cup of coffee a month you can help us create an independent, not-for-profit, national news service for the people of Wales, by the people of Wales.