Opinion
Crafwr: You couldn't make it up!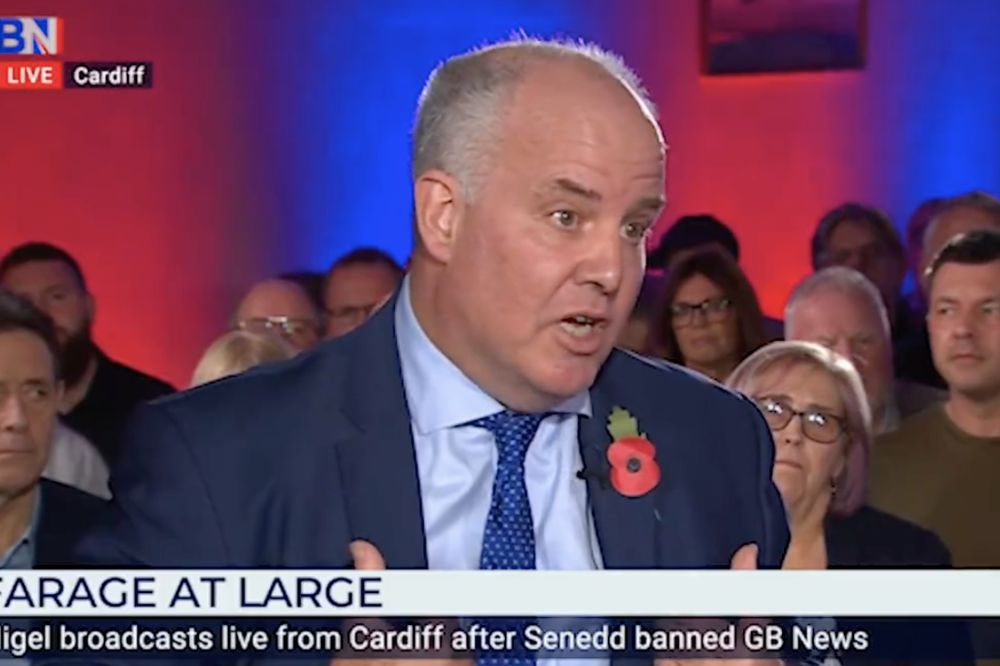 That everlasting font of self-parody and endless comic material for Crafwr and others, Andrew RT Davies, has been making a tit of himself again this week.
Did he use a blanket? I hear you ask – not this time.
In a majestic piece of sweetly savoury irony, dear old Andrew appeared on GB News, recently banned from Senedd screens for its' appalling misogyny, and dismissed the female Senedd Llywydd's rejection of an invite to appear on the channel with the line 'she was busy doing her hair no doubt'.
A sexist comment on a channel pilloried for its misogyny whilst defending that channel for its 'swift action' in response to the original incident that precipitated the Senedd ban. To borrow a phrase often used by RT 'you couldn't make it up'…
Crafwr is wondering how long the small vestige of sensible Tories still clinging on in Wales will tolerate his shenanigans. Will they give it up and become LibDems? Or Starmerites? The latter now successfully bedded in as the true heir of Thatcher after all. Here's hoping they don't kick the old duffer out as Crafwr will miss him and the open goals.
Talking of which, rumours are aswirl that Arty's attack on the luscious curly tresses of the Senedd Llywydd may be the straw that pushes his discontented band of treacherous Tories over the edge – the knives are out for Arty. Who will play the role of Brutus?

The Welsh Lib Dems
 Welsh Tory tribulations aside, defying the odds it seems there are still some diehard Libs in Wales, a dozen or so seem to have rocked up to their conference, seemingly held in a small, dark and poky room bedecked in 1990's decor.
It must have been comforting for them to hark back to such halcyon days with their membership and relevance slowly dribbling away here in Wales. What little excitement there was, for political anoraks only, occurred far from the nostalgic comforts of conference.
A series of articles by party members, including a parliamentary candidate and one of their erstwhile leaders' former policy wonks. These variously called for radical change, a break from Ed Davey's (frankly very English) Libs, sounded the warning klaxon on imminent political oblivion, and even advocated the cause of Welsh independence – viewed through a liberal lens as a catalyst for a new Lib chapter in Wales. Bold and brave – next year's conference may actually be interesting.
Crafwr feels obliged to add to the list of suggestions and would recommend a new figurehead to replace the Dodds – pleasant, passive and predictable as she may be.
Politics in Wales needs leaders who are innovative, interesting and intrepid – if only to keep the anoraks amused! With Drakeford leaving soon, Arty soon to be defenestrated? a shame if the Libs don't find a way to join this party.
Massacres
 The conflict in the Middle East will not have missed anyone's attention. Commentators everywhere, in their comfortable and distant armchairs, taking sides – with only a very few attempting to tackle the complexities of the long running Arab-Israeli conflict with balance and integrity.
Disappointing to see so many reducing such death and destruction to black and white, right and wrong.
Crafwr has no intention of wading into this vast gray sea of historic complexity, hatred and injustice. Whatever your position, whoever you support, however much or little you may know about this conflict and its origins, I hope, dear reader, that you agree with Crafwr that the killing of children, by all sides, must stop.
There has never, is never and will never be, any justification for the indiscriminate slaughter of children, of innocents. It must stop. All those who allow it and condone it must be condemned. No ifs, no buts. The world should speak with one voice – it is an indictment of the entire international community that it has not done so. Shame on them, shame on us.
---
Support our Nation today
For the price of a cup of coffee a month you can help us create an independent, not-for-profit, national news service for the people of Wales, by the people of Wales.