Opinion
Design and Democracy: an alternative approach to addressing flooding and drought in Wales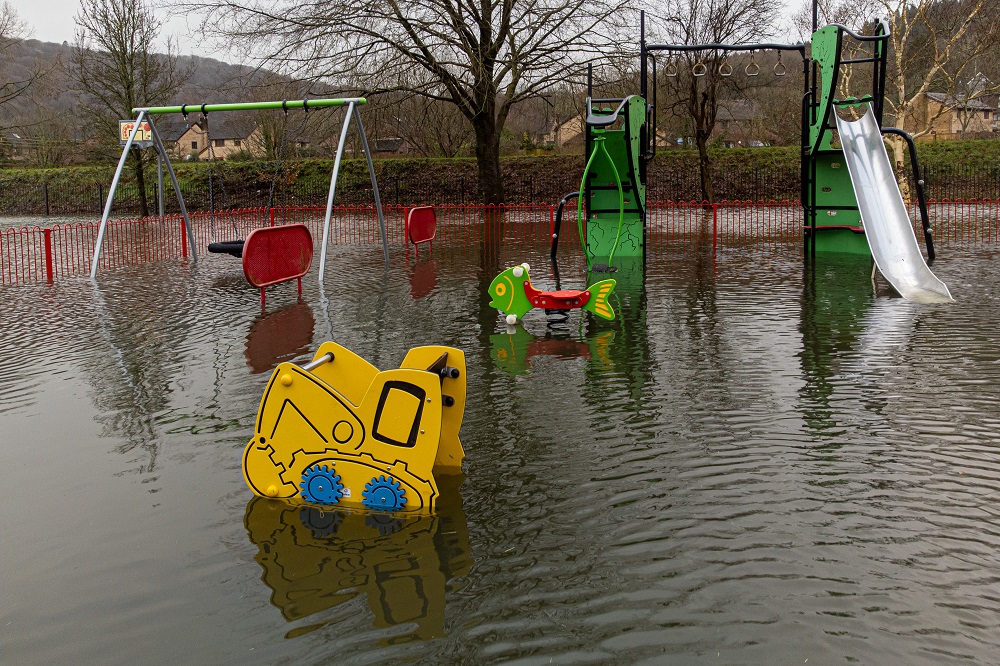 Dr Paul Jennings Dip.Perm.Des
Since Storm Dennis in 2020, we have all known that flooding is the most serious threat to Wales arising from climate change. One in eight homes in Wales are presently at risk from flooding, and as well as the cost to buildings, there is peril to life and limb, and an impact on mental health.
The Welsh Government has committed record levels of spending to improve flood defences, more than £214m over 3 years to protect 45,000 homes, but there is no end in sight to the mounting climate challenges we face. With seemingly far too much water in winter, we also face increasing drought, and its attendant fire risks in spring and summer.
The standard response, and one very much demanded, especially by those whose homes are menaced by the rising waters, is reactive flood defence, expensive civil engineering where it's most needed.
In May 2022 the Welsh Government launched an independent review led by Professor Elwen Evans QC, to help Wales to adapt to flooding and climate change. The operative word here is adapt.

Hopelessly inadequate
Our roads, railways and settlements are hopelessly inadequate to face the challenges ahead, and the risk is, that with ongoing housing developments, we will simply worsen the problems, accelerating water through the landscape, creating worse flooding at the same time as wasting a resource we will badly need in the dry months which follow.
We do not know how bad future flooding might be, nor how long future droughts might last, but there is an alternative approach which can both address flooding and drought, as well as meeting other policy aims. It requires careful design, and the widest possible consultation with and involvement of communities; it would be truly adaptive to the unprecedented situation.
Design does not necessarily mean a technocratic or top down methodology. It does mean seeing flooding, drought, food security, agriculture, and crashing biodiversity as all part of the same problem, and as directly related to the unique threat of rapid climate change.
The landscape needs places for water storage, rather than means to rush water away. Steep slopes and upland areas must be wooded, becoming slow release reservoirs for wet and dry months. Wetlands must be created along every riverbank, slowing water down.
Biodiversity crisis
Both the new woodlands and the wetlands would ameliorate the biodiversity crisis, and could offer new economic avenues for rural Wales. All houses and all new developments should be holding water through local rainwater harvesting for domestic use, and woodlands and wetlands should penetrate into every built up area, more sponges for the extreme weather we know is coming.
This kind of designed approach will demand that we change. It must change building, and it must change farming. It must be allowed to overcome the polarisation which surrounds such terms as rewilding. It turns out that wild land, and wildlife, can help with our flooding problem; it also turns out that farm diversification can, if applied correctly, improve rural economies, and provide wildlife with the opportunities it needs to survive and thrive in very difficult times.
We can work with nature to flood proof our settlements and drought proof our farmlands, even as we sequester atmospheric carbon dioxide.
Crops like reedmace and willow; a return to hardy traditional breeds, as well as the increasing potential of nut trees in a warming climate, offer long term avenues towards durable land use, and crucially, address threats such as flooding at the same time.
Adaptation
The challenge of adaptation is a societal one. In other words, we all have to go along for the rough ride. Neither top down governmental fixes, always under budgetary pressure, nor just expecting farmers to give up everything they know for what might seem like a long shot, is going to work. We have to do this together.
This is where design, of farms, and of building developments, for example, must meet democracy, and democracy of a sort deeper than is offered by council chambers or planning committees. Communities must not only be consulted, but in some cases, recreated, around the tasks we face. We will need participation, rebuilt local markets for local produce, and new land ownership models.
It has become commonplace to hear that climate change represents an existential threat to us all. The floods at the moment are little more than a warning shot. The measure of our society is whether we will take that warning to adapt, and see that our adaptation must be thorough and transformative.
If, as seems likely, to protect our homes, we need beavers in our rivers, and wetlands around their homes, and we need wooded hills, and the products and the wildlife that they will be home to, then we will need to change the ways we work, the food we eat, and the way we consider ourselves, and our communities as part, not only of the physical landscape, but of the patterns of life which it must nurture in order that we all might live.
We can't afford needless polarisation, and we can't afford either business as usual, or mere defence. Designed adaptations which offer environmental, economic and social benefits, and which must now be rapidly adopted, will require an inclusive conversation, just such a conversation is what we must mean by democracy, if we are to deal with the climate challenges we can no longer avoid.
---
Support our Nation today
For the price of a cup of coffee a month you can help us create an independent, not-for-profit, national news service for the people of Wales, by the people of Wales.