Opinion
Filling In the Blanks
Ben Wildsmith
In August of 1983, I reached one of those forks in the road when you experience something so enjoyable that it hooks you for life.
I was on a weekend break with my family in Penmaenpool and the journey there had been eventful. As we sat at the lights near Y Trallwng, a black BMW came hurtling down the dual carriageway behind us without a hope of stopping in time.
The crunching sound behind me was so unusual that it registered more prominently than the feeling of my face banging into Mum's headrest and her scream.
The rear of the car was totalled but it still moved so we carried on to the Mawddach estuary; all of us in shock and processing what had happened.
I was a big boy now, at 10, and had been thrilled to be getting my own room for the weekend. After a quiet dinner I assured my parents I was OK and went to enjoy it.
The next few hours were awful. I'd drop off to sleep and start dreaming about my surroundings. Cormorants and oystercatchers flew around the room until the roar of a German engine scared them off and that crunch from behind woke me up, crying and panting. There was no way I was going into my parents' room, though, not at my age, so after several attempts at sleeping I put the telly on.
In the middle of the night, live from America, Gorseinon's Colin Jones was fighting Milton 'Ice Man' McCrory from Detroit for the WBC Welterweight championship. Over twelve rounds in Las Vegas, he banged and sweated towards a split decision loss that could have easily gone his way. I was lost in it, bobbing and weaving as I sat upright in bed willing Colin on.
By the time I went back to sleep, I was disappointed instead of traumatised and boxing had got me. When Jones challenged for the title again, against Donald Curry, I was nervous weeks in advance, as I was for Pat Cowdell, Barry McGuigan, Frank Bruno, Herol Graham…
So, I'll be forking out my pay-per-view money to watch Daniel Dubois take on Oleksandr Usyk tonight despite his vanishingly slim chances of victory. I've watched the press conferences, the weigh-in, dozens of interviews and a couple of documentaries.
All this peripheral stuff serves as the sizzle on the steak, whetting appetites to see two extraordinary athletes risk their lives for glory.

Jeopardy
Another boxing event this week, however, has eclipsed the heavyweight championship on social media. In October, Logan Paul, the YouTube star behind the Prime energy drink will be boxing Dillon Danis, an American MMA fighter.
Neither has a boxing background and no titles are on the line, but it is predicted to be one of the most watched contests of the year.
Danis, knowing that the event could propel him to superstardom, has been putting in the hours on Twitter to hype the fight, for which a press conference was held on Tuesday. Specifically, he's been posting dozens of photos of Paul's fiancée in affectionate poses with other men. Slut-shaming, in other words.
At the press conference, Tyson Fury's father, John, had a role to play. His younger son, Tommy off Love Island, is fighting another YouTuber, KSI on the same bill.
Fury Sr. concocted a flimsy row so that he could throw furniture about and challenge anybody in the room to a fight. The assembled social media stars on stage shrunk into the shadows as this 60-year-old rampaged through his act.
For an event like this, you see, there is a missing ingredient: authenticity. John Fury's performance was dependent on background knowledge from the audience. He has a reputation as a bare-knuckle fighter in his youth and spent four years in prison for gouging out a man's eye in 2011.
A boxing match between two pretty-boy influencers lacks jeopardy, so John, do your thing. The cheque is in the post.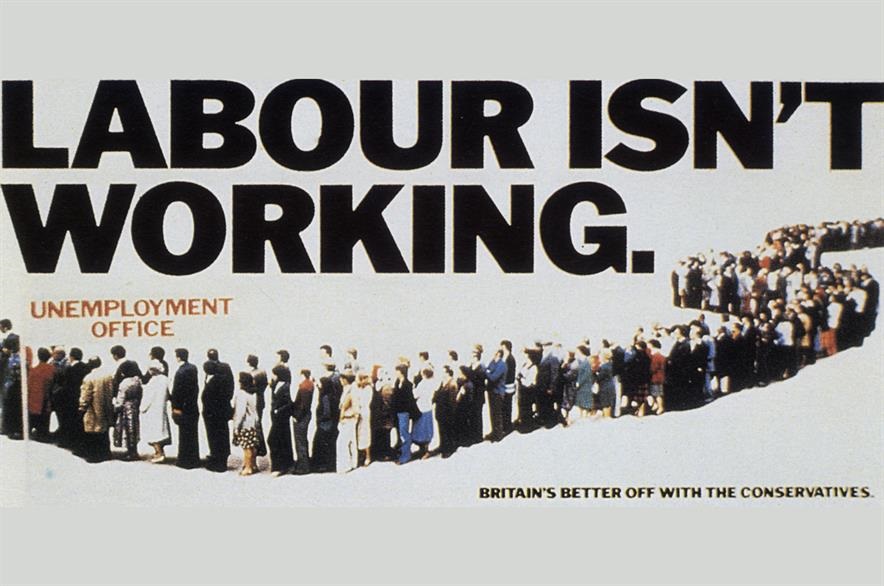 Decoding
All public events need hype, and politics has always involved an element of it.
This 1978 Conservative poster is touted as the moment that PR became dominant in British politics. Created by Saatchi & Saatchi, it marries a powerful visual image with a simple slogan to pin blame on the incumbent government for growing unemployment.
Yes, there had been an international financial crisis caused by oil prices, but for the electorate, this image caught the moment, and we all know what came next.
If Osama Bin Laden's ambition had been to kill as many Americans as possible, he could have killed a greater number, and more easily, than he did on 9/11. His objective was the image freezing into the collective consciousness, as we all saw the human experience bent to his will before our eyes. It was an advertisement for Armageddon.
But at least it was an advertisement for something. The use of outrageous imagery to captivate the public has traditionally involved simplifying a complicated matter into something we can understand or even enjoy. So, for instance, the careers of two boxers might involve losses, controversial decisions, gruelling years as amateurs and injuries.
On the poster for their fight, though, you'll see two airbrushed titans glaring below a slogan like 'Judgement Day' or, if that one makes money, 'Judgement Day 2'. All the struggles the fighters have been through to get there are implicit in the image, there for you to decode.
But decoding stuff is boring. As it's become apparent that the image is king, why bother with all the problematic gubbins it's supposed to represent? As long as the press conference does the numbers, it doesn't matter if the fight is between Noel Edmunds and Prue Leith.
Empty charades
But how many empty charades can our culture accommodate before substance is eliminated entirely? The Republican primary debate went on this week minus Donald Trump, who is virtually guaranteed to win the nomination. Whilst the other candidates debated whatever it is they think his voters care about, the lad himself was proving that they don't care about anything at all.
Staring defiantly into a Georgia Department of Justice camera, Trump burned everything you need to know about next year's election on to the whole world. Vote for Jesse James.
Here in Wales, Andrew 'Real Ting' Davies has tweeted that Labour wants to give £1600 a month to asylum seekers every day for weeks on end. It's not true, he knows it's not true, even his supporters up the golf club know it isn't true. None of that matters. It brings eyeballs, get over it.
The sizzle from a steak should signify the existence of an actual steak, not steak-flavoured candy floss that disintegrates upon contact with the air.
If Marcel Proust had posted 'Hmmmm…' on Instagram alongside a picture of a cake, it would not have been enough to win his reputation.
When Colin Jones went life or death against McCrory all those years ago, it took away a little boy's nightmares. The genuine drama of the fight gave my brain the space it needed to file away the day's trauma properly and see me right. It inspired a lifelong passion for the sport and gave me something to talk about with people who love the same thing. It was real: for him and for everyone watching.
The crash would have made a great YouTube short, I suppose.
You can find more of The Shrewd View and the rest of Ben's writing on Nation.Cymru by following his links on this map.
---
Support our Nation today
For the price of a cup of coffee a month you can help us create an independent, not-for-profit, national news service for the people of Wales, by the people of Wales.