Opinion
Ghosted: There were 5829 words in Sir Keir Starmer's conference speech last week and none of them was 'Wales'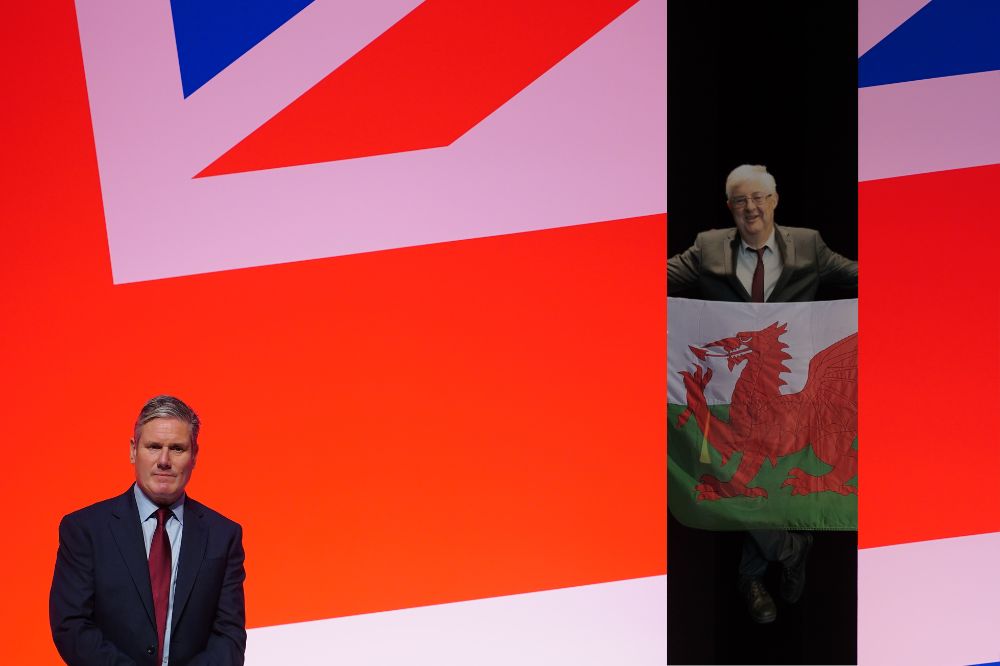 Ben Wildsmith
The best piece of advice I ever received was never to bother someone whom you suspect is ignoring you. Unless you have knowingly upset them, it's on the ignorer to raise any dispute; the ignoree should leave them to their sulk.
It's not easy though. What on earth have I done? you ruminate whilst staring at your unanswered text in doleful confusion.
You might have a bit of a root around on Facebook to see if there is anything to explain your banishment. You mean to say he's thrown a party and invited everyone except me?
The slight is all the more painful when it is your reward for unending, canine loyalty to someone whose behaviour has often left them otherwise friendless.
In their darkest hour you were there, keeping the faith, and now that it's all coming good, they don't want to know.
There were 5829 words in Sir Keir Starmer's conference speech on Tuesday and none of them was 'Wales', let alone 'Cymru'. Do a document search and you'll find 'Anas', right next to 'thank', but 'Mark' is only highlighted as a constituent part of 'market'.

Flavour of the month
We are not, it would seem, flavour of the month. Or any other month, come to that. Wales has returned a plurality of Labour MPs in every General Election since 1922.
The Senedd has been under Labour control since its inception. If anywhere has cause to consider itself the UK Labour Party's BFF, it is Wales.
If we had been overlooked, that would be one thing. Infuriating as it is, we are well used to the London establishment forgetting that Wales exists until it's convenient to remember.
At the moment, though, Wales has the dubious privilege of UK-wide profile, thanks to the Conservatives selecting our speed limits as the latest distraction from the collapse of civic society on their watch.
The decision to namecheck Scotland's Anas Sarwar and ignore Mark Drakeford was deliberate.
Embarrassment
Despite being the sole Labour-governed nation in the Union, the Welsh Government is an embarrassment to Starmer, whose enthusiasm for Union flags is rivalled only by the DUP and Geri Halliwell.
With the Tory press again painting Wales as suffering under an authoritarian, near-communist regime, Starmer's choice not to lend support is telling.
The benign interpretation is that the forthcoming election will be won and lost in England, with Scotland also edging back into relevance on the evidence of the recent by-election.
The path to power is strewn with hard choices, and Labour diehards might imagine that backgrounding the Welsh party is justified in terms of campaigning.
There was more to worry about in this speech, however, than grubby expedience. The previous Labour manifesto had plans for regional development banks, through which funding would flow to build infrastructure projects.
This devolutionary ambition has been replaced by a centralised National Wealth Fund. From the optics on the stage to the scant policy details made available, it is clear that Starmer's instincts are to centralise rather than devolve.
Thumping mandates
Along with Drakeford, Sadiq Khan and Andy Burnham were also omitted from the speech. This really is quite extraordinary when you think about it.
These Labour politicians all boast thumping mandates from their respective electorates but have been airbrushed out of the party's national offering. No personal scandal attaches to any of them, and neither are they representative of an ideological fringe.
This is a party that trumpets inclusion. Certainly, that spirit extends to companies like Amazon and Deliveroo, who held receptions at the conference, and to Zilch — a Buy Now Pay Later lender that provided sponsorship.
With workers' rights supposedly at the top of its agenda, it seems curious that these representatives of the gig economy and consumer debt should be more enthusiastically embraced by the party than its elected leaders around the country.
Cut the ties
If this is indicative of how the next Labour government intends to interact with devolved democracy, then the party here in Wales needs to put on its big boy trousers and become a problem.
For over a century Welsh Labour MPs have been a comfortable, certain block in Westminster. They represent constituencies that are largely to the left of centre in English terms, and which currently have no electorally viable alternative.
If Wales is to be misrepresented by the Conservatives and ignored by UK Labour, then 'Welsh Labour' should live up to its name and become independent of the national party.
The arguments for ongoing devolution that kept its support loyal through the Blair/Brown years are clearly being abandoned in favour of an Anglocentric outlook that is at odds with the culture that birthed the movement here in Wales.
Cut the ties and make them work for their Welsh votes.
---
Support our Nation today
For the price of a cup of coffee a month you can help us create an independent, not-for-profit, national news service for the people of Wales, by the people of Wales.