Opinion
'He who speaketh against Sir Keir speaketh for the Tories'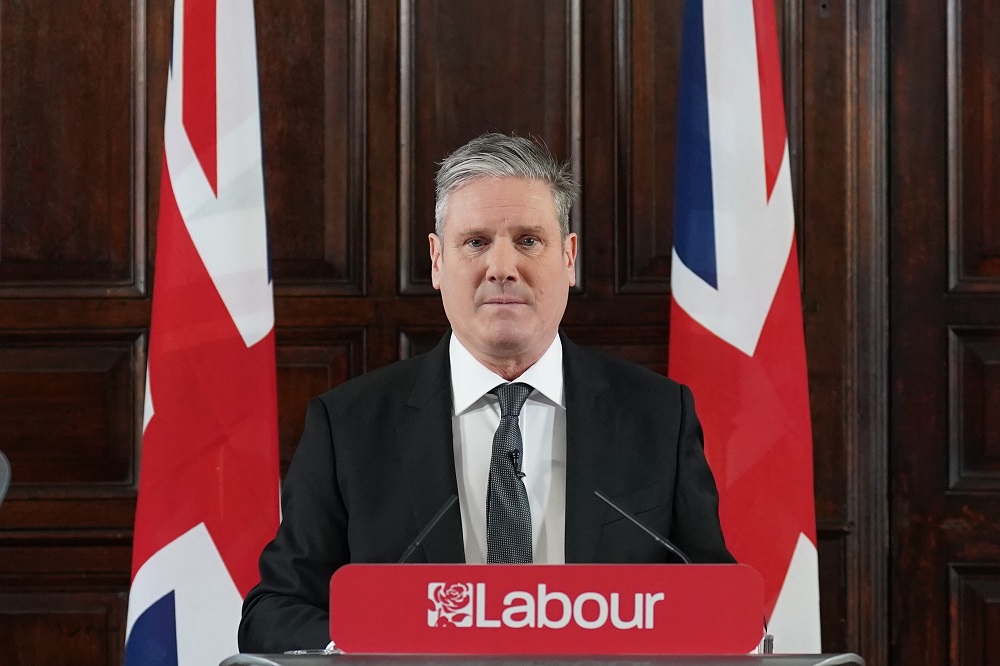 Ben Wildsmith
You may not, I learned this week, criticise Keir Starmer. Whilst deriding the crass machinations of the obvious charlatan and wrong 'un might seem a perfectly natural class of a thing to do, you absolutely mustn't.
Sir Keir, not Keith, your name vill also go in zee book, has been anointed to deliver us from evil. The only way unto Heaven is through Him, so stop taking the piss.
As Dusty Springfield had it, the only boy who could ever teach me was the son-of-a-toolmaker. Yes he WAS!
He who speaketh against Sir Keir speaketh for the Tories. Now, I know some of you imagine that there are paradigms other than an exclusive, binary choice between loving Sir Keir or sacrificing your first-born child to Grant Shapps, but that is just Satan tricking you.
So, now that Jeremy Corbyn has been cast into the desert and Nicola Sturgeon is off to spend more time with her MI5 pension, let's examine the case for Sir Keir, as insisted upon by centrist dads who know what's good for us.
The first law of Keirism holds that not being Jeremy Corbyn > than being anything else. Essentially, Keirites hold that if Sir Keir were to knock on the door of hard working, formerly Labour family in the north of England with a bag of chicken kormas and beer, the conversation would go thusly:
'Eh oop, is tha the rabidly Remain Brexit spokesman for t' Labour party?'
'Hi, I'm Sir Keir. I recognise the validity of your vote on Brexit and am styling the Union Flag as a cape.'
'Aye, well that's as mebbe, but what about t'antisemitic Trotskyite entryists in thy midst? We'll not vote for owt communist in this house!'
'May I present my credentials?'
At this, Sir Keir hands his hobnailed interlocutor a card that reads, I am not Jeremy Corbyn.
'Well why didn't you say, yer daft bugger? Come on in! Can I stop being Northern now?'
'Yes, you've fulfilled your role in my focus group..'
'Jolly good, and well done establishing Labour's credibility with hedge fund managers. My husband Arkwright was becoming quite nervous about our off-piste investments. Shall I fetch the lime pickle?'

Performative left
This only works thanks to the second law of Keirism which holds that the electorate is as thick as Piers Morgan's wrists.
Here is what the QI-watching classes believe is going to usher in a new age of decency:
1) Brexit voters now realise their mistake but are a stubborn bunch who must not be antagonised. So, in order to negotiate as near a reversal of Brexit as possible without admitting it, Sir Keir must appear at all times as if he is off to the last night of the Proms. It's common knowledge that Brexit-voters can be mesmerised with flags so keep adding more and more flags and hope that their visual appeal will make up for the red meat racism that the Tories will be offering.
2) Only offer a change of personnel. The electorate have been so thoroughly brainwashed that to suggest that their problems are caused by anything other than baddies running the show risks scaring them. Pretend that inherent decency will cure the ills of a society broken by 40 years of insane economics.
3) Throw strikers under the bus. Nothing will persuade those without union protection that their rights are being decimated, so give a nod and wink to the idea that public service workers are scroungers.
The overarching theme of this, according to the performative left, is that once in power Labour will pivot to the left and deliver a better society. The problem here, as ever, is of politicians who have mortgaged our future on an election result.
Seduced by flags
What Sir Keir will find out, when in power, is that voters stupid enough to be seduced by flags will expect some racism in return for their votes.
He will also discover that allowing international capital to supervise the managed decline of the UK will not result in power brokers giving us a break on the basis of his loyalty.
Starmer won the leadership of his party with 'pledges' that suggested he would pursue an agenda that would challenge the status quo. All of these have been abandoned and, this week, he told everyone who didn't like it to leave the party.
Like you, I'm confused by what motivates the sort of floating voter who switches from lifetime Labour-voting to Boris Johnson but I'm absolutely certain that pandering to such a creature is in nobody's interest.
The King of the Remainers is now, we're led to believe, an adherent of Brexit. The man named after Keir Hardy represents the workers and the bosses, even when the bosses are government itself.
If this is where we are supposed to invest our hopes, then keep them very, very low.
You can find more of The Shrewd View and the rest of Ben's writing on Nation.Cymru by following his links on this map
---
Support our Nation today
For the price of a cup of coffee a month you can help us create an independent, not-for-profit, national news service for the people of Wales, by the people of Wales.