Opinion
'I will keep fighting for new nuclear at Wylfa at every opportunity until I see spades in the ground' – Virginia Crosbie
Virginia Crosbie, Member of Parliament for Ynys Môn 
With Nuclear Week in Parliament this week, there is an opportunity to highlight why I am determined to bring new nuclear to Wylfa.
Since the island elected me in 2019 I have continued to fight to raise the profile of Ynys Môn on the global stage and have been successful in bringing investment and generating exciting new opportunities for local people.
The UK Government is committed to levelling up places like Ynys Môn, as evidenced by £26m for our Anglesey Freeport, £20m for the Holyhead Breakwater refurbishment, £17m from the Levelling Up Fund, £16m Shared Prosperity funding, £3m Community Renewal funding and almost £1m from the Safer Streets Fund.
Anglesey Freeport marks the start of our economic renaissance. The Freeport covers the whole island which means that both businesses already based here and new organisations setting up here will enjoy the benefits of freeport status. Local people deserve a good income and a future on Ynys Môn and that means we need high-quality skilled jobs.
My dad had to leave Wales to find work. Secure well-paid long-term local employment will stem the loss of our young people who currently leave in search of careers elsewhere, taking with them our Welsh language and breaking up our communities.
I am determined to make a success of our freeport which is why you will see me bringing companies around the island like GE-Hitachi, KEPCO, Westinghouse, Airbus, Rolls Royce SMR, Moltex and Bechtel. Many of these organisations have average salaries almost twice those on Ynys Môn and are keen to invest and bring new good-quality jobs here. Our first Freeport success is Westinghouse who have set up a de-commissioning operation at M-SParc creating 15 new jobs with more to come.
I will not stop here.
I have campaigned for new nuclear at Wylfa as it will bring thousands of construction jobs and hundreds of well-paid permanent roles to Ynys Môn.
The £120m Future Nuclear Enabling Fund was launched at Wylfa; Wylfa is now recognised as one of the best sites for new nuclear in the UK. I have mentioned Wylfa more than 58 times in the House of Commons, led Westminster debates, sat on the Nuclear Financing Bill Committee and championed green taxonomy for nuclear.
I am Vice Chair of the cross-party All Party Parliamentary Group (APPG) for Nuclear, Chair of the Small Modular Reactors (SMRs) APPG and the Nuclear Delivery Group. I hosted Nuclear Week in Westminster and regularly speak at conferences and write articles.

Energy Island
Ynys Môn is known as "energy island" because we have wind, wave, solar, tidal and hydrogen. I have been a cheerleader for the BP Mona offshore wind project and have helped the Holyhead Hydrogen Hub unlock £4.8m of funding from the UK Government. I have supported Morlais pushing the UK Government to ringfence funding for tidal energy, which they did in the Contract for Difference Round 4 funding.
As we have seen over the last year, global energy supplies have been disrupted and weaponised by the likes of Putin, causing household bills to soar and economic growth to slow around the world. It is therefore essential that the UK has energy independence and security.
We cannot have energy security without nuclear. The reality is the sun does not always shine and the wind does not always blow. Germany's experience has shown that an all renewables based electricity grid with no nuclear is not possible. It creates an expensive and difficult to manage Grid that relies on imports of foreign electricity – more often than not French nuclear electricity flowing to light German homes.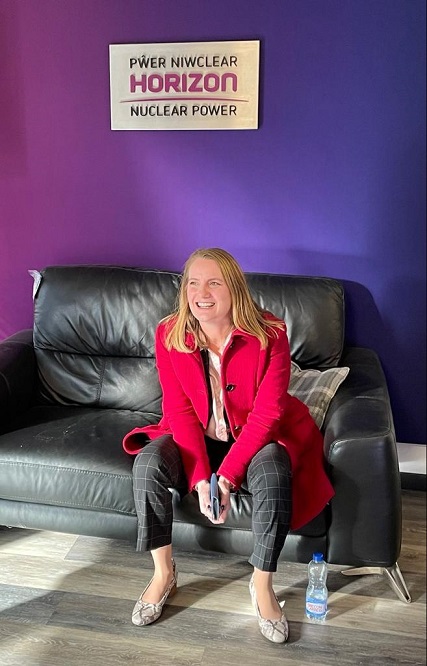 Here in the UK, nuclear has been a bastion of our energy security since the 1950s and we need to build more. We will need twice as much power by 2050 as we have today, and almost all of our nuclear fleet will be gone in five years. Even building Hinkley Point C and Sizewell C will only get us back to where we were in 1983.
A schedule of new nuclear plant construction and deployment is vital to ensure that the necessary skills and supply chain can grow to deliver this ambition. That is why we have formed Great British Nuclear (GBN), headed up by the brilliant Gwen Parry Jones, who lives right here on our island.
I am sure that Gwen, the rest of GBN, and the UK Government recognise that this schedule must include new nuclear at Wylfa and at Trawsfynydd in the first wave of new projects.
High-paying employment
Wylfa is recognised as one of the best sites for new nuclear in the UK and was specifically named in the UK Government's British Energy Security Strategy. With abundant, geologically stable land with good access to cooling water and a willing and skilled host community, Wylfa is an ideal place to site one of our next generation nuclear power stations, helping to provide skilled, stable and high paying employment for years to come.
I will keep fighting for new nuclear at Wylfa at every opportunity until I see spades in the ground.
Over half of our island's population speak Welsh which is why my first Early Day Motion in the House of Commons was about the importance of the Welsh language.
When the island elected me I committed to learn Welsh and I continue to do all I can to promote and sustain it.
I am delighted that money from the UK Government's £2.7m Community Renewal Fund has been used to protect and expand the use of the Welsh language under the Iaith Môn scheme.
The best way I can protect our Welsh language and culture is by ensuring that there is good quality employment on Ynys Môn. This is why I am determined to make a success of our Anglesey Freeport, bring new nuclear to Wylfa and attract high quality investment.
I am determined to continue to deliver the opportunities Anglesey needs to protect our Welsh language and culture and ensure people across our island have a bright future – and that future is on Ynys Môn.
---
Support our Nation today
For the price of a cup of coffee a month you can help us create an independent, not-for-profit, national news service for the people of Wales, by the people of Wales.