Opinion
Let the train take the strain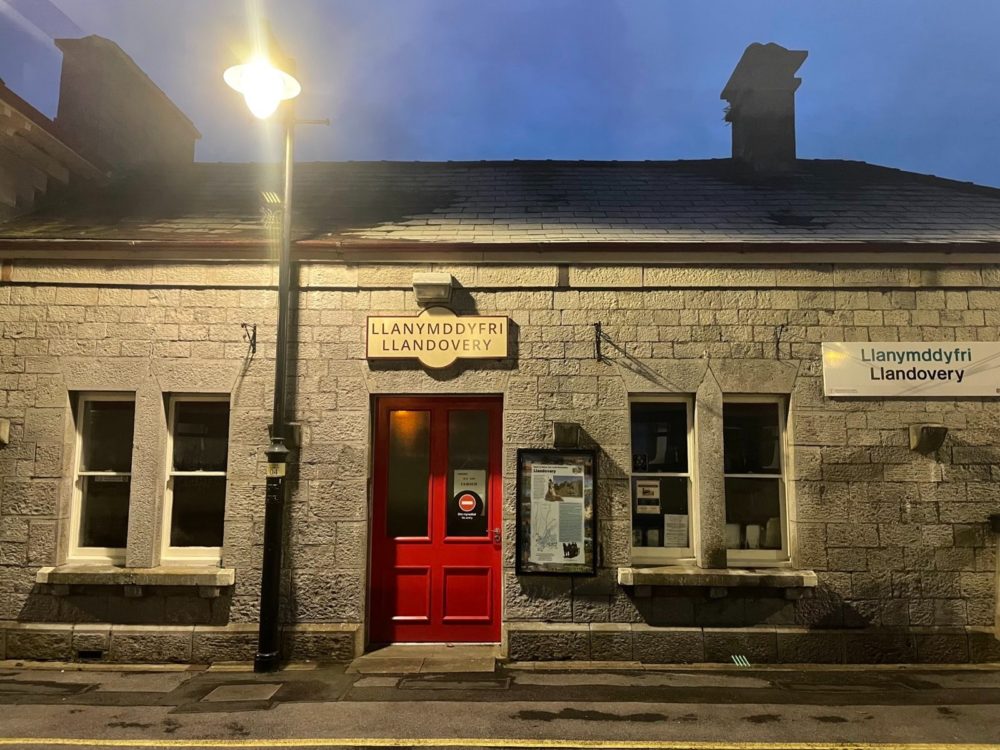 Sarah Morgan Jones
Falling out of bed at 4.15am I go into autopilot, flick kettle, let dog out, jump in shower, pull on clothes.
I make two sandwiches and a flask of coffee. The picnic is not up to my usual standard, but it's an essential grab because where I am going there will be no refreshments for the next four hours.
When the taxi arrives an hour later, my trip anxiety subsides. As long as there is no cancellation, the hard bit – waking up after four hours sleep – is over.
All I need to do now, is sit back and watch the scenery of the Heart of Wales roll by.
Except, the first part of my four hours on a cold single carriage with not much belly room on the table seat, is in darkness.
I'm heading to north Wales for a writing course. I was keen not to drive when I first started making plans, as gazing at the vista is hard to do when you're stuck behind the wheel.
Arriving tired because of an early start is very different to arriving tired from road stress, and despite the distance being the same as Swansea to Newbury, which only takes a couple of hours, this journey was going to be a minimum of four, and by train seven, so I was determined to be able to relax.

Heart of Wales
Several trains were lined up ready to go when I arrived at the station. Two others which would have got me to Criccieth around the same time – one via Newport and up through the borders, change at Shrewsbury and then coastward on the Cambrian line.
The other, heading west to Carmarthen, where a change to a bus bumping up through the Ceredigion landscape, followed by two more changes at Aberystwyth and Machynlleth, back onto a bus for the last leg.
The last one to leave, however, was one that no amount of searching 'Swansea to Criccieth' threw up in the search results, and only revealed itself when I searched 'Swansea to Shrewsbury.'
The Heart of Wales line – that's the bunny. If I hadn't known it was there, it would have slipped off out into the dawn without me.
If you visit the TfW website dedicated to the HoWL, you will learn that the numerous stations are largely looked after by their communities. The floral displays, the signposts for the trails you can jump off and follow, and the pretty station buildings all offer beckoning allure.
There are tantalising suggestions that you can get a one- or two-day rover, a season ticket perhaps. The route has recently opened up to concessionary travel pass holders – over 60s are welcomed aboard for free.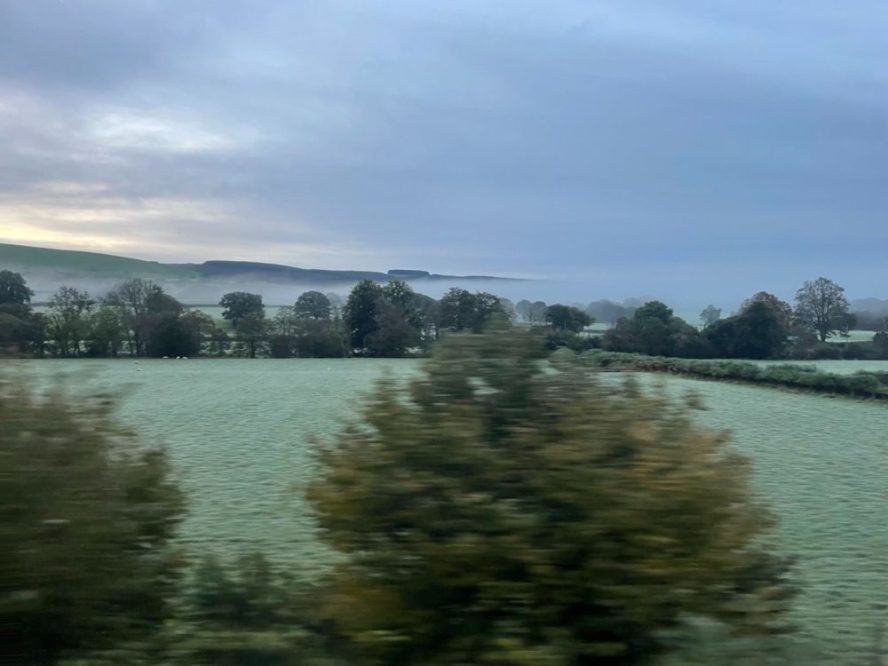 Historic
In theory, and perhaps in practice, you can jump off at one stop and trek to the next, finding a nice pub lunch along the way, before continuing your journey when the next train comes through.
But there is scant timetable and fare information, no links for the diehard train nerd to book just that line without being forced back to the main booking portal for All the Trains. After my journey, I found one page which explained what I had been looking for, but feel these routes should be promoted and offered on the main booking page.
This train left ten minutes after the others but connects with the same final parts of their routes from Shrewsbury, although not necessarily in a logical way.
It takes around an hour longer and because I had to book it as a separate return, made the total fare more and incurred an extra booking fee.
But why do it like this? Why go through this logistical contortionism to sit in an old fashioned, chilly, one-horse train which stops at every lamppost as it chunders through the countryside and leaves me spending my meagre pounds across the border?
Use it or lose it. It's an historic line. For those living in the towns and villages along the route, it is a lifeline, an alternative to the car, a connection between communities.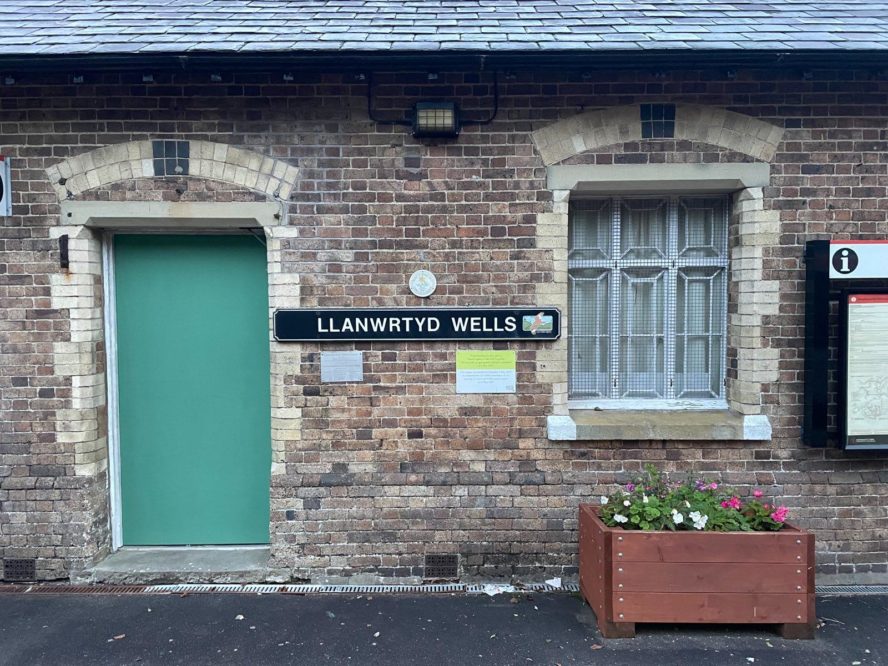 Poetry in locomotion
There are many bonuses to this train.
The commuter traffic is absent – I initially share the carriage with a couple and their dog, a bookish gent on a day return to Shrewsbury (or as the one nod to on-train technology declares, Amwthig) and happily the man-boy in long shorts, sliders and Pokémon socks reaching up to the tattoo of his kid's name on his calf, who doesn't mind scrolling his TikTok feed with the sound of wrestling and rap on full volume, is only on for two short stops.
As we merry gathering of strangers wind our way through Llanwrtyd, Llandrindod, Dolau, Cnwclas, poetry in locomotion, prehistoric hills, timeless native trees and frosted fields give way to back gardens and lean-tos overlooking the tracks at Knighton.
I see places and views I would not see if I had driven and have pleasant natterings with the charming guard who greets everyone as 'my mate' or 'my friend' in his midlands brogue.
Chimneys silhouetted by the pale autumnal sunrise and the dragon's breath still loitering in the vales, and railside allotments beginning to show their raggedy winter coats all slip away as we enter the valley floor of Afon Tefeidiad amid the Shropshire Hills.
There are few parts of this journey which are not beautiful.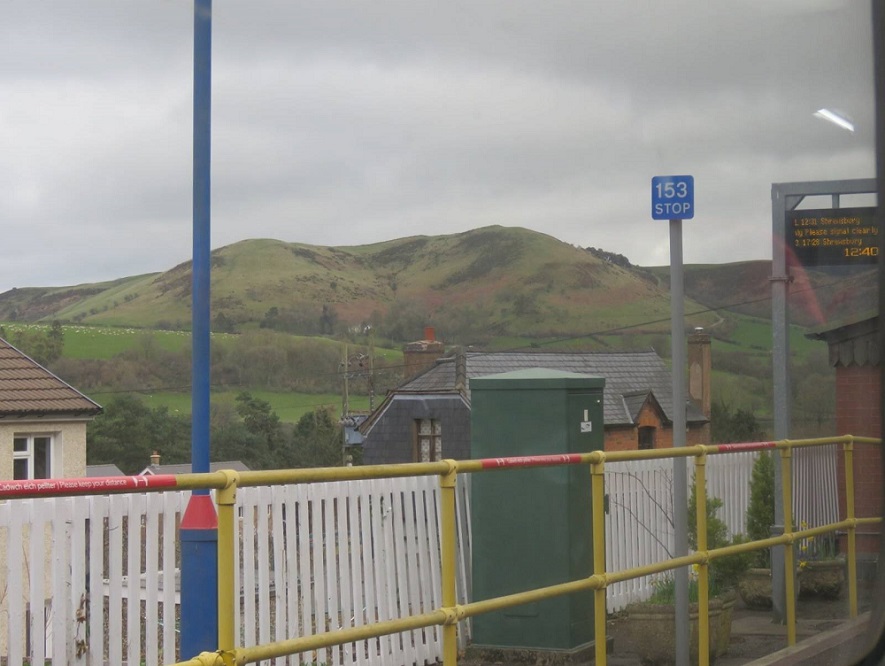 Connection
On the downside, the heating is not that effective and there won't be a trolley navigating its way up the aisle anytime soon.
But this selection means that when I arrive in Shrewsbury, I have a reasonable amount of time before my onward journey. Enough time to do something, stretch my legs, see something of the town, replenish my reserves of calories, caffeine and nicotine which will, by then, be running low.
With the other trains, the connection times are less generous – all it needs is one delay and the whole journey goes out of whack.
When I did this journey last year, heading to Barmouth for a little break, I got the train that leaves after 9am.
Arriving at Shrewsbury, back then, I saw, along with all the mid-Wales school kids who simultaneously poured onto the platform, the onward train disappear into the distance, leaving us all standing there for the best part of an hour.
Planning the return journey, the only way to make the Heart of Wales connection back to Swansea on Friday, is to leave Criccieth during the last breakfast – otherwise, by getting the one just an hour later, I miss the link by one single minute.
So, leave early I must and spend another couple of hours stopover in England before making it home in time to miss The Archers.
As it transpires, Storm Babet puts paid to all this careful planning, and when I get to Machynlleth on the return journey, all trains from Shrewsbury are cancelled, and I must quickly rethink, re-route and most annoyingly repay with no chance of a refund, and complete the home run on a bouncy bus.
Whilst this gets me home quicker, it deprives me of the time and stability I was hoping to use to do some work.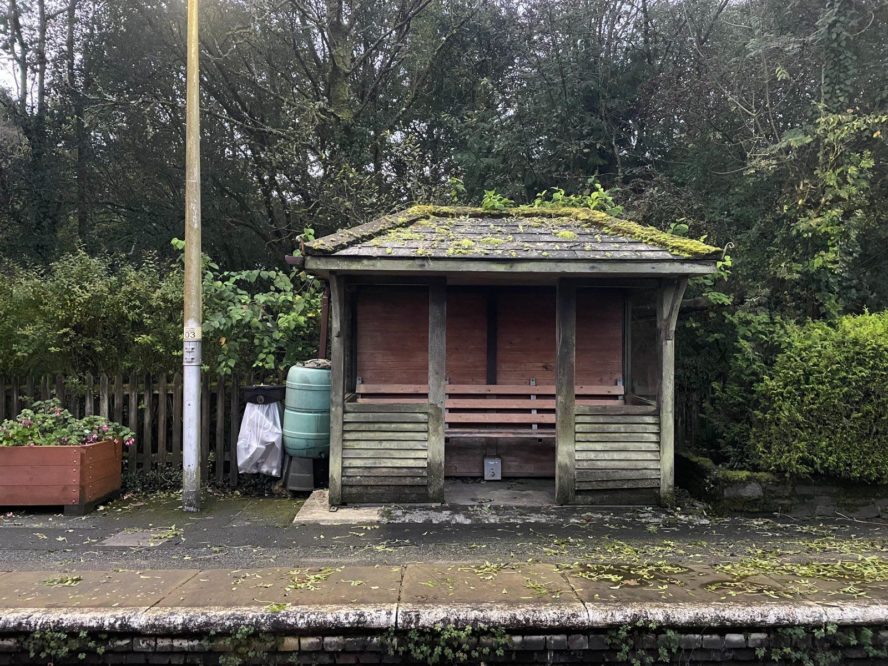 Thunderously inadequate
The sort of connectivity which sees the south-north commute take longer than it takes to go from Swansea to Newcastle, or to fly from London to Mumbai in some circumstances, or the alternative the bouncy-bus from one university town to another are thunderously inadequate.
The cost exceeds the petrol bill by a country mile, even with split ticketing, and the £2 booking fee on each part of the journey is scandalous.
These are the realities of trains in Wales since the slash and burn of Beeching and the subsequent and continued failure of the Welsh government to invest in a logical long-term way in public transport ever since. I know they are not alone in this…
The debate about reopening the line from Carmarthen to Aberystwyth flares up and subsides with the same regularity that matchday travellers are wedged into the tin cans which deliberately leave Cardiff too early for most and can be cancelled at the drop of a hat.
While it is good news that valleys metro is under construction, the people of those parts must suffer with no public transport while it is happening, leaving them stranded or car dependent for the foreseeable.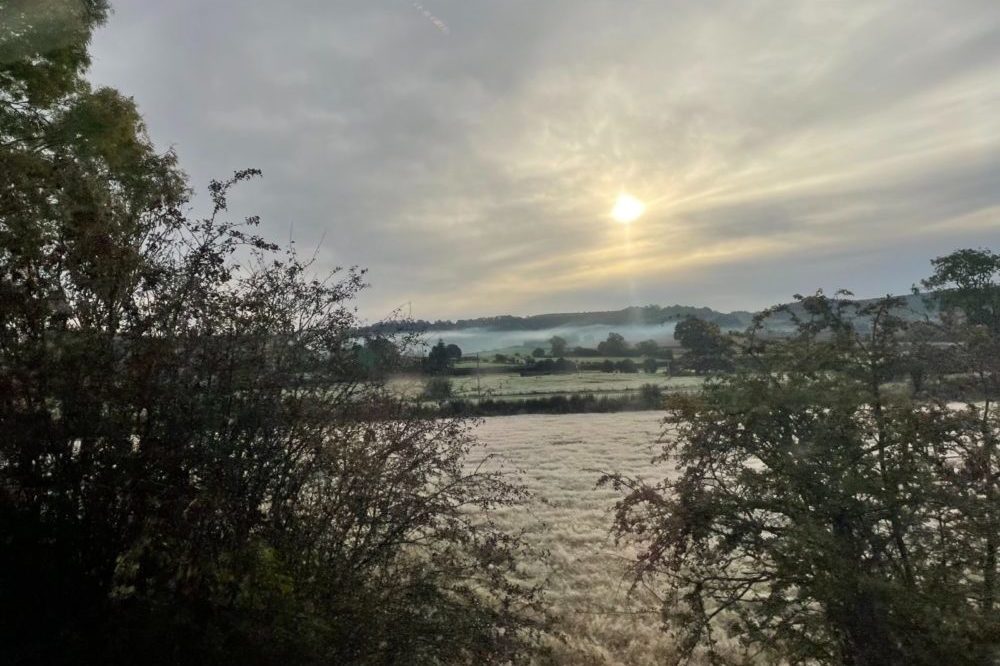 Gaps in the circuit
A glance at a map created by James Jackson last year shows that while many places are served by public transport, there are most certainly gaps in the circuit.
We have a coast path, but we don't have a complete coastal railway, for example. Get to the end of a valley line and you must return and find another way through to mid-Wales or even a neighbouring valley.
The truth is, we have some of the finest views from our trainlines that anyone could hope for. Some are more 'industry-interesting', rather than typically beautiful, but always there is plenty to look at.
The Heart of Wales, the Marches line from Shrewsbury to Newport, the journey west through Pembrokeshire to the ferry, across the north coast and the Cambrian line – which is now partially replaced by a bus service as work on the Barmouth bridge is underway – are all routes to make the heart glad.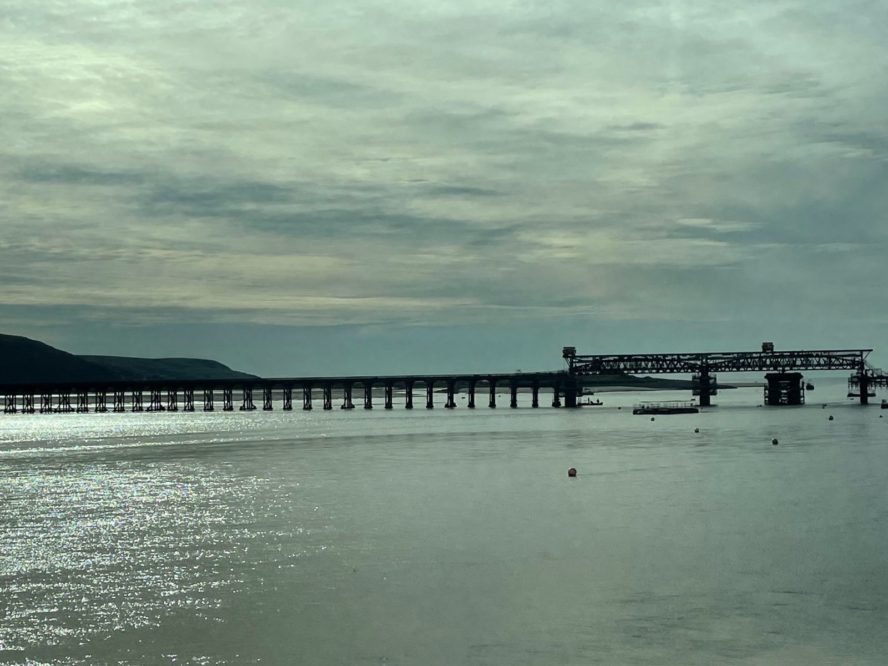 No-brainer
Given the choice, I would far rather 'let the train take the strain', and where possible I will build in the extra time it takes to do so. But if this ethos is to survive, then better connectivity is needed.
Your local bus needs to take you straight to the station. All of the routes need to be apparent when booking and the booking page should offer suggestions of 'have you got time on your hands – have you thought about going via…? It'll cost you the same, but you will see… along the way'.
The fares need to be unified and made more accessible. The heating needs to work. There should be coffee and tea at the very least. The Aberystwyth – Carmarthen and Pembrokeshire route needs reinstating.
If a storm cancels your trip, you should be able to get a refund, no matter what price you paid, and the tickets should be transferable to any reasonable route home without any hassle.
If we are expected to use our cars less and take public transport more, then it is necessary to make it a no-brainer. The better it is, the more we will use it.
---
Support our Nation today
For the price of a cup of coffee a month you can help us create an independent, not-for-profit, national news service for the people of Wales, by the people of Wales.