Opinion
Llanelli – The voice of love and compassion you're not hearing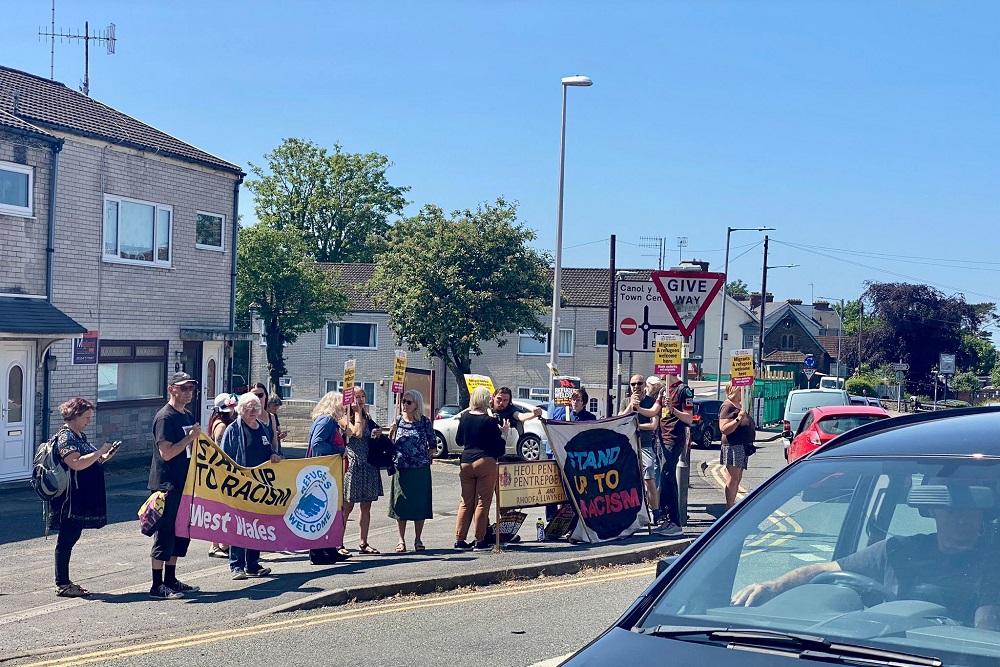 There has been a voice missing in the local and national coverage of the protests surrounding the housing of refugees at Stradey Park Hotel, Llanelli – the voice of those standing up to the rise of fascism and racism to provide a place of sanctuary and peace for asylum seekers.
The stories and pictures of protestors objecting to the housing of asylum seekers in the hotel, holding signs saying "No Illegal Immigrants", "All Lives Matter" and "No Nation of Sanctuary" have filled our local newspapers, national news and social media feeds for months.
Initially the protests grew out of concerns from the local community that were kept in the dark about the Home Office's plans to turn the hotel into temporary accommodation for refugees, a community who had the decision thrust upon them with no consultation and no information.
However, the legitimate frustrations and concerns of local residents – let's be clear this is a plan that doesn't work for anyone, for the people losing their jobs of for the asylum seekers being housed in unsuitable housing – were soon hijacked by far-right groups to spread their agendas of fear, racism and aggression.
Over the past few months, we have seen racist and fascist groups Voice of Wales, and Patriotic Alternative descend on Furnace and Llanelli to spread their hate-filled rhetoric, and the town has received unwelcome visits from the Little Veteran and Katie Hopkins.
But throughout this there has been a strong voice for compassion, love and justice that has received little airtime.
Local people, supported by groups such as Stand up to Racism Llanelli, Hope not Hate and TUC Cymru, have countered demonstrations from the far right, standing just across the road from them in a show of peaceful defiance against their fascist messages. Holding placards of "Croeso" and "No Human is Illegal", spreading kindness, and standing in solidarity with all those facing persecution.

Welcoming
These people are following Llanelli's historical reputation as a welcoming community who fight for justice.
Llanelli has a diverse population, and like many industrial towns across South Wales, has benefitted from people migrating from across the world bringing their labour and skills to our industries and factories.
Llanelli became a new home to hundreds of refugees during the Second World War, and more recently, as the number of wars across the world increases, the town has provided sanctuary for families fleeing from Syria and Ukraine.
Llanelli is also a town with a strong history of working-class solidarity, and standing up for what is right. From the destruction of toll gates by the Rebecca Riots, to the 1911 Llanelli Railway Riots which saw hundreds of people strike and prevent the passage of trains through the station over low wages.
In the same year, 30 school children walked out of Bigyn School over the "unjustified" caning of a fellow pupil. In the late 1930's four men from Llanelli fought with the International Brigade in the Spanish Civil War, fighting against fascism faced by others.
History proves that Llanelli is a strong community that rises in the face of adversity. It is important now to make sure its unshakeable resilience is not used for the wrong fight.
It is understandable to be angry at the loss of the hotel, which has been a long-standing community asset, and of course we are sad for our families, friends and neighbours who have lost their jobs. But this anger should not be turned towards families seeking sanctuary in our town.
Point this frustration at the Home Office and their cruel and illegal policies, to the owners of the hotel, Gryphon Leisure, for the heartless treatment of their staff and putting profit before people, and to the far-right groups who are hijacking this anger and frustration to push their hateful and divisive propaganda.
Helpless
So, for anyone in Llanelli reading this, who has felt helpless in the face of xenophobic messages being spread by far-right groups throughout the community, or has felt angry and upset at the way our town is being portrayed, you should know that you are not alone.
There is a strong community of people standing against this hate, combating the myths and lies from the far right, and working to create a peaceful and compassionate welcome for asylum seeking families.
You are with the majority, and when asylum seekers arrive, your kindness will be life changing for those seeking safety in our town.
We won't let far right groups divide us, and we won't let the Home Office's inhumane policies create a rift in our community.
In an attempt to rebrand one of the anti-refugee protestors signs for good –  mae Llanelli a Ffoaduriaid yn gryfach gyda'i gilydd yn erbyn ffasgiaeth!
This article was submitted by a local resident who didn't want to be named for fear of possible repercussions.
---
Support our Nation today
For the price of a cup of coffee a month you can help us create an independent, not-for-profit, national news service for the people of Wales, by the people of Wales.