Opinion
Meet the New Rishi, Same as the Old Rishi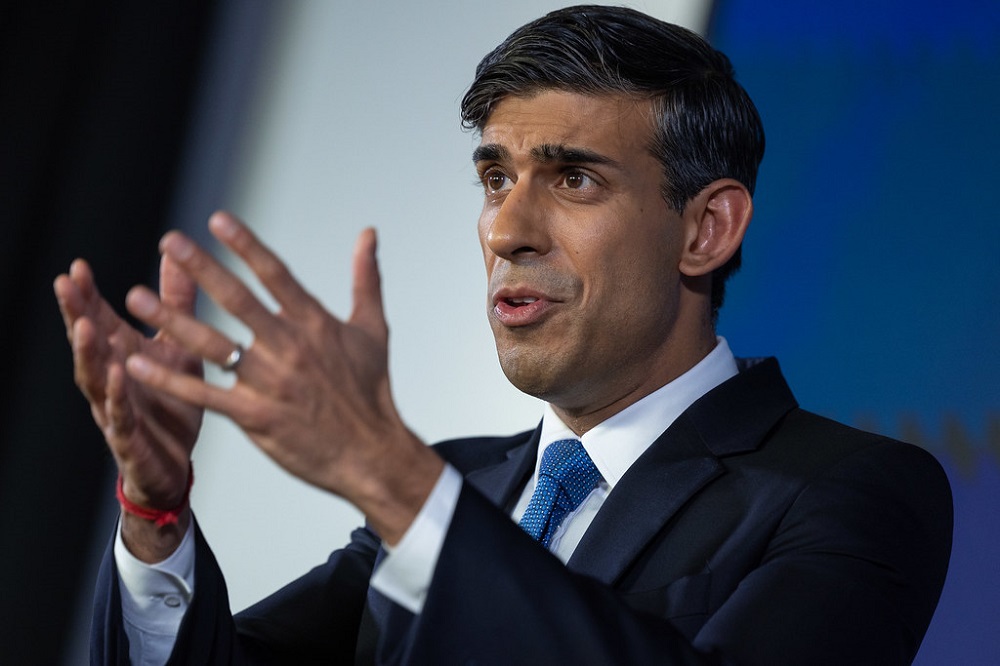 Ben Wildsmith
Wandering round Barry Island on Bank Holiday Monday, I passed one of those modern fathers that they have nowadays refusing a request from his small son.
'I'm not sure, we'll have to wait until Mum gets back, mate.'
A better version of me would have stopped and explained to the child that his father's use of the word 'mate' was the choice of a morally weak man who was attempting to impose his will whilst avoiding accountability for his decision.
As the outing was a special treat for Mrs. W, however, I abrogated my civic duty and remained outwardly cheerful as we pressed on to the chip shop.
Oleaginous shithousery
The godfather of this sort of oleaginous shithousery is, of course, Tony 'I think most people recognise I'm a pretty straightforward guy' Blair.
In 1997, power-hungry narcissists the world over looked on in awe as he groomed the UK with ladles of hopey-changey gloop that belied his ultimate legacy as the man who hollowed out the country into a corporate shell while setting fire to the Middle East.
Key to Blair's success was the tone of voice he adopted when giving speeches. Looking upwards, as if at the shining sun of a new dawn, he would beseech the electorate using a rising pitch that landed just short of pleading.
After twelve years of Margaret Thatcher barking at us, followed by John Major's defeated whimperings, the nation was ready to be appealed to. The effect was to suggest that not only was change possible, but that we could be part of it.
This, presumably, is the tonal range that Rishi Sunak was aiming for in his relaunch speech this week. Sunak, though, is beguiling nobody.
During the Blair years there was justified concern that politics was emphasising style over substance as presentational technique obscured a threadbare ideological landscape.
Sunak's offer comprises no ideology at all and presentation more suited to a shopping channel at the far end of the Freeview listings.

Whale omelette
The guiding principle of his approach is that you and I are thicker than a whale omelette. Consequently, we need to have simple phrases repeated to us over and over again in case they fall through the holes in our tiny, proletarian minds.
Hammering home a slogan is nothing new; by the time of the 1997 election my dog used to say, 'Tough on crime, tough on the causes of crime,' if he wanted a biscuit.
He got one too, because he'd demonstrated a defined approach to law and order which signalled an openness to progressive social policy whilst acknowledging the rights of victims. Good dog, Max.
Sunak, on the other hand, chose relentless repetition of the phrase 'our children and grandchildren' as a motif for his speech.
The rationale for this was unclear but might have been to suggest that the slider-wearing plutocrat was 'one of us' in so much as he possesses the requisite human qualities to procreate.
Alternatively, he might have been indicating that the fruits of his policies would be reaped by future generations and encouraging us to relinquish the last vestiges of our own hopes for contentment.
Terminal vacuity
Either way, it epitomised the terminal vacuity at the heart of his speech and, by extension, his government. The PM's theme was 'the people's priorities', of which there were five.
Whenever a politician invokes 'the people' my hackles raise as I am bound to hear about a homogenous blob of humanity that is 'hard-working', 'decent' and happens to agree with everything they say.
This time 'the people' were treated to a Derren Brown-style demonstration of psychic showmanship as Sunak revealed to us what we wanted him to do.
'Think of a government priority, any priority, don't tell me what it is. Is it halving inflation?'
'The spirits are speaking now. I'm getting the word…migrants.'
The 'people's priorities' turn out to be the exact same things that the government was already going to do. I mean, what are the odds?
Specious stunt
The likelihood is that this Westminster government is toast regardless of what it does between now and an election.
Sunak spoke of 'restoring trust in politics' whilst mounting a specious political stunt that insulted the intelligence of anybody that witnessed it.
The sense of impending disaster is palpable on these islands and people are losing their lives as our essential services crumble before our eyes.
So, don't talk to us of trust.
We have been lied to, gaslit and swindled for as long as any of us can remember. The 'people's priority' is that you and everybody like you be removed from influence over our lives.
Is that clear, mate?
You can find the more of Ben's writing on Nation.Cymru by following his links on this map
---
Support our Nation today
For the price of a cup of coffee a month you can help us create an independent, not-for-profit, national news service for the people of Wales, by the people of Wales.