Opinion
Partygate: dramatising the indefensible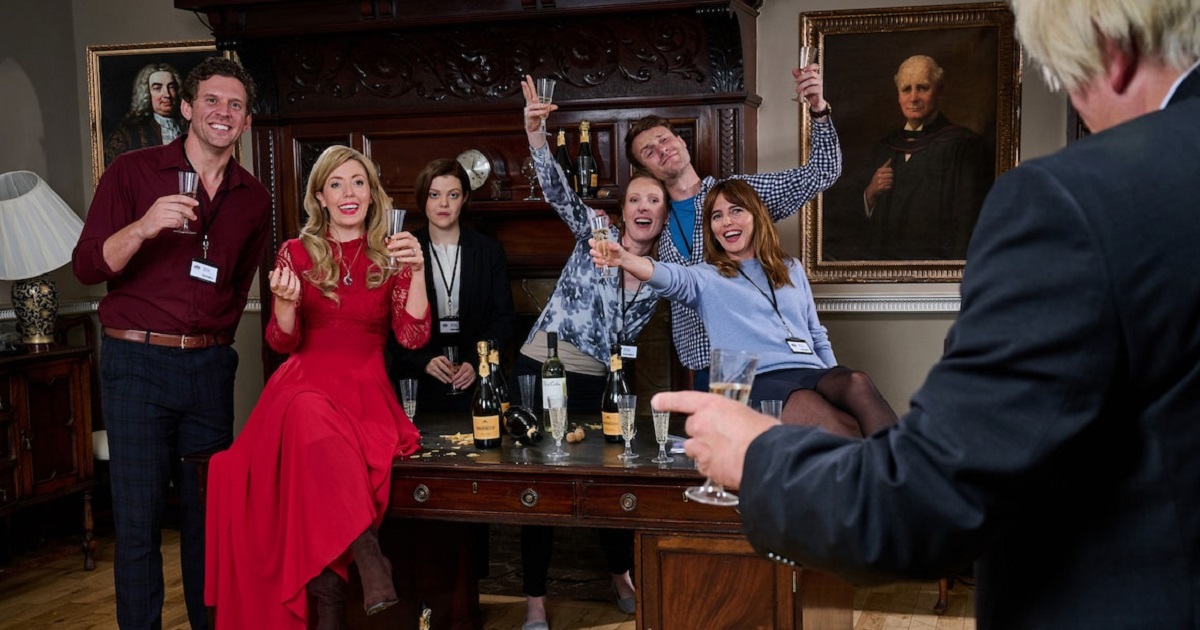 Sarah Morgan Jones
Bear with me. 2020. It was the day after Boxing Day, it was sunny and windy and cold. I had cabin fever, we all did. We jumped in the car and drove to Llangennith on the Gower. Technically, a few feet over the 5-mile limit, but it was essential.
Two days earlier I had been told that I couldn't see my dad on what we all knew would be his last Christmas. Operation 'Cancel Christmas' had just kicked in and the nursing home was obliged to say no, because he didn't look like he was dying that day.
Christmas Day, Boxing Day came and went. 'It's just a day' and 'but will I see him again' wrestled for dominance in my thoughts as we went through the motions.
At Llangennith, I leant my body into the wind and my whispered wishes were roared down by the sea. That evening, he died; I missed him by minutes.
It's a typical story: with a travel ban in place, his funeral was attended by just five of us, the many others grieving alone on Zoom. Afterwards, with a lunch box and a can of G&T each, we socially distanced in stark January sunshine in the grounds of a nearby derelict psychiatric hospital to raise a toast.
Those were the rules. And we, like most people, followed the rules (apart from those extra few feet to Llangennith).

WTF
Tuning into watch Partygate on Channel 4, a rage which has lain purposefully ignored for the last two and a half years began to bubble up.
Days before Christmas, No.10 was in party mode, the week before that there were three different events on one night. In the basement, in the garden, on the desks, they partied. Wine Time Fridays (WTF) had been going on like this for months.
Partygate follows Grace (Georgie Henley), a fictional new recruit to the No.10 SPAD team, naïve and 'wanting to make a difference' who is befriended by 'work-hard-play-harder' Annabel (Ophelia Lovibond).
She finds her feet and then acceptance lurching from one WTF to the next, in the company of the well-fed and well-bred, entitled monsters, high on their own egos. And it is nauseating viewing.
We are warned that some of this is dramatised, but the framework of captioned quotes from the Sue Gray report, real moments captured by the media and the actions of real, named people in the political bubble give it a solid credibility. Elements which are not confirmed but widely reported, are cleverly and clearly addressed straight to camera and highlighted as such.
Circus
Spliced into the main drama, real, heartbreaking and enraging stories, far more so than my own, punctuate the abject hypocrisy of the performers in No.10, the biggest circus in town. Tales of sacrifice and loss, pain and injustice, people who really tried to toe the line while these spaffers of spin won the Nobel prize in taking the piss.
We hear from people whose lives were ruined with fines running into the thousands and the real threat of prison, while Johnson and his millionaire henchmen, after repeatedly and flagrantly lying to anyone who would listen, paid fines of just £50 each.
The contrast – as Annabel warns the no-longer-naïve and increasingly uncomfortable Grace that in terms of employment prospects, 'snitches get stitches' – is made clear: 'These rules aren't meant for us.'
Damned lies
Partygate by Joseph Bullman offers an utterly convincing representation of the story first broken by the Mirror's political editor Pippa Crerar, now with the Guardian; a journalistic investigation which ultimately led to the Sue Gray report and the final fall of Johnson.
As the lies upon lies became damned lies, more and more photos and accounts emerged, doggedly pursued, and uncovered by the journalists who were unafraid of lifting the rocks and asking the questions. In an age where trite three word phrases like 'trial by media' are bandied around, the value of investigative journalism is clear.
Drama, even from 'state-funded media', that responds relatively rapidly to political events must be deftly handled, hinged on accuracy or clearly labelled as speculative.
Something so recent, even so present (with the enquiry ongoing), in our lives can on the one hand be easily shot down as false or on the other, influence our perception of events: it can be an exposé or propaganda.
The purpose of dramas such as this, sitting as it does alongside Brexit – The Uncivil War and earlier, Coalition (both written by James Graham and directed by Alex Horner), and the likes of All the President's Men, is to deliver us a timeline, an interpretation of the facts which are a matter of record, the whole story in an evening, in a way that sticks the story right under our noses – concise, impactful and dramatic.
They show us how carelessly our lives are handled by those in power, the scant regard, the neglect of the many for the advantage of the few. They show us how lies often repeated are portrayed as facts by those who believe they are getting away with it.
Death throes
The critical response to Partygate in the print media ranges from a metaphorical 'Pish and tish, we're not still banging on about this old nonsense, are we?' through to 'Kapow!'
Political affiliations dictate their responses to it, but there are so very many of us who have been affected, who will feel the injustice so deeply that the differing views may not fall along party lines.
There may be many more for whom this will remove any loitering scales of loyalty. Lies repeated too many times show the liars up for who they really are.
The corny adage of 'what happens at No.10, stays at No.10' aimed to disguise the true narrative, but basically, while they lied, people died.
Amid the current flailing of a governmental beast in its death throes, Partygate depicts a narrative that cannot be defended.
Watch Partygate on Channel 4
---
Support our Nation today
For the price of a cup of coffee a month you can help us create an independent, not-for-profit, national news service for the people of Wales, by the people of Wales.