Opinion
Plans to introduce road charging in Cardiff amounts to an admission of years of policy failure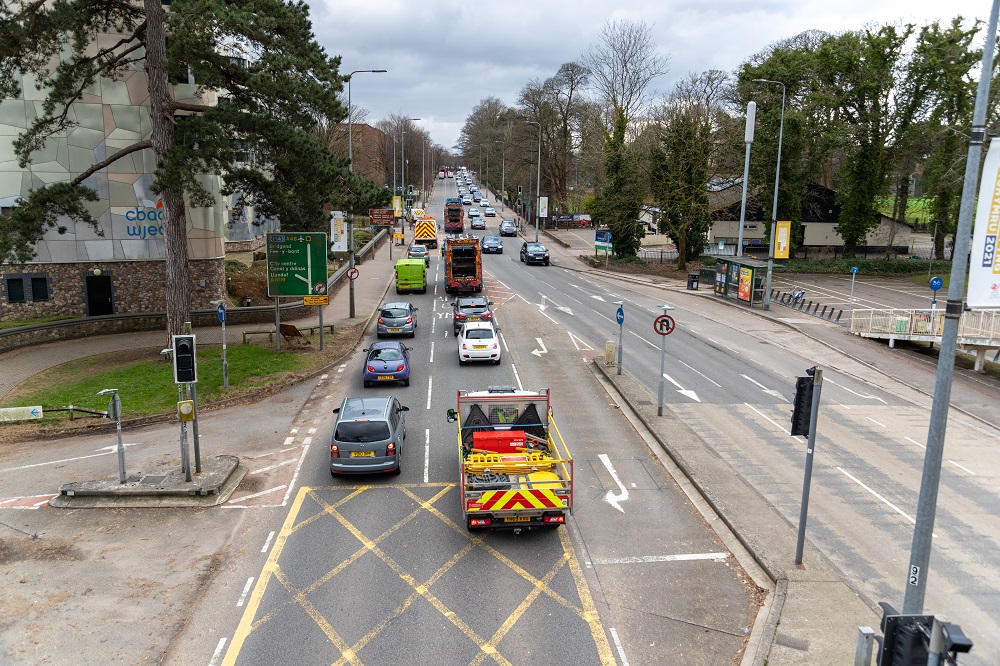 Martin Shipton
There's no kinder way to put it: Cardiff council's report advocating the introduction of road charging in the city amounts to an admission of years of policy failure.
The 29-page document sets out a series of negatives that have to be overcome and that will require an expensive new strategy to put right.
Without a road user payment – not to be confused with a congestion charge – the necessary funds simply won't be available.
Very near the top of the report there is a stark admission.
Despite the rolling out of "active travel" schemes and the securing of levelling-up funding for the first phase of a tram route from Cardiff Central station to Cardiff Bay, air pollution in the city is so bad that it is responsible for around 200 deaths each year.
In addition it is estimated that on average life expectancy in the UK is reduced by seven to eight months due to air pollution. In towns and cities with air pollution levels higher than the UK average, including Cardiff, this figure is likely to be higher.

Asthma
Wales also has a higher prevalence of asthma than the European average, with 7% of adults in Cardiff diagnosed with asthma.
More than 9,000 Cardiff residents are registered with chronic obstructive pulmonary disease (COPD), while 6% of children aged 10-14 have asthma in Wales.
The report says: "It is important to recognise the impacts on health and wellbeing that poor environmental quality produces directly attributable to congested, overcrowded and busy roads. These impacts disproportionately fall on those that are most vulnerable, often living in the most deprived inner-city neighbourhoods."
In addition, transport and congestion are responsible for 40% of Cardiff's carbon emissions.
The report adds: "In this context … it is clear that at the current rate of progress of mode shift the overarching low carbon, air quality and transport targets committed to by the council … are unlikely to be achieved."
Although national emission projections suggest that emissions of nitrogen oxide and PM2.5 particulate pollutants will reduce, mainly as a result of increasing numbers of electric vehicles, these are only projections and therefore the real-world improvements in air quality may not reflect these projections if fleet transition is reduced.
Non combustion sources of particulate matter (PM2.5/PM10) from wider vehicle road surface and tyre wear can lead to poor air quality and electric vehicles will therefore still contribute to these sources of pollution.
Detrimental impact
Overall, this presents a potentially critical position for the council and, unless proactively addressed, is likely to have a significant detrimental impact on the city as a whole.
Furthermore, the report points out that irrespective of fuel type it has been documented how the mass use of private vehicles results in a street environment that is vehicle dominated with unsafe levels of air pollution, blighting large areas of the city.
It says: "Currently it is expected that large numbers of people, with children and vulnerable family members, predominantly in the more deprived areas of the city, live in a substandard and life-limiting environment.
"The only means of tackling this poor-quality environment is to shift movement into buses, trains or active travel, all of which limit the number of vehicles on street.
"This position will only be addressed if these alternatives are sufficiently cost effective and convenient to attract car and vehicle users to switch mode."
In addition, sedentary behaviour – sitting too much – has become a routine part of our modern lifestyles. Alongside this comes a nearly doubled risk of type 2 diabetes, increased rates of overweight and obesity, increased rates of many cancers, and an increased chance of developing dementia.
More than 600 people die in Cardiff each year from circulatory diseases including heart attacks and strokes. This demonstrates the importance of encouraging people to live more active lifestyles.
Cycling
Cycling in Cardiff is currently estimated to prevent 151 serious long term health conditions each year, including hip fractures, dementia and cases of depression, saving the NHS the equivalent of £1m per year locally, or 33,000 GP appointments.
People feel safest walking and cycling when they are not mixing on busy roads with cars, buses and lorries. Two thirds of people living in Cardiff support more segregated cycle tracks along roads, with a similar proportion saying fewer motor vehicles on their streets would help them walk and cycle more.
Currently, transport funding in the city amounts to only 10% to 15% of the levels required "to deliver the step change in train, tram, bus and cycle network and service quality to deliver this city-wide low carbon, and healthy transport environment".
Realistically, the shortfall in funding will have to come from some kind of road user payment scheme.
Realising that this is likely to alarm many, the report is quick to make the point that many local users would be exempt or heavily discounted to pay for access and use of the city's road network. Alongside this would be a commitment to minimise the charging impacts on residents, the most economically disadvantaged and regular users in the city and region.
Funding
The aim would be to use the new long-term funding stream so that Cardiff can deliver "one of the most sustainable, cost-effective, convenient public transport and active travel systems outside of London, with transport enhancements committed to be delivered alongside implementation of any road user payment scheme".
Shockingly, the report points out that it has been UK Government policy since 2004 to plan for road charging schemes.
It's clear that local politicians in Cardiff have dithered for nearly 20 years, presumably because they saw road charging as a policy that wouldn't go down well with the public.
They are now playing catch-up, acknowledging that targets will be missed without major change.
The report says: "The reason why current ridership on public transport and active travel is still relatively low relates to the quality, effectiveness, frequency and network integration … of existing public transportation in Cardiff.
"These factors are a direct consequence of the long-term low levels of investment in capital and revenue available as a result of largely national UK policy decisions.
"The record shows that both Cardiff council and the Welsh Government have sought to proactively support public transport through the Bus Emergency Scheme, £1 ticket fares, subsidised bus routes etc to the utmost that the current budget envelope will allow. In this context, it is challenging to identify the potential sources of additional funding that could be provided.
"In addition, these impacts will be particularly experienced by the most deprived areas within the city, which have low car ownership, but also are in central areas of high car through movements. This position is accelerated by lower bus usage that drives up ticket costs – potentially leading to a detrimental spiral of worsening services and increased costs impacting mostly on already challenged communities.
"By considering road user payment scheme options the council is taking a proactive and responsible approach to provide a cost-effective and reliable transport system for the city and region."
Exemptions
Before going out to public consultation, Cardiff council has drawn up a lengthy list of vehicles and groups that could be exempt from the charge or entitled to a discount.
It includes emergency vehicles; military vehicles; disabled tax class vehicles; blue badge holders; breakdown services; dial-a-ride services; certain local authority operational vehicles; car club vehicles; people on low incomes; residents; registered bus services; type of vehicle engine; size of vehicle engine; hackney carriages (taxis) and private hire vehicles; NHS patients clinically assessed as too ill, weak or disabled to travel to an appointment on public transport; NHS staff using a vehicle to carry certain items; NHS patients accessing accident and emergency services; NHS and other emergency services staff responding to an emergency when on call; social care, community health workers and Care Quality Commission registered care home workers; minibuses and large goods vehicles (LGVs) used by charities and not-for-profit groups.
The aim is to introduce road user payments in parallel with public transport improvements by 2027-28.
---
Support our Nation today
For the price of a cup of coffee a month you can help us create an independent, not-for-profit, national news service for the people of Wales, by the people of Wales.