Opinion
Raging bulls**t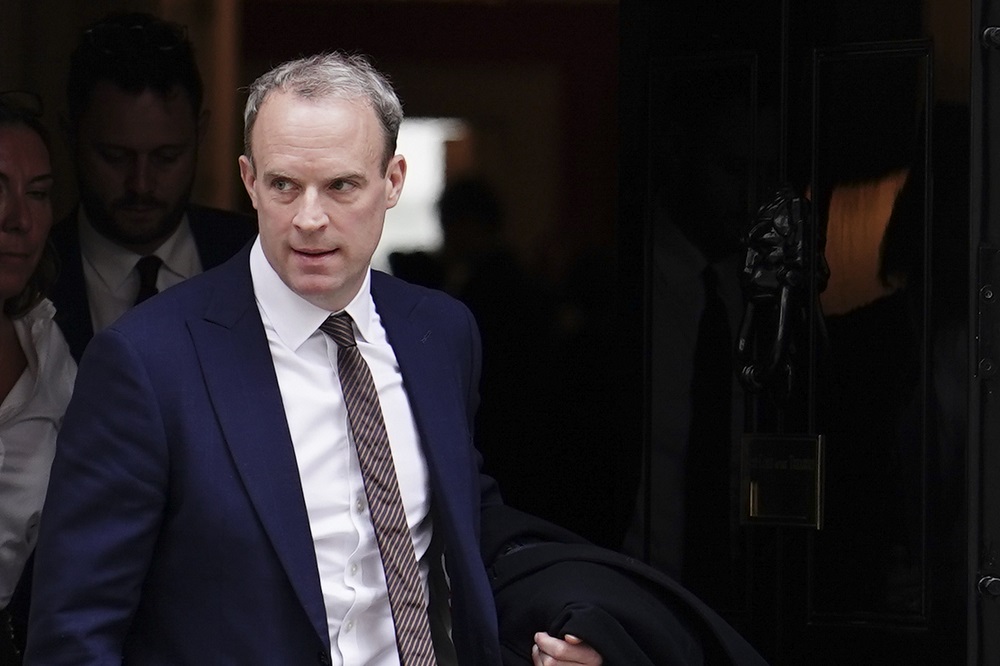 As Dominic Raab shadowboxed in front of the mirror on Saturday morning, I wonder if he felt a pang of uncertainty. What would Sun Tzu do in these circumstances, or Bruce Lee?
How could the nation's preeminent practitioner of channelled rage be laid low by pen-pushing betas who reek of carbohydrates and ennui?
Going by his rash comments to the BBC on Friday afternoon, it's fair to say that the former Justice Sec is in the bargaining stage of the grieving process.
Formerly the indestructible author of his own destiny, Raab sought to position himself as the victim of a Remainer cabal within the Civil Service.
The machinations of these unelected weaklings were 'undemocratic', explained Raab, whose personal mandate derives from representing an area that has voted Conservative since 1906.
Ignoble flailing
The problem here is that if you spend your life extolling the virtues of individualism and self-reliance, you have nobody to blame if you lose.
It hasn't stopped him from trying, though, and his ignoble flailing illuminates the real reason for his downfall which is that people have had a gutful of egotistical incompetents rising to positions of power fuelled solely by misplaced self-belief.
We all have a Raab to contend with in working life. Armed with a library of motivational books, they are perpetually 'striving' in the belief that their personal success is indivisible from the fortunes of the organisation for which they work.
On Monday morning you'll be opening emails from some berk who has spent the weekend dreaming up tiresome adjustments to your working practice because he or she is 'driven'.
Lord release us from the driven. That Raab 'got things done' has been the copium that right-wing commentators have been smoking to orientate themselves in a universe where Simba has been brought down by flies he should have swished away with his tail.
Having read Tolley report into Raab claims, quite clear:

1) some civil servants acted deliberately to bring him down

2) some civil servants are wet snowflakes who cannot cope with modest criticism about their performance

3) these civil servants would not last 5 minutes in…

— Richard Tice 🇬🇧 (@TiceRichard) April 21, 2023
Did Raab deserve to go? Is there no place in politics for tyrants? Or was he bullied out by politically-motivated snowflakes? Is this indicative of the cotton-wool world we now live in? Over to you… https://t.co/JB6rQ8zORv

— Martin Daubney 🇬🇧 (@MartinDaubney) April 21, 2023
Read the report and I don't think Dominic Raab should have resigned. This sets a dangerous precedent.

What the report tells me is that our civil service has been infiltrated by useless woke left-wing snowflakes who can't handle the job.

They should all be immediately removed.

— Lee Harris (@addicted2newz) April 21, 2023
Dominic Raab is a marmite politician but whether you love him or hate him, you can't escape the fact he gets things done

— Nikki ❤️🇬🇧 (@NixJPayne) November 28, 2021
Stress ball
The idea that leaders should be relentlessly energetic is on its face absurd. Genghis Khan 'got things done', as did Fred West.
The quantity of tasks accomplished is not a measure of their desirability and the reluctance of these restless souls to think things through is telling as to what motivates them in the first place.
The root of this sort of pathology is an avoidance of one's own nature and Raab's bullying of staff is projection of the most obvious kind. Sit still and sort yourself out, Dom, the nation is not your stress ball.
As society has become more psychologically aware, people are less forgiving of antiquated justifications for toxic behaviour.
Where driven individuals were once admired for their single-mindedness, we now tend to see a wailing inner-child in futile pursuit of parental validation they will never receive.
Pity would be the appropriate response, were their coping strategies not so destructive for those around them and the organisations they belong to.
Hubris
Raab, remember, is so consumed with hubris that he felt qualified to try implementing his own UK Bill of Rights to replace the European Convention.
His colleague, Michael Gove, distributed a copy of the King James Bible to every school in the country having added his own introduction to the text. It's the Word of God, kids, but better!
So, if you're at work on Monday, quietly undoing the office Raab's latest disastrous directive, take heart that the tide is turning. The world has become so complex that initiatives can only succeed if they take account of the array of priorities at play in it.
The days of tin-eared careerists bending all around them to their will is ending because their thoughtless posturing no longer produces results that don't fall apart on contact with reality.
Raab will, no doubt, be shuffled off into the commentariat where his simplistic and self-serving ideology will be unconstrained by responsibility.
Another one down.
You can find more of The Shrewd View and the rest of Ben's writing on Nation.Cymru by following his links on this map
---
Support our Nation today
For the price of a cup of coffee a month you can help us create an independent, not-for-profit, national news service for the people of Wales, by the people of Wales.