Opinion
Senedd sketch: Adam Price's long goodbye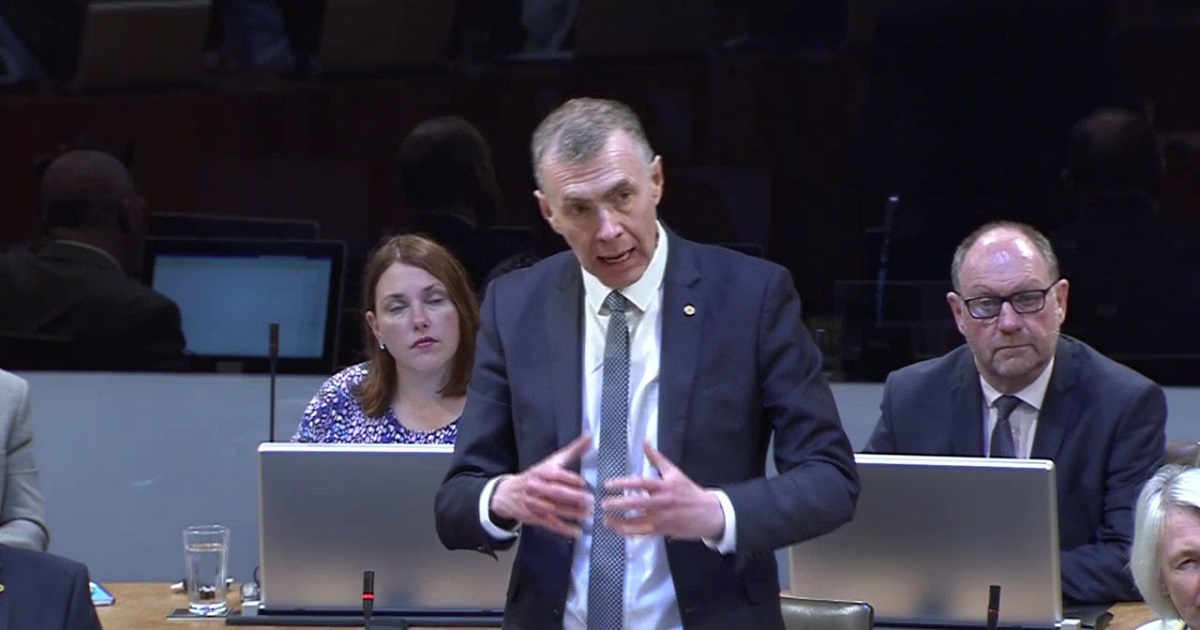 Siân Williams
A week is a long time in politics and today's First Minister's Questions (FMQs) was a long-drawn-out affair as Adam Price informed the Senedd of his many achievements.
On 3 May Plaid Cymru apologised after a damning review found a culture of harassment, bullying and misogyny in the party.
On 10 May Nation.Cymru broke the story that Mr Price had agreed to step down.
Though true, there was little evidence of that in the Senedd today as Llywydd Elin Jones invited Mr Price, in his capacity as "Leader of Plaid Cymru" to question the First Minister.
On 11 May, Llyr Gruffydd MS for North Wales, was unanimously nominated by the Plaid Cymru Senedd Group as the party's acting leader. This decision was later ratified by the national council.
When FMQs started this afternoon Mr Price had positioned himself between Acting Leader Llyr Gruffydd MS and Sian Gwenllian MS who usually sits next to the leader.
Mr Price looked very comfortable in this position when he was invited by the Llywydd to question Mark Drakeford
"I have tried to keep the focus of my questions over the last five years on issues of national importance in line with convention, as I prepare to return to the back benches and serve the people of Carmarthen East and Dinefwr, who put their faith in me over two terms in two parliaments," proceeded Mr Price.

Bypass
Rather clumsily, Mr Price eventually came to his question and asked for an update on the Welsh Government's commitment to the Llandeilo bypass.
He spoke about the government's recent U-turn as regards the Llanbedr bypass in Gwynedd, before speaking of "the greatest challenge of our age, namely the climate emergency."
Mr Drakeford said Mr Price and himself had come to an agreement "to explore and accelerate the plans for a Llandeilo bypass back in 2016 when both of us had different responsibilities."
The camera panned to a sombre looking Mr Price.
Mr Drakeford said: "I agree with what Adam Price has said about the improvements on the A496 in Llanbedr in Gwynedd. The sustainable solution that we agreed there is one we can capitalise on as we move the commitments made in Llandeilo forward."
Mr Price was not a quitter though and holding on for dear life he proceeded to talk about the proposed, and much opposed, pylons in the Tywi Valley.
He wanted the government to agree to commission an independent study on undergrounding cables. He suggested that Mr Drakeford commission a study, which "could draw on the undergrounding 60-kilometre link in Friesland, the Netherlands and the 700-kilometre proposed in Germany."
On and on went Mr Price, in full preacher mode, explaining to his congregation the differences in technology.
It was when he used the word "holistically" that I began to feel as if I were losing the will to live.
Questions
Eventually, he returned to his favourite topic – Adam Price: "they tell me that I've asked 400 questions to two First Ministers since I became leader of my party in September 2018.
"May I take this final opportunity to thank you First Minister? Leading a party is not an easy task, but it is yet more difficult to lead a nation."
How would he know that?
Mr Price then proceeded to thank "everyone which has worked with me and has shown me kindness over the past few days."
He thanked his family who were sitting in the public gallery. He was "sure", he said, that "they are looking forward to seeing more of me for the next few years."
Mr Price was not done yet. He went back to 1984 "where I stood at dawn in my school uniform …solidarity … justice …politics …the striking miner's son … Eisteddfod … housing crisis … English monoglot boy … as I leave this leader's lectern behind me … Welsh independence … socialists … Senedd … build a better Wales …gay council house boy … democracy … shared purpose."
Llywydd Elin Jones wished him well and told Mr Price that he'd been true to his word by testing her patience with the length of his final contribution.
---
Support our Nation today
For the price of a cup of coffee a month you can help us create an independent, not-for-profit, national news service for the people of Wales, by the people of Wales.