Opinion
Senedd Sketch: Llywydd steps in to admonish a furious Andrew RT Davies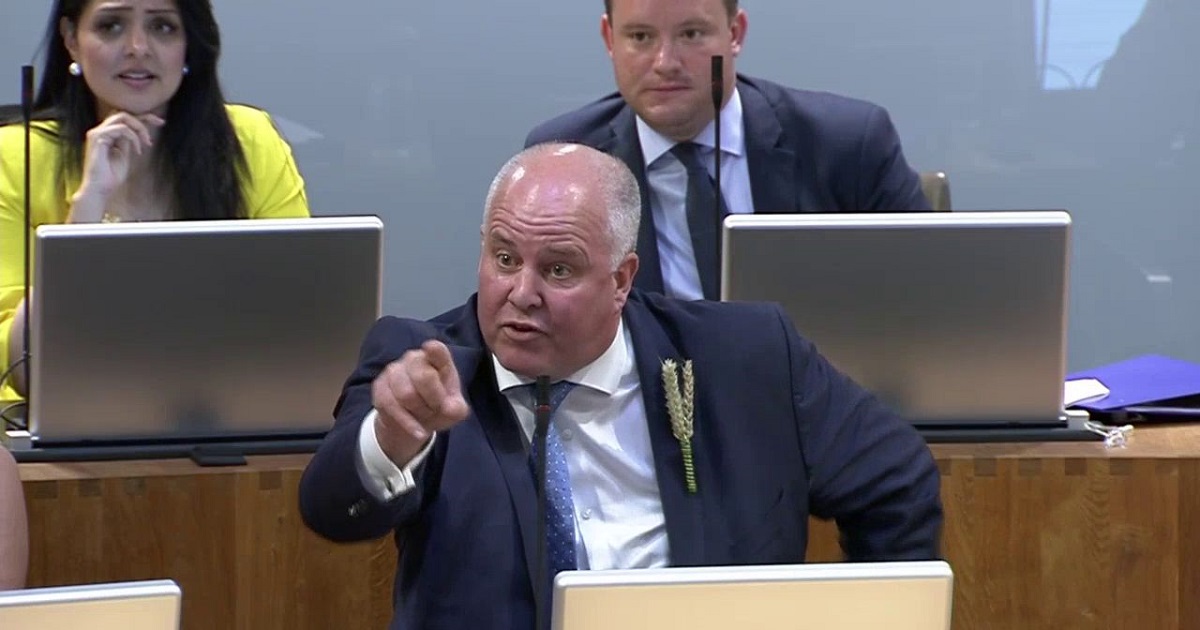 Siân Williams
Llywydd Elin Jones stepped in during a heated First Minister's Questions (FMQs) this afternoon (20 June) to tell Welsh Tory Leader Andrew RT Davies to listen whilst he continued to shout loudly whilst pointing at First Minster Mark Drakeford.
Mr RT Davies began his weekly speil as leader of the opposition in much the same way as he does every week by not making much sense. But to be fair to him he's not the most articulate of party leaders which is probably why he always resorts to shouting and pointing.
Welcoming the new leader of Plaid Cymru Rhun ap Iorwerth MS for Ynys Môn, Mr RT Davies said he wished him well, but not too well, whatever that meant.
Mr ap Iorwerth looked pleased however, but that could have been because he was flanked by two very talented Plaid Cymru MSs, namely Sian Gwenllian and Delyth Jewell.
Of all the subjects available to him as a wind-up merchant, Mr RT Davies chose unemployment. It was regrettable he said, that jobless figures in Wales are going up, as opposed to down in other parts of his beloved United Kingdom and he asked the First Minister for his assessment.
Mr Drakeford said the background to last weeks' labour statistics was a serious affair for the whole of the UK because "the Conservative party has crashed the economy."
He stopped, he listened and turning to look at the Welsh Tories, said: "I don't think I can believe that Conservative Party members are laughing at the idea of the way they've conducted the economic responsibilities of this country."
Yes, they were laughing and they'll probably have a Jingle & Mingle party tonight at Tory Towers to celebrate disrupting the Senedd.

Wrong
A deadly serious Mr Drakeford said that figures published by the Office of National Statistics (ONS) on the same day showed that the number of paid employees were "going up in Wales more strongly than other parts of the UK."
For some bizarre reason Mr RT Davies responded by saying Germany was in a recession and bellowed about failed Welsh Labour policies "here in Wales".
Yes dear, Welsh Labour operate in Wales.
To cheers of "hear, hear" Mr Drakeford said: "The best thing that can happen to the Welsh economy is a Labour Government in the UK … a competent government, a government without the astonishing stains on its economic record that the current UK Government have."
A visibly angry First Minister continued to the sound of hands banging on desks in agreement: "It's astonishing, genuinely astonishing to me that the Conservative party should think they can issue anyone a lecture on how to conduct economic affairs in this Chamber.
"The Member is wrong, he's often wrong we know, but he was wrong when he said to me that economic inactivity rates in Wales were getting worse because the figures that he relied on said that economic inactivity in Wales fell by 0.6% in Wales in the last quarter …"
Destroyed
Mr Drakeford went back through the years of devolution to show that employment figures here fared far better than elsewhere in the UK.
An insult was all that Mr RT Davies had left to offer and told Mr Drakeford he should be in a comedy hall.
"When the Leader of the Opposition finds himself on thin ice simply shouting ever louder is a way in which he seeks to disguise the thinness of his own argument," said Mr Drakeford.
"Here in Wales people tomorrow will face new hikes in interest rates, people who are paying mortgages in Wales will find themselves worse off again because of the economic mismanagement of his party.
"How well we remember that the Leader of the Opposition supported first Boris Johnson and then Liz Truss. How would he explain that to the people of Wales who were DESTROYED! by the irresponsible actions of a Conservative Government?" said Mr Drakeford who was now pointing back and shouting at the shouting and pointing Welsh Tory leader.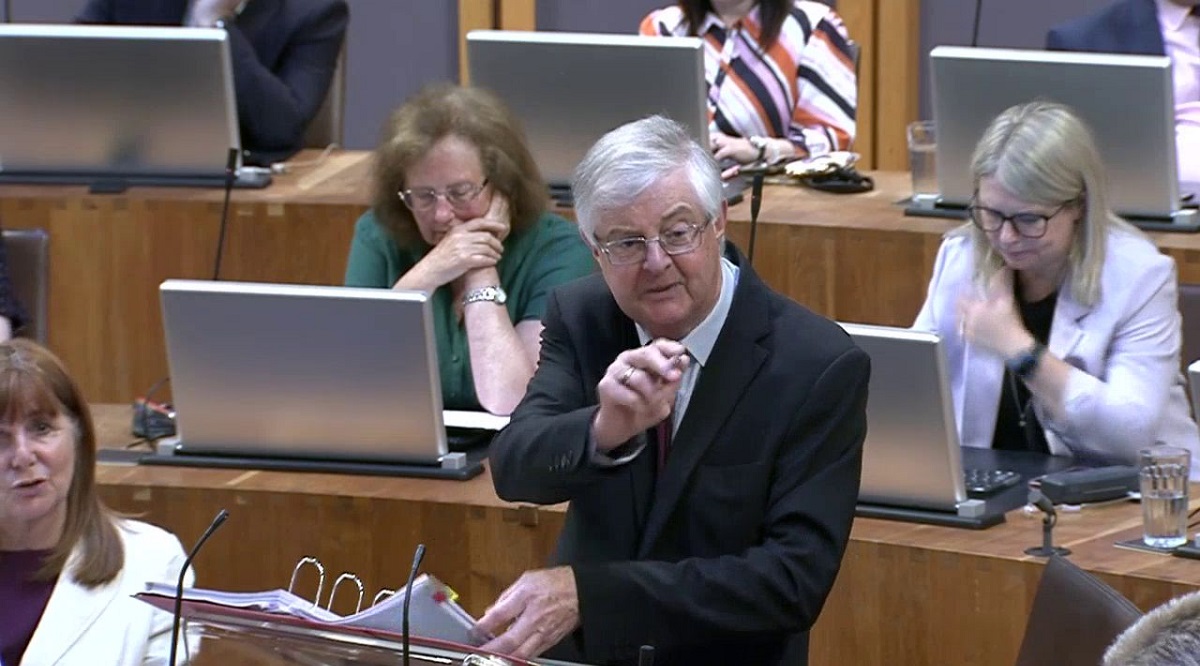 Llywydd Elin Jones decided she also had to shout to get herself heard: "Leader of the Opposition can you please listen to the answers," whilst Mr RT Davies looked as pleased as Punch.
Plastic
The first half of FMQs had started off pleasantly enough with Russell George MS for Montgomeryshire relaying what he'd learned on his recent visit to Llanidloes Primary School in Powys.
Pupils Belle, Reggie, Milly and Willow who are members of the schools' eco committee had taught him how the school could reduce its plastic waste, Mr George told the Senedd.
"They detailed to me that they receive 78 individual small plastic bottles of milk each day as part of a UK wide scheme which is also part funded by the Welsh Government," he said showing an empty plastic bottle he'd been gifted.
These bright kids had calculated that this one school alone, "uses 15,210 plastic milk containers each year (costing) £5,171.40 – they are very good at maths in this school."
Laughter all around and a big smile from Mr Drakeford before Mr George pressed on, "If they purchase the milk themselves, including delivery, and use recyclable cups there would be a huge saving in weight terms – they calculated this as three times the weight per year of their teacher Mrs Stead. There would be a huge (environmental) and cost saving as well of 50% or £2,500.
"They've met with the local authority and others and just feel they're knocking their heads against a brick wall. They feel demoralised and feel that barriers are being put in place," Mr George said before asking Mr Drakeford whether he would task a Welsh Government official to help run a pilot project at the school?
To nods of encouragement from all parts of the Senedd, Mr Drakeford said young people are the best advocates for making schools environmentally friendly.
"That is a remarkable combination of problem-solving skills from the students at Llanidloes. I am very pleased to agree that we will find someone to talk directly to the school and to the children to see whether their ideas can find a further way into practical action."
---
Support our Nation today
For the price of a cup of coffee a month you can help us create an independent, not-for-profit, national news service for the people of Wales, by the people of Wales.