Opinion
Senedd sketch: On the buses – First Minister's Questions go round and round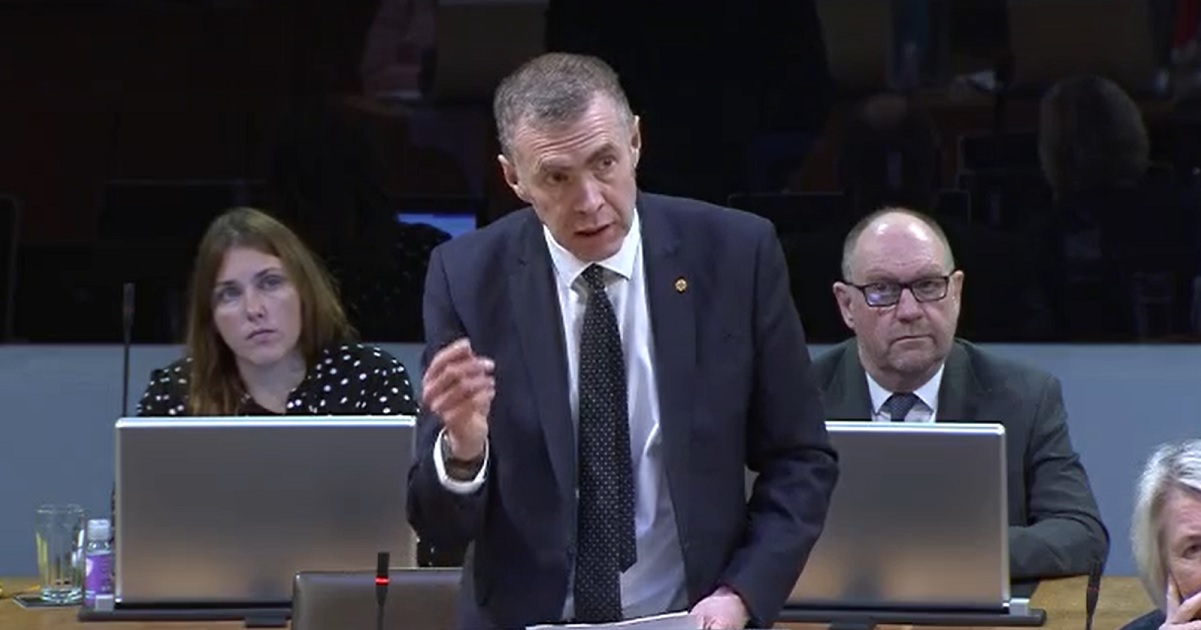 Siân Williams
On the day Welsh Government said it was putting the brakes on carbon emissions by scrapping or changing road building schemes, opposition parties in the Senedd were up in arms about cuts to bus services.
Taking First Minister's Questions (FMQs) on behalf of Mark Drakeford today (14 February), was Lesley Griffiths, Trefnydd and Minister for Rural Affairs and North Wales.
Plaid Cymru Leader Adam Price was the first to raise concerns.
"Today, the Government with its publication of the Roads Review, will be heralding its commitment to an historic shift in policy and priority from roads to public transport.
"So, why is it that you announced late on Friday, that you were merely delaying a catastrophic cut in support for bus services from the end of March to the end of June, that will decimate the only form of public transport (some) have?" he asked.
The answer was a simple one, said Lesley Griffiths, replying that, "We haven't seen the return to bus use that we had seen pre pandemic."
She wasn't sure whether it was down 25% or 30% but you get the drift.
"A lot of it is about funding" continued Ms Griffiths, "you can't spend what you haven't got, but most people would welcome that extension of funding (until June).
"We really need to have a fresh look at our bus network, we are in a very difficult position with our budget – as you know. We haven't been able to confirm the bus industry funding package for the next financial year as yest … we will provide further updates as we go through this month."

Sermon
Mr Price came back for more, adopting that chapel elder tone of his when the congregation doesn't quite get it.
He said, banging his pulpit with his right (and maybe righteous) fist with warnings that "decimating" the bus network will have consequences.
According to Mr Price, cuts to bus services, "Will disproportionately disadvantage women (bang), children and young people (bang), the elderly (bang), the disabled (bang), workers on low incomes and rural and valleys communities (bang bang)."
He continued: "Cutting subsidy to bus transport in the middle of a cost of living crisis is among the most regressive acts you have ever proposed!"
But he had a solution.
"So, will you meet, as a government, with a delegation of my Plaid Cymru colleagues …
"To reverse your decision and extend the bus emergency scheme for 12 months … while we design a better, fairer and greener transport network?"
Ms Griffiths said Welsh Government is looking at "un-privatising, if that's the correct word?"
No, it isn't.
She continued, "We've got the Bus Bill which is probably the most far-reaching plan across the UK …
"It's very, very easy for members of the opposition to spend non- existent funding.
"As part of the cooperation agreement (between Welsh Government and Plaid Cymru) you know just how difficult our budget is," she reminded Mr Price.
And another bus coasted past my window with only one or two passengers on board.
Round and round
The wheels on the bus continued to go round and round with a question from Welsh Tory MS for Aberconwy, Janet Finch-Saunders.
She was eager to remind Welsh Government of a past promises, and said:
"In the Welsh Labour and Plaid Cymru co-operation agreement you made a clear promise to ask Transport for Wales to work with local authorities in north west Wales, and Welsh Government, to develop plans for an integrated transport system."
This had not happened, claimed Ms Finch-Saunders on the long and winding road to her eventual question.
Ms Griffith was flicking through a document as Ms Finch-Saunders took the T19 from Llandudno through the Conwy Valley and all the way to Blaenau Ffestiniog in Gwynedd.
She told the Senedd that over 700 people had signed a petition in an attempt to keep the T19 route going.
"I've met with all the bus operators …" continued Ms Finch-Saunders.
"So severe is the situation now is that students and pupils have to rely on private transport to get from the Blaenau Ffestiniog area to a school in Llanrwst and to college in Llandrillo.
"Staff cannot get to work and a solution should have been put in place before this service ended …"
Ms Finch-Saunders was at last coming to the end of her journey and said:
"What urgent steps will you take … to address the serious problems caused by the termination of the T19?"
Ms Griffiths answered: "As the T19 service was operated commercially by the bus company, they have told us that passenger growth has not matched their expectations.
"Driver shortages have impacted on their ability to continue to operate the weekday and the Saturday service on a purely commercial basis.
"This is what happens when you have privatisation."
The Tories proceeded to heckle.
---
Support our Nation today
For the price of a cup of coffee a month you can help us create an independent, not-for-profit, national news service for the people of Wales, by the people of Wales.