Opinion
Shocking Facebook posts prove 20mph row is the most toxic issue since devolution began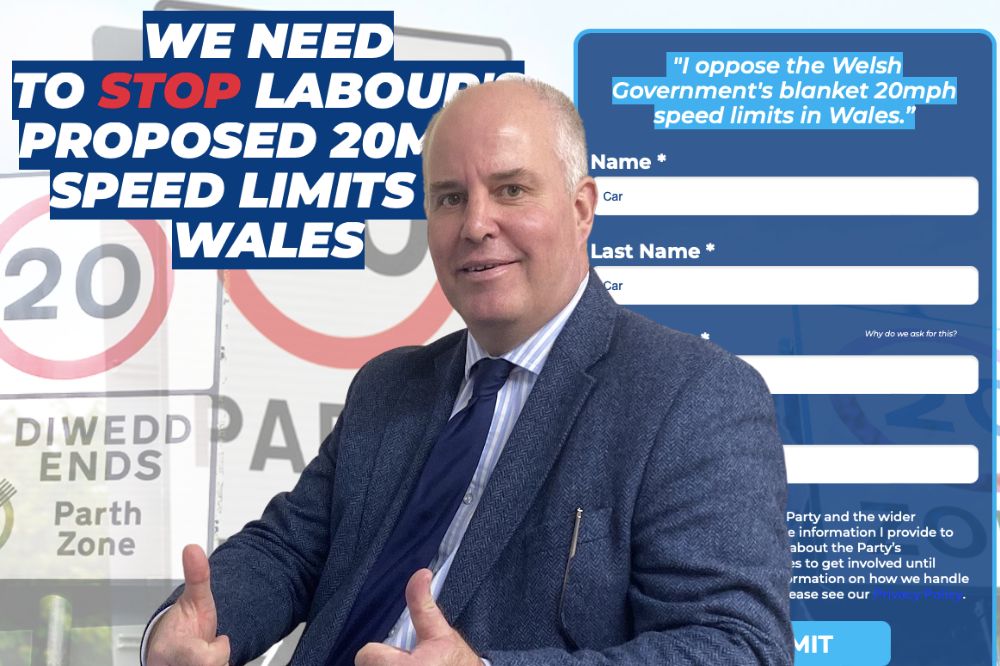 Martin Shipton
Every right-thinking person should be deeply troubled that individuals posting to a Facebook group which claims to have more than 66,000 members have helped turn the debate over 20mph speed limits into the most toxic political issue Wales has experienced in the devolution era.
At the same time, the Conservative Party needs to consider whether it is happy that the toxicity has been fuelled by its own Senedd group leader, Andrew RT Davies.
The Facebook group contains posts that not only vilify First Minister Mark Drakeford in terms that can only be described as obscene, but include threats to harm him physically.
There are also multiple crude depictions on the Facebook site of him as Adolf Hitler – a tactic that ironically mimics methods used by the Nazis to dehumanise and demonise their enemies.
But Mr Drakeford is not the only target of such hatred. Deputy Transport Minister Lee Waters gets much the same treatment, while individual journalists who have expressed support for 20 mph limits have also come in for obscene abuse and threats.
These developments must be recognised collectively as a fundamental attack on our democracy. No one – politicians, journalists or anybody else – should be subjected to such intimidation.
Yet it's happening and it's important to understand why.

Press release
One of the members of the Facebook group posted a Welsh Conservative press release which he says was sent to him by Andrew RT Davies in which reference was made to "blanket 20mph speed limits" – something that simply isn't true, although that hasn't stopped Mr Davies from repeating the claim on countless occasions.
Mr Davies has also been responsible for personally targeting Lee Waters over the 20mph issue, despite being fully aware that the deputy minister has previously been stalked and abused by far-right activists in his Llanelli constituency.
Of course politicians should be held to account for their actions and robust criticism of those who hold power is essential in any democratic society.
But those voicing the criticisms have a duty to ensure they do not spread misinformation that may – and in this case has – led to false allegations.
Much of the vitriol directed at Messrs Drakeford and Waters stems from an underlying narrative that they have acted like dictators in bringing forward the 20mph scheme.
This is demonstrably untrue. Another irony in this situation is that the first Senedd motion in favour of a standard 20mph speed limit in residential areas was tabled by a Welsh Conservative MS, David Melding, in September 2018. It received cross-party support.
A task force group was subsequently established to look further at the proposal and its final report, recommending the 20mph limit, was voted on in July 2020. Seven of the 11 Tory MSs voted for the motion, with only one voting against. Andrew RT Davies, who had stepped down as group leader, did not vote.
Right wing
Following the Senedd election in 2021, by which time Mr Davies had taken over as leader again, the group was more right wing and decided to change its stance and oppose the 20mph default limit.
But the Tories were outvoted by Labour and Plaid Cymru MSs – all of whom had been elected on manifesto commitments that backed 20mph – and 20mph was passed, with the provision that local authorities could make whatever exemptions they wanted. That's the system which was introduced on September 17.
Whatever one's view of the legislation, it's therefore no more than straightforward Trumpian fake news to suggest that Mark Drakeford and Lee Waters have acted in a dictatorial fashion, let alone the wholly distasteful suggestion that their actions can in any way be compared to those of Hitler.
Yet the Welsh Conservatives and others have fostered the myth that the 20mph speed limit is a "blanket" ban on higher speeds and that the Welsh Government has acted undemocratically in introducing it.
The misinformation promoted by the likes of Andrew RT Davies has also fed into the petition against 20mph limits which at the time of writing is nudging towards 400,000 signatures. The petition is, in fact, very badly worded and contains contentious claims as well as factual inaccuracies.
It states: "The new 20mph law is coming into force on the 17th September and it will mark the end of having socialism in power in Wales." It is now past September 17, and if Welsh Labour can be categorised as a socialist party, socialism is unarguably still in power.
The petition goes on to assert that a 20mph limit will be introduced "EVERWHERE" (sic). This, as we have seen, is incorrect because local authorities are able to make exceptions, and many have been made.
The author of the petition, himself a member of the egregious Facebook group disputes there is any evidence to support the view that reducing the speed limit to 20mph reduces accidents, citing Belfast as providing "the only true evidence", which is that reducing the speed limit makes little or no difference.
In fact, the 20mph scheme in Belfast only applied to 76 streets in the city centre, 27 of which were fully or partly pedestrianised at the time of the study, and the average vehicle speed was less than 20mph anyway.
A better comparison would be with Spain, which in May 2021 reduced the urban default speed limit to 30 kilometres per hour (18.641mph). Deaths on urban roads declined by 10% in the first eight months of application, according to government data.
Carnage
The petition also states that one of the 20mph trials in Monmouthshire was "reverted" because of "absolute carnage" on the trial roads in the village. I doubt that, given that the dictionary definition of carnage is "the killing of a large number of people".
On the issue of the petition generally, I share the view of Yes Cymru's North Wales director Ethan Jones, who in an article for Byline Times Cymru expressed sorrow that the people of Wales had signed the anti-20mph petition in such numbers rather than more important issues like "soaring child poverty, a barely functioning NHS, free school meals for all children, adequate social care for the elderly and those with disabilities, public transport fit for the 21st century, rivers and seas filled with sewage, the democratic deficit this union inflicts on us, erosion of our democratic rights, or threats to our human rights".
It's no surprise that Andrew RT Davies sees the large numbers of people signing the petition as a triumph and a vindication of his stance on the issue.
This should prompt us to reflect on what he and his party are up to. The UK general election is getting closer and is most likely to be held in around a year's time. The Conservatives are facing defeat and there's little sign that Rishi Sunak is turning the tide for them.
They know that after the corruption of Johnson and the incompetence of Truss, the damage to the economy and the continuing cost-of-living crisis, it's not possible to fight the election on conventional terms. Instead they are fighting it on culture war issues.
Culture war
In Wales the 20mph speed limit row is now a culture war topic that can be used by party campaigners in Wales, but also in England as a further stick with which to beat Labour.
Right-wing papers like the Daily Mail have previously cited NHS waiting times in Wales as examples of what England can expect if Labour returns to power. They're already trying to use the 20mph row in the same way.
There will be other issues that the Conservatives home in on as well, like migrants arriving in small boats, but they're vulnerable on immigration because they've been in charge of the policy area for more than 13 years.
They think they're onto a winner with the 20mph row in Wales, even though many local authorities in England have already made such a change.
It's important that in Wales we recognise what the likes of Andrew RT Davies are doing and why. Decent Conservatives – those that are left – shouldn't tolerate the antics of a Poundland Trump for whom the truth, Welsh Government ministers and journalists he sees as troublesome are no more than collateral damage.
---
Support our Nation today
For the price of a cup of coffee a month you can help us create an independent, not-for-profit, national news service for the people of Wales, by the people of Wales.