Opinion
Some thoughts on the destruction of land for building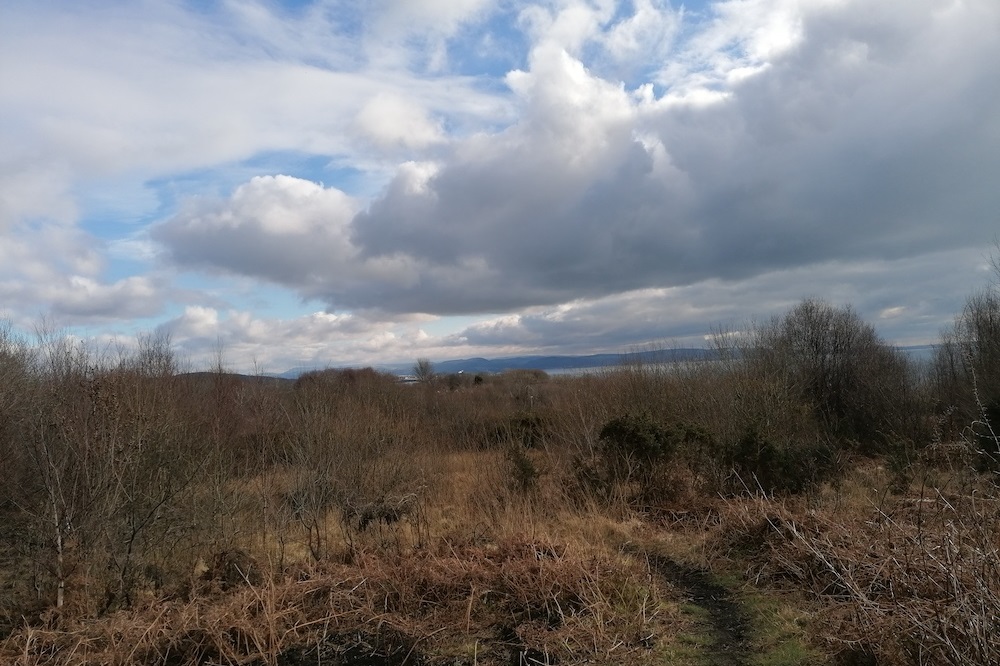 Gaynor Funnell
February 28th 2023.
A weak sun is filtering though the billowing masses of white-grey clouds scudding across Swansea Bay, adding a welcome touch of warmth as I begin to walk. Ahead of me, the narrow path winds through head high-bushes of gorse, flowers neon bright against olive green, the brown crisp-to-the-touch flattened curls of bracken, and the newly emerging soft green leaves of honeysuckle, which is doing what it country name suggests – binding its way through stands of bramble and scrub. Further along, hazel drips pale yellow catkins, which puff a pale cloud of pollen when I gently touch one, whilst the tentacles of its miniscule red sea-anemone flowers emerging from swollen buds reach skywards, feeling for the sun.
I can hear, but not yet see, the peeping calls of goldfinches. Then I catch sight of them, darting upwards through the tangle of silver birches, and close behind, a long-tailed tit twirls upside down, picking out invisible food from the moss and lichen. The only other sound in this patch of heathland is the hum from an occasional car and the mournful call of the gulls as they head seawards.
Standing in a hollow of straw-coloured grass, which whispers as I walk through it, and surrounded by willow and birch, you would think I was in the middle of the countryside, miles from anywhere. In fact I'm on the eastern side of Clyne Common in south west Swansea, at the junction of Mulberry and Chestnut Avenue. And the reason I'm here is because part of this land, 2.6 hectares of it, has been marked for development, with 56 houses to be built upon it.
I'm meeting Carol Crafer who is part of a local group protesting against the proposed development and who has offered to show me around this area of wet heathland, full of wildlife specific to it, and a welcome green space to those who live locally. During lockdown, it was the place that people living nearby walked through and amongst, no doubt offering solace to them at that difficult time.
So much emphasis then and now, is placed on having green spaces for people to walk through, such places being beneficial to everyone's mental health, and it seems strange to me that now they're being built upon.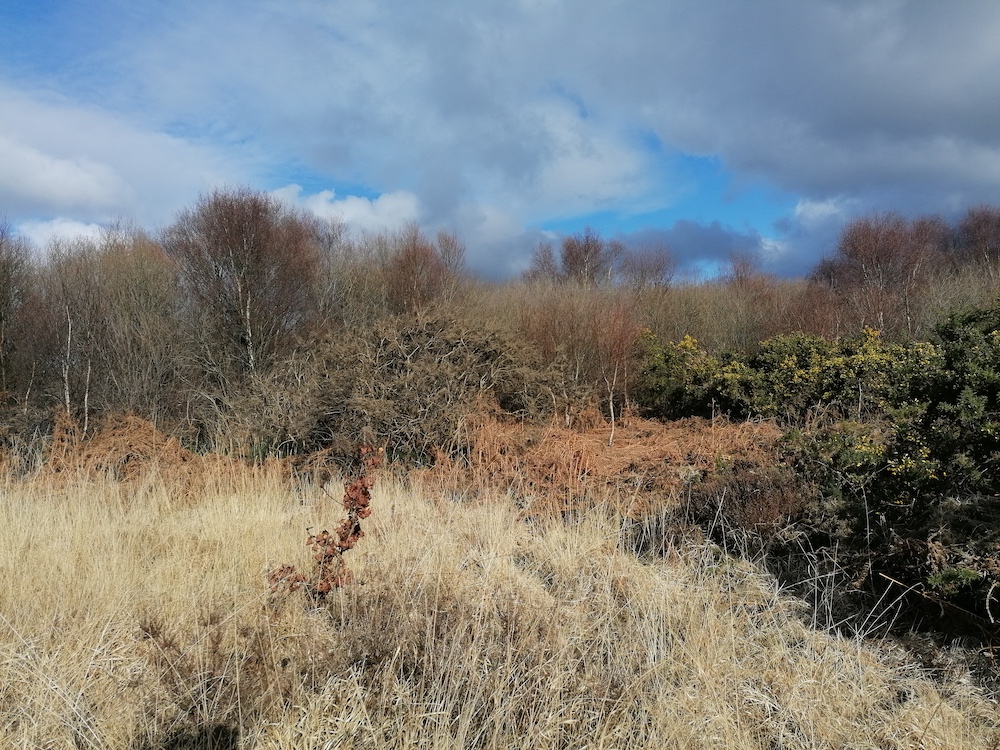 Common land
It seems even stranger that this land is common land, land I wrongly presumed could not be built on. Apparently, the land has to be de-registered by the Welsh government prior to any permission being granted. The owner of this part of the Common is the Duke of Beaufort's Somerset Trust, who have applied for a land swap.
Meaning, if the permission to build is secured, the piece of Common I'm standing on will be 'replaced' by a 3.4 hectare plot of farmland, two kilometres away at Ryeground farm, a piece of land, according to Open Space – a pressure group for common land – is low quality farmland, and far from where the local community actually lives and unconnected with any highway.
It seems at odds with the local biodiversity plan, which aims to ensure all communities have access to the natural environment within walking distance of where they live. And the land isn't being 'replaced'. It's a change of use for land that's already there. You can't make more land. Once it's gone, it's gone.

Carbon sink
Carol lives locally and walks her dog here every day. I follow her along the narrow paths that bisect the land, paths she knows intimately, skirting the many streams and rivulets that run throughout the site. A blackbird sings from top of a willow and a wren alarms as we walk and talk. Recent research has found that birdsong has a positive effect on our mental health and I can see why. There is something uplifting, almost joyful about the sound.
We wander through tufts of bleached moor grass, humps of rush, the emerald green of sphagnum moss weaving throughout. There's shelter from a surrounding band of willow and birch, their trunks bright white, branches flushing red and a small oak tree is pushing through the grass on the edge of the area. Amongst the grasses, biscuit-coloured spires of bog asphodel stand tall.
'Careful here' Carol warns, as my feet sink into the blackness of peat; lovely, rare peat, which we now know is vital as a carbon sink, absorbing carbon dioxide, which is so important in tackling climate change.
When drained or burned, peat goes from being a carbon sink to a carbon source, something I understood was to be avoided. In fact, on the uplands to the north of Swansea, the Lost Peatlands of South Wales organisation are actively restoring and 're-wetting' the peatlands damaged by commercial forestry.
Carol pushes and twists her soil sampler deep into the peat, all 50 centimetres of it. There is no end resistance and when she pulls it out, it is black throughout. It takes ten years to make one centimetre of peat.
Flora and fauna
Carol tells me the application for building from Coastal housing and Ashgrove Partnership has been withdrawn twice, but has since re-surfaced. And unfortunately there is very little time to make another appeal.
She herself has gathered a lot of information about the flora and fauna of the place with help from local experts, and shared with me a comprehensive list. Amongst the seven bat species, slow worms and common lizard, identified by the survey, adders have been reported, plus badgers and foxes.
Hawker and Golden-ringed dragonflies inhabit the wetter areas, and ringlet, small skipper, meadow brown and ringlet butterflies can be seen flying amongst cross-leaved heather, devils-bit scabious and violet in spring and summer. 37 species of mosses and liverworts have been identified. One concern is that the ecological surveys of the area were not carried out during the optimum time for each species.
The reptile survey was undertaken at the end of August, September and October whereas a more appropriate time would be earlier in the year. For both bat and reptile surveys, it was noted that access to the development area was not viable due to dense scrub and bracken cover, therefore the results may be skewed towards a lower number. These surveys were carried out in 2018 and I'm wondering if they may need to be re-done, as the Biodiversity plan recommends that ecological surveys are generally considered to be valid for a period of only two years.
I understand there is a lack of affordable housing. But does it need to be here? Aren't there any more suitable sites elsewhere in Swansea? Will the planting of an orchard, the digging of a pond make up for the bio-diversity loss? I know, relatively speaking, it's a small area, but don't they count as well?
You can't replace the loss of a habitat, not one that's been here for so long. A new tree will take years to support the life an old one contains. And apart from the loss of woodland, scrub, peat and all the diversity the area contains, the site lies very wet, even in this driest of winters so is it really the most sensible of sites? If the common land is de-registered, won't it set a precedent for the rest of the Common? What's to stop the rest being sold off?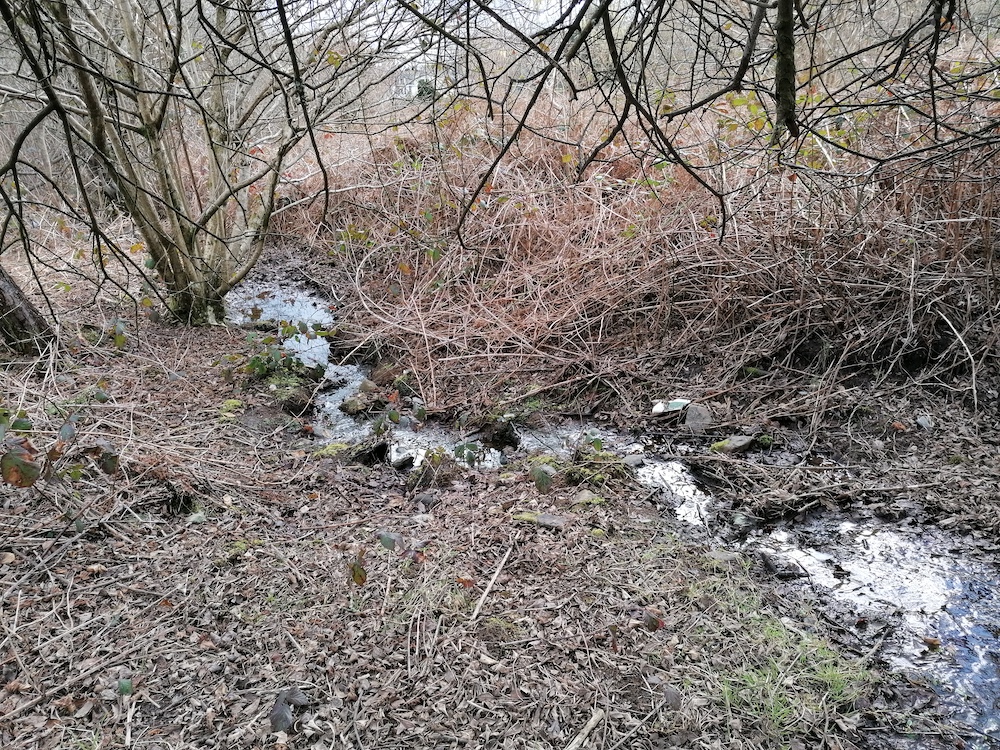 Battles
We turn to leave, crossing a number of what I presume to be ditches. However, Carol believes they are old green ways, drovers ways, the means by which peoples travelled between the coast and the Common. How lovely to be able to walk in the deep time of such a place, in the footsteps of those that walked before.
Near the entrance, a present day walker walks past with his dog. He's walked here for the last fifty years, he tells us. Where is he to walk if building goes ahead? Along the concrete path between the houses blocking the views of the sea? He won't be able to walk the distance to the new 'replacement' land.
We all have battles to fight. Some would say we need to look at the bigger picture. But if we, the local people, the ones affected by people making decisions elsewhere, can't protest, can't make a stand, where does that leave all of us? We have to believe we can make a difference, to fight for the things we hold dear, even if we lose.
High in a willow, outlined against the sky, I see a greenfinch. He's singing, welcoming the beginning of spring. I haven't seen one in years. How lovely to see one here, in this centred, wild place. How far can he fly when the diggers arrive and his tree is ripped up? Who speaks for him?
A silent observation of the site at the corner of Mulberry and Chestnut Avenue will be held on Monday 6th March at 11 am when councillors will meet for a visit. The actual planning committee takes place on Tuesday 7th March at 2pm in Gloucester room at the Guildhall.
The application number is 2020/0343. The officer recommendation is to approve the application.
---
Support our Nation today
For the price of a cup of coffee a month you can help us create an independent, not-for-profit, national news service for the people of Wales, by the people of Wales.