Opinion
Stop the lies and restore honesty to political communication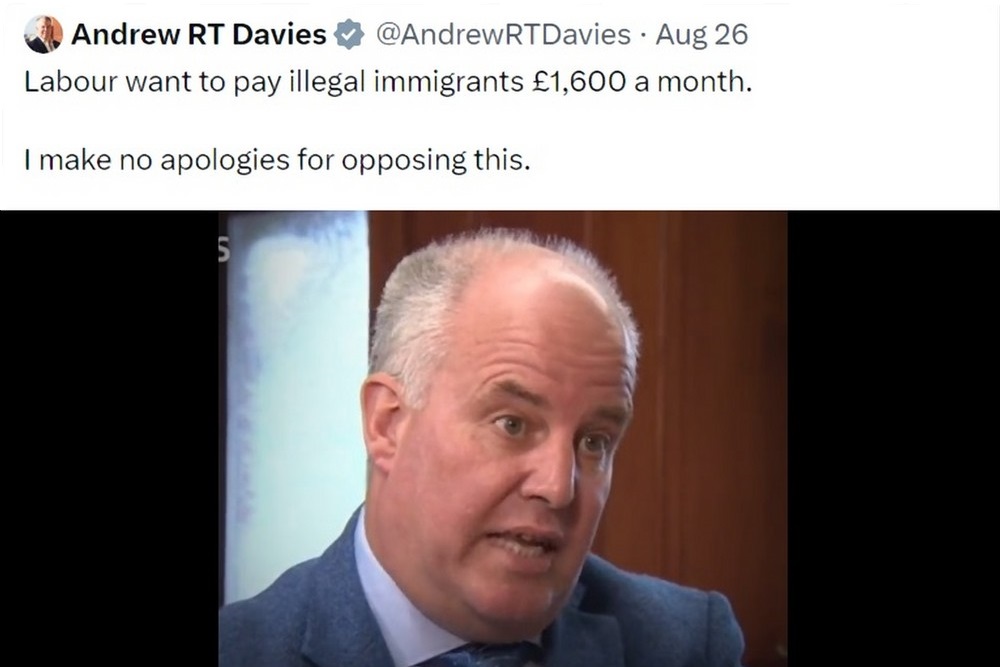 Martin Shipton
I'm thinking that it might be time to resurrect an idea first mooted by Adam Price 16 years ago when he was an MP at Westminster.
In 2007 he published a draft Bill to make it a criminal offence for politicians to lie.
At the time he wanted a provision that would have seen elected politicians in the European, Westminster and devolved parliaments face prosecution if they knowingly misled the public.
The proposal, needless to say, got nowhere. One objection could have been that there were insufficient prison cells available to accommodate all those likely to be convicted.
But although there would clearly be practical difficulties in enforcing such a law, Mr Price's idea has considerable resonance today in a nation and a state that have been lied to with impunity on so many occasions.
He had, of course, been the leading figure in an attempt to get Tony Blair impeached for making the UK join the US in invading Iraq. Parliament went along with the invasion after being told that Iraq had weapons of mass destruction, but that wasn't true.
One estimate suggested that between 2003 and 2011 there were 460,000 deaths in Iraq as a direct or indirect result of the war, including more than 60% of the deaths directly attributable to violence. That's a lot of lives lost as a result of political misinformation.
When Mr Price resurrected the idea of criminalising lies told by politicians in 2019, he said: "Over half a century ago we made it illegal for companies to lie to us with the Trade Descriptions Act. Sadly, it looks like now we need the same principle to apply to politicians.
"Honesty is the most important currency in politics. We have to restore it, before we bankrupt our whole society. People have lost faith in our politics, and we have a duty to restore it before it's too late.
"It's depressing that it has come to this, but if we need a law to stop politicians from lying then that is what should be in place.
"I proposed a similar draft law over 10 years ago, when the lies that led to the dreadful Iraq war were surfacing.
"Our politics, once again, faces a crisis of confidence thanks to the fake news, fake views and fake figures that have been peddled, particularly by the main two Westminster parties."

Boris Johnson
Once again, of course, the idea mooted by Mr Price got nowhere. He'd proposed the law for the second time when Boris Johnson was at the height of his popularity, having peddled lies about the wonderful economic future Britain faced after Brexit. The lies about lockdown parties in Downing Street were still to come.
Since Johnson was unceremoniously bundled out of office, there's been a big increase in the number of people saying that Brexit was a mistake. But there's little chance of our returning to the EU – or even the single market – any time soon, especially after Sir Keir Starmer's assertion that a Labour government will "make Brexit work" – another lie.
Here in Wales we have, in Andrew RT Davies, a leader of the Conservative Senedd group who stood by his hero Johnson right to the bitter end.  A prolific user of what used to be known as Twitter, Mr Davies is not averse to spreading mischief via the channel.
Not content with hyperbolic claims that the introduction of a modest tourism tax would wreck the industry in Wales, Mr Davies has been making multiple and regular posts about a claim that at the very least represents a gross distortion of the truth. In one of the tweets a few days ago, he wrote: "Probably a good time to remind everyone that Labour want to pay illegal immigrants £1,600 a month."
Any unsuspecting reader might be forgiven for drawing the conclusion that every "illegal immigrant" that Keir Starmer or Mark Drakeford could track down and capture would be handed £1,600 a month from the Welsh Government's depleted budget with no questions asked, perhaps even using money originally earmarked for the Children's Hospital for Wales.
The fact of course is that £1,600 a month is being given as part of a pilot project to every young person leaving care, a tiny proportion of whom could conceivably be young asylum seekers who had been unaccompanied when entering the UK.
I am far from alone in believing that Mr Davies' tweets are an example of Johnsonian-style messaging, designed to deceive.
Maybe the Tory Senedd group is running masterclasses in such an approach, for it seems that Mr Davies is not the only Conservative MS using such a modus operandi.
Leaflet
A Labour councillor has drawn my attention to a recent leaflet distributed in his North Wales region by Tory MS Sam Rowlands. Because it was dressed up as a survey to seek residents' views on a number of issues, its cost was met by the Senedd. Those returning completed surveys by post could do so in an unstamped envelope, again at the expense of the Senedd.
As the survey questions are read, it quickly becomes apparent that this is not some disinterested exercise aimed at informing Mr Rowlands in his role as a public representative, but a vehicle to push anti-Welsh Government messages. As a politician, he has an absolute right to do that, of course, but in my view the cost of the leaflet should have been met by the Conservative Party, not the Senedd.
The survey poses eight questions, but provides no context or explanation about the policies mentioned:
* Do you support the Welsh Government's decision to cancel all new road building and upgrade projects in our area?
The Welsh Government insists it has not imposed a total ban on all road projects.
* Do you support the Welsh Government's new, blanket 20mph speed limit?
Not every road has a 20mph speed limit and local authorities have the power to make local variations.
* Are you concerned about a lack of affordable housing around Deeside?
Few would say no, but what is Mr Rowlands', and the Conservative Party's, solution?
* Do you support the Welsh Government's decision to make Wales a Nation of Sanctuary and welcome unlimited numbers of asylum seekers?
This implies that the Welsh Government has powers over immigration, when the issue is non-devolved. Asylum seekers are dispersed around the UK by the Home Office.
* On a scale of 1-10, where 1 is very dissatisfied and 10 is very satisfied, how satisfied are you with Welsh NHS services?
Predictable
Given the troubles of Betsi Cadwaladr health board, the response is predictable. But what is Mr Rowlands' prescription for improvements?
* Do you agree with plans to increase the number of Welsh Parliament members from 60 to 96, at a cost of £100m?
The figure of £100m appears to have been plucked out of the air. In September 2020 the Committee on Senedd Electoral Reform published estimates about the additional costs of extra Senedd Members. An additional 30 Members would cost in a typical non-election year between £10.387m and £11.682m, and in a typical election year between £11.672m and £12.905m.
* Do you agree with Welsh Government plans to increase the cost of meal deals?
No mention is made about the rationale for the policy on health grounds.
The eighth question is an unexceptionable one seeking residents' views on which three of the Welsh government's responsibilities should be prioritised. It would, however, have been helpful if details of current departmental spending budgets had been provided.
Spurious surveys of this kind are no more than a crude attempt at propaganda, do not help to inform the public and are a waste of public money. They amount to misrepresentation.
Will they continue to be produced? Almost certainly yes.
Measured against the monumental deception in play at the time of the Iraq invasion and Johnson's lies over Brexit and during the pandemic, Sam Rowlands' leaflet may appear as small fry. But it somehow symbolises the way in which political discourse has been trashed.
Things won't get better until there's a wholesale and genuine return to honest political communication.
---
Support our Nation today
For the price of a cup of coffee a month you can help us create an independent, not-for-profit, national news service for the people of Wales, by the people of Wales.