Opinion
The Age of Anxiety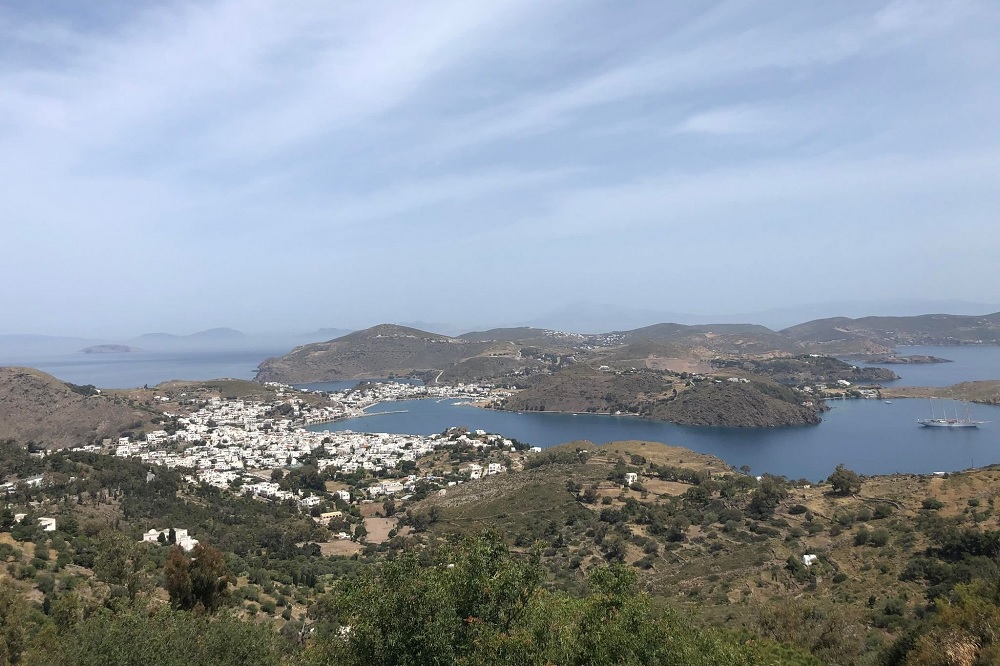 Ben Wildsmith
At the end of a large dinner, it seemed like a good idea to hop on the short boat ride from Lipsi to Patmos the next day.
We'd fallen into an easy familiarity with the smaller island, the paths to its pretty coves, the restaurants with their attentive cats, and the bakery that was open all night and sold fags.
It's not enough to be happy somewhere, though, is it? Not when you've paid for it and time is short. You must make the most of things and wring all the juice from your precious time away from work.
Just over there, in Patmos, John the Theologian wrote the Book of Revelation in a cave that you can visit and have a look round.
Now, I'm not a religious person, but I went to a Christian school, so read the whole Bible before I was 10, and that particular bit does pack a punch.
For sure, Bill Hicks would have gone if he was this close. I mean, the book of Revelation is trippier than listening to Syd Barrett's solo output after five dried grammes of Powys's finest at dawn on Midsummer's Day.
The actual cave, where the Dude of the New Testament saw the Four Horsemen of the Apocalypse! C'mon Mrs. W. we've got to catch that boat….

Snookered
Plans hatched after retsina and tsipouro on the islands tend to take on a tarnished aspect the next morning.
Awakening to lapping waves and a blinding headache, I reach for Mrs. W. to find her stoically packing her tote bag for the trip I'd evangelised for so effectively the night before. Not for the first time, I've snookered myself here:
I'm pretty sure she doesn't want to go, and I don't now, but I've made such an erudite case for it, quoting scripture and everything, that I'd look like a nob if I roll over and go back to sleep.
On the boat over it's ok, I suppose. The swell, wind, and endless outlines of mythical looking islands can get a bit too much though. There's only so many times you can imagine the approach of a trireme before you revert to your phone.
Oh Christ, it's the boy's birthday! I hastily PayPal him a few quid and we chat a bit on WhatsApp. When he's had enough of my jagged photos of the coastline, I catch up on the news.
Well marvellous, the seemingly replicating army of dicksplash self-publicists who, unbidden, infect my Twitter feed with their infantile, Fascist-adjacent drivel are holding a conference under the banner of 'National Conservatism'.
Barely holding on to a hastily devoured spanokopita, I disembark on Patmos wondering how the hell the UK could have got here so fast and without anybody setting themselves on fire in outrage.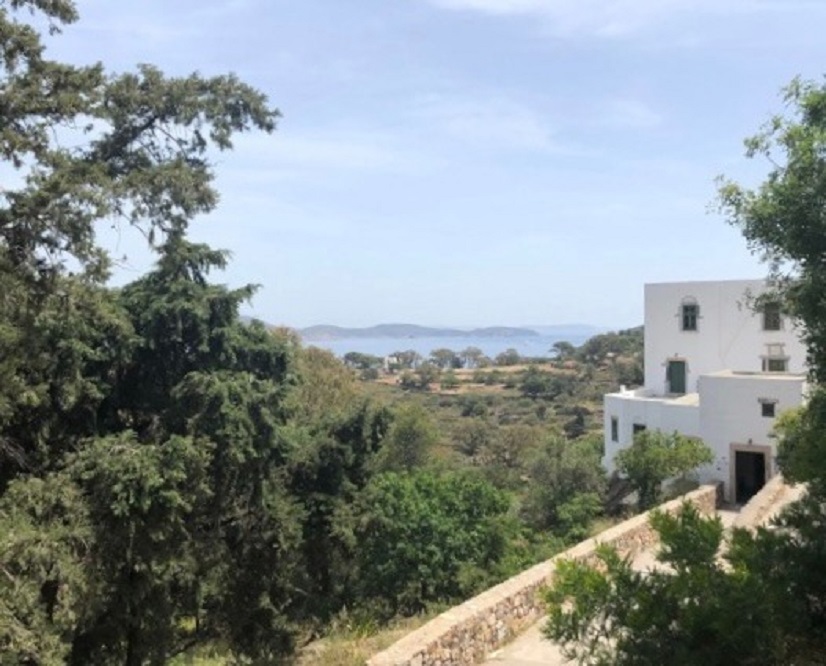 Coping
We amble over to a café to acclimatise.
Mrs. W. is understandably confused that I don't seem to be enjoying my big day out quite as much as might be expected, but in that moment, over a Freddo Cappuccino with the sun slanting in across the harbour, I'm coping.
So, we head off up the hill to what the Greeks call the Cave of the Apocalypse.
You'd probably skip up here but I'm a heavy, leaden shambles nowadays, whose elasticity is confined to sentence structure, so you'll have to imagine my lumbering progress towards the spot where humanity was first imagined to be a self-propelling agent of its own destruction.
It hasn't been particularly hot, but in Greece, as in Wales, the weather is changeable and heading up the hill, away from the cool looking bay, the sun begins to thrum a little.
The traffic system on the way to Bristol airport is really confusing when you're driving in the dark.
I hope that I didn't trip any speed cameras because if I get any more points that might affect work and people don't want to hire you when you're gone fifty, plus what would I do?
When I get home there could be five tickets waiting for me on the mat, sent out automatically by machines.
The lactic acid is building in my legs but that's good because you're building muscle strength, aren't you?
Why on earth do they keep banging on about Philip Schofield and Meghan Markle when people are starving? It makes no sense.
My ears are whistling, is that what you get when you are having a stroke? I read that somewhere.
Keep walking, faster, faster, faster….
Sinking
About 50 yards shy of the cave I'm overwhelmed, clawing at my stomach as it fills up with cortisol and frantically pressing my fingers into my neck to check my pulse.
Sinking.
Opposite me, high up on this mountain ridge, is the driveway entrance to the Patmos hospital. It should be a comfort, really, if, this time I was actually having a heart attack, instead of another stupid, pitiful anxiety episode, then some Greek doctor in there would obey Hippocrates over Brexit and set me right.
But the anxious mind doesn't work like that.
The hospital is there because those are the places people die in and they are going to cart me in there from this pine scented, silent paradise and my heart will bleed out leaving my son under-parented, my book unfinished and that will be it.
Stabilise
Mrs.W. catches up with me and instructs me to sit carefully on a rock.
'Tell me five things you can see.'
'The sea, some pine trees, stones, my hands, your face.'
She hands me a water bottle, massages my shoulders, and repeats the exercise through my remaining four senses until I stabilise.
Eventually, I'm steady enough to resume our original plan and we jitter down to Happy John's cave.
Past the gift shop entrance, where the bored custodian glances up from his phone to take our six Euros, we press on to the site itself.
An elderly, bearded priest, perhaps the unhappiest man I've ever seen, leaps up as I enter and looks accusatorily at the phone in in my hand.
He bars my progress with his robed leg until I put it into my pocket before sitting back down and performatively poring over his large, leatherbound book.
A devout woman cries and touches the walls.
I suppose we are all having some kind of day.
You can find more of The Shrewd View and the rest of Ben's writing on Nation.Cymru by following his links on this map
---
Support our Nation today
For the price of a cup of coffee a month you can help us create an independent, not-for-profit, national news service for the people of Wales, by the people of Wales.