Opinion
The Banality of Evil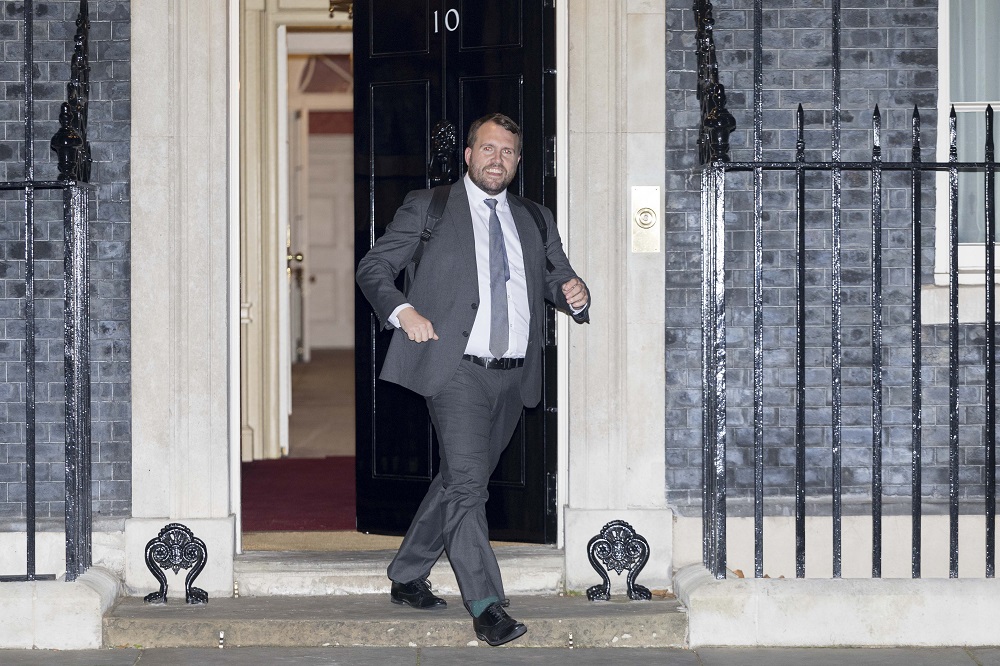 Ben Wildsmith
Each Monday I resolve that this week's column won't be yet another attack on the Tories.
As a youth I witnessed Ben Elton's Friday Night Live routines decay until he was content merely to abbreviate the Prime Minister's name for the entertainment of those she had culturally diminished.
'Mrs Thatcher, eh?'
'What about Mrs. Thatch?'
'Thatch!!'
I don't want to be like that. I want to be proper erudite and bring a critical eye to all facets of society.
Elton, of course, went on to pen a musical with Tory peer and purveyor of top-class entertainment, Andrew Lloyd-Webber, noting that: "If I were to refuse to talk to Tories, I would narrow my social and professional scope considerably. If you judge all your relationships on a person's voting intentions, I think you miss out on the varieties of life."
I should acknowledge that Elton had rather more at stake than I do. My 'social scope' consists of Mrs. W, the bloke in Happy Shopper who sells me my fags, and a monthly phone call from Greasy Tony ‒ a car enthusiast with whom I used to sell double glazing in 1994.
So, all-in-all, I've got no business being sniffy about befriending Tories, I might learn something.

Septuagenarian fundament
The trouble is you just don't get Andrew Lloyd Webber grade Tories anymore. He resigned from the Lords in 2017 to devote more time developing Avant Garde facial expressions.
If I were to collaborate on a West End spectacular with a Tory tunesmith, I'd have to choose between Phil Collins and Gary Numan. Even Rod Stewart has jumped ship.
My libretto for 'Andrew RT Davies, The Opera' seems destined to never to be put to music.
Arty types, you see, tend to possess a sliver of common feeling for wider humanity, even if their usual experience of it is in servitude.
You can't parlay your ripped-off Verdi melodies into successful theatrical juggernauts without having a vague idea of how the bovine masses respond to emotional stimuli.
Neither can you squeeze your septuagenarian fundament into leopard skin trousers and shake it convincingly for stadiums full of HRT-fuelled rock chicks if the only public reaction you've ever experienced is revulsion.
Torydom, you see, has jumped the shark from politically obnoxious to culturally unacceptable. It has gone from being the ice bucket challenge in 2019 to driving under the influence of ketamine in 2023.
Flirting with fascism
During a debate this week on migrant children who have gone missing, Tory MP Jonathan Gullis shouted: "They shouldn't have come here illegally, then!"
Who, apart from the absolute dregs of society, can identify with that sentiment?
The Tory party used to hold such wide appeal because it appealed to the individualist within all of us.
Even the worthiest yoghurt-knitting Lefty harbours selfish impulses and the Selfservatives existed to nurture those and provide a sheen of respectability for acting on them.
Becoming a buy-to-let landlord? Nothing wrong with that, you are providing housing for the nation, well done!
Gullis and his ilk don't represent any normal facet of human experience. A psychologist might look at his utterances and suspect a deep well of self-hatred and that simply isn't part of the makeup of most people.
During the Brexit campaign, I grew rather weary of people saying we were flirting with fascism. It seemed alarmist and gauche, redolent of Rik from the Young Ones ‒ a Ben Elton creation.
But what can I say to those people now?
I'm forced on to the topic of Tory depravity week on week because they continue to plunge further into it with seemingly nobody in their midst left to object.
You can find more of The Shrewd View and the rest of Ben's writing on Nation.Cymru by following his links on this map
---
Support our Nation today
For the price of a cup of coffee a month you can help us create an independent, not-for-profit, national news service for the people of Wales, by the people of Wales.