Opinion
The fall and fall of the man who 'got Brexit done'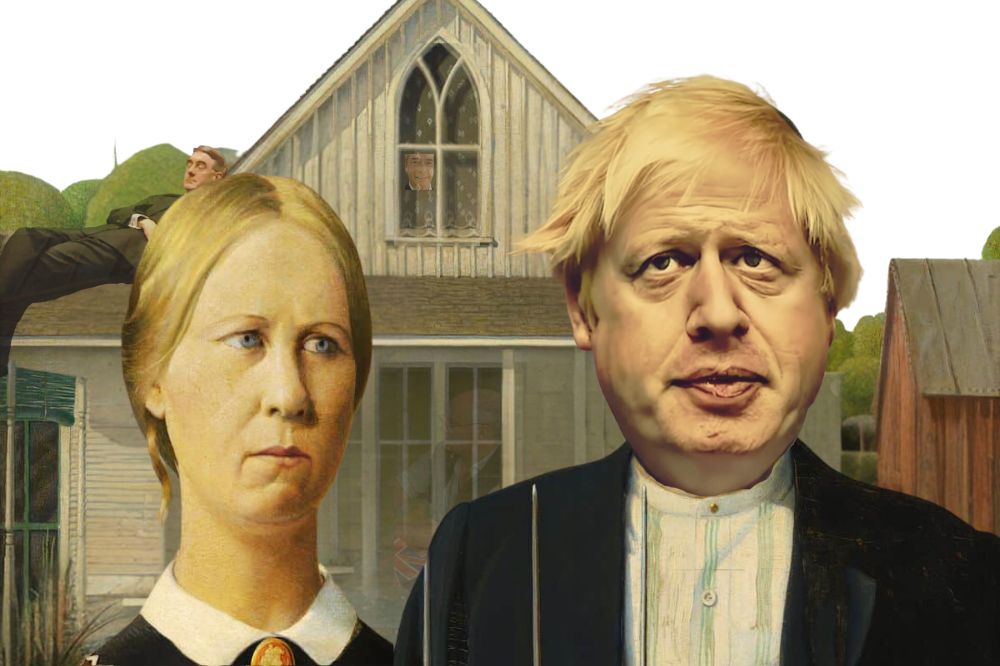 Ben Wildsmith
When, like a rutting dog, Boris Johnson was finally shaken off the leg of British politics, I predicted that the magnitude of his disgrace would see him leaving the country.
I assumed he'd wash up in the USA, where he'd initially be courted by politicians and the highbrow press until they discovered his inner void and left him to the chat shows.
After a National Enquirer exposé detailing nocturnal shenanigans on the Lincoln Memorial, he'd settle in Las Vegas, opening Honest Boris's Jaguar dealership at which his sub-Hugh-Grant charms would finally find the reception they deserved.
Emerging from prison, he would obtain work as a greeter at an off-strip casino where he would dress in a Union flag waistcoat and sing 'Chim Chim Che-ree' each time a slot machine paid out more than $25, or should a patron demand it.
His 12th wife, Betty-Lou, would recall that he spent the daylight hours panhandling for small change and jaywalking.
'He said it was legal 'cause he didn't know he was doing it,' she drawled.

Syphilitic dementia
In the end, brought low by syphilitic dementia, he would be shot dead in an act of mercy by Nadine Dorries, his last companion. Dragged from his corpse by Federal Marshalls, the weeping Dorries provided what she hoped would be his epitaph.
'He got Brexit done!'
So, imagine my surprise at learning that he'd lowered himself to working for GB News.
It turns out that the rate of the UK's cultural decline is such that it he no longer needed to flee its shores into the embrace of a naive, credulous public overseas. It exists right here at the crusty end of the Freeview listings.
Reprising his famous role as the nation's morally bankrupt hype man, equal parts Sir Toby Belch and Flavor Flav, Johnson took to Twitter yesterday to remind us of his rhetorical audacity.
I'm very much looking forward to joining GB News https://t.co/D3bXVDlDss

— Boris Johnson (@BorisJohnson) October 27, 2023
'Our best days,' he insisted, 'are ahead of us,' as he announced he'd henceforth be working alongside Darren Grimes, 30p Lee Anderson, and Nigel Farage on a channel that skirts OFCOM scrutiny by registering as 'entertainment'.
If you are burdened with a surfeit of empathy, you might detect the air of pathos about this development in Johnson's career. Four years on from winning an outright majority for the Conservatives, the great pretender has swapped Churchill's Homburg for Del Boy's sheepskin coat.
This time next year, Rodders…
Jingoistic nonsense
It's tempting to see the quarantining of Johnson, Rees-Mogg, Farage and co. at GB News as a signifier that their time has passed. The optimistic interpretation is that they will see out their careers pumping out jingoistic nonsense to a diminishing audience of pensioners for money.
The production values and aesthetic choices favoured by the station can lead younger viewers, and I'm 50, to believe they are experiencing PTSD flashbacks brought on by childhood exposure to the dark underbelly of 1980s light entertainment.
'You're all a bunch of Coutts!'

Bell & Spurling sing us out of tonight's Farage at Large in Newport with their latest version of Nigel Says!

🏴󠁧󠁢󠁷󠁬󠁳󠁿 Thank you for having us, Newport.

📺 Freeview 236, Sky 512, Virgin 604

🖥GB News on YouTube https://t.co/Wa58gYGZwF pic.twitter.com/VkobxZ8VyY

— GB News (@GBNEWS) July 20, 2023
It's risible, you might think: an embarrassing sideshow where disgraced public figures hawk outrage to a confused, powerless viewership. I'd caution against that opinion.
When L. Ron Hubbard, the founder of Scientology, died his church announced that he had, 'discarded the body he had used in this lifetime for 74 years, 10 months, and 11 days. The body he had used to facilitate his existence in this MEST universe had ceased to be useful and in fact had become an impediment to the work he now must do outside of its confines.'
Poisoned husk
This is how Johnson views the Conservative party. Leaving behind its poisoned husk to be worn by Suella Braverman and whichever MPs survive the coming election, he's transplanted the flame of Brexity populism to a new, unaccountable entity. Positioning himself as an outsider, he can disassociate himself from a toxic brand and come again.
Cast your mind forward a couple of years. After the excitement of a change in government, what will Keir Starmer be offering? To secure election he is committed to maintaining conservative positions on Brexit, the environment, the Constitution, public ownership of utilities, immigration, and foreign policy.
Addressing the structural factors that have brought much of the UK to calamity is not within his mandate, and he has taken care to neutralise all pressure from the left within the Labour Party.
Against this backdrop, the GB News hydra, led by Johnson and Farage, will be free to preach faux radicalism to a nation whose votes have resulted, yet again, in more of the same.
The thrill that many found in the Brexit referendum was in pulling a democratic lever and, for once, seeing it move the cogs of the machine. If a Starmer government underestimates the urgent need for change in the UK, it will create a vacuum.
What fills it could be truly abhorrent.
---
Support our Nation today
For the price of a cup of coffee a month you can help us create an independent, not-for-profit, national news service for the people of Wales, by the people of Wales.