Opinion
The Kingdom of Bevan isn't Nye
Ben Wildsmith
Britain officially moved on from the Pandemic this week when journalistic shills for high finance resumed their calls for a 'grown-up conversation' about the NHS.
'Don't you think it's a bit weird they are having a religious service for a government service?' tweeted the GB News/Talk TV/Telegraph/Spectator/Mail mouthpieces, in unison as if guided by the common unconscious.
The likelihood of complex thinkers like Darren Grimes, Michelle Dewberry, and the rest having the same thought at the same time seems remote but when you're wired to the zeitgeist like these guys, strange shit can happen.
The NHS, we are told, is inefficient because our emotional attachment to it prevents reform. We treat our health system as a 'quasi-religion'; a 'sacred cow' about which even the discussion of change is taboo.
Well, yes actually, we do. As we are feasted on by private utilities companies and parasitical government contract-holders, we know right well that Béarnaise sauce awaits cows whose sanctity is voted away.
The genius of neoliberal politics has been to discredit principles in the face of utilitarianism. It is no longer sufficient to object to anything on the basis that it is morally wrong. Before the ethics of an issue can be addressed, we are expected to win on cost-analysis alone.
The mechanics of this are simple: if something is allowed to fall into chaos then a short-term injection of private capital will always look attractive, as long as the long-term social cost is excluded from the analysis.
In this way, we are persuaded that objecting to private finance in our healthcare system is privileging political dogma at the expense of new equipment, buildings, and higher wages.
So, let's clear that hurdle with three words. The. Water. Industry.
Everyone clear about that? Good, we'll move on.

Misfortune
The principled argument for healthcare being wholly publicly funded is that illness is not a commodity. When we own the system, we are incentivised to minimise illness because it costs us.
Public health initiatives make sense in a public system as a healthier population benefits all. Illness is, as Nye Bevan had it, a misfortune.
Once a profit motive is introduced into the system, your ingrowing toenail ceases to be a misfortune and becomes an opportunity.
Pharmaceutical companies, of course, already operate on this model but are, at least, subject to the clinical decisions of NHS doctors. The private road leads, eventually, to outrages like the Oxycontin scandal in the USA.
Apologists for public/private partnerships and outsourcing object to the use of American examples. Preferring to point to more equitable shared cost schemes in Europe, they insist that nobody is suggesting that we adopt the American model.
Well, I'm loathed to repeat myself but the rebuttal to that is:
The. Water. Industry.
Greater good
What, after the experience of the last forty years, could possibly persuade you that a privately run service in the UK would act in a uniquely ethical fashion, tempering its pursuit of profit for the greater good?
Are our privately run trains cheaper and more efficient than those in Europe? Do we enjoy insulation from price spikes courtesy of our private utilities companies? Are our privately run prisons models of rehabilitation?
Anybody trusting the cheerleaders of private enterprise to give a gnat's chuff about healthcare outcomes for those without means should make their case waist-deep in a polluted river or from an excrement-strewn beach.
I am not religious but would willingly convert to any faith that guarantees Tony Blair's reckoning before a just deity. To mark the NHS's 75th birthday his organisation released a report that suggested people should be allowed to pay for expedited NHS treatment.
Like you, it escapes me how a man with the Iraq war in his CV is permitted a platform on which to lecture us, but there he is so let's engage.
Somewhere between 1997 Tony, the people-pleasing validation sponge who promised a way out of Thatcherism, and 2023 Tony, the peevish Admonisher-In-Chief, he's conveniently forgotten that the improvement in NHS performance on his watch was built on solid public funding.
Have a look at this.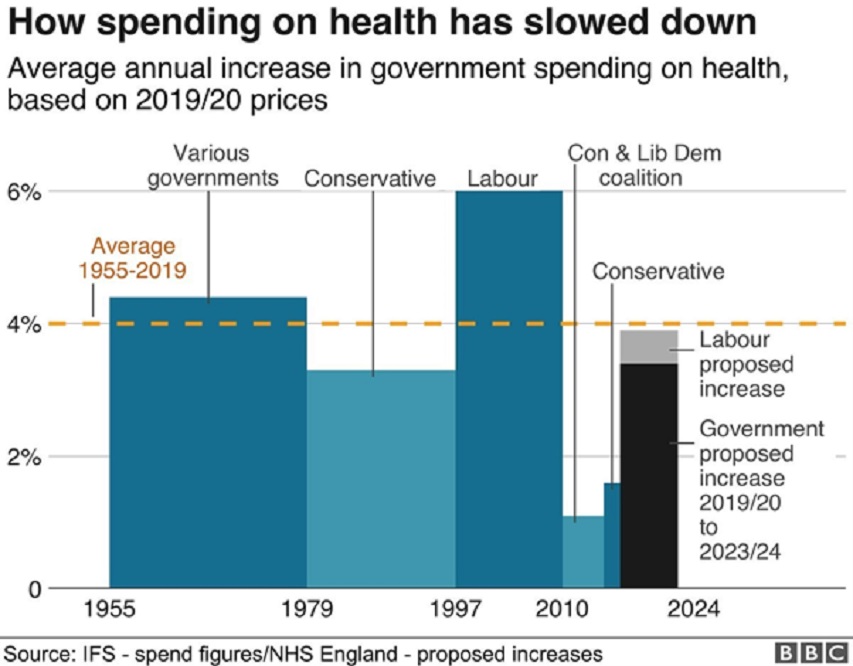 Revisionism
Whatever effects, good or bad, that New Labour's public/private partnerships had can only be viewed in the context of unprecedented public funding of the service. If the NHS were Abbey Road by The Beatles, public/private partnerships were Octopus's Garden by Ringo.
The graph shows that Keir Starmer's new New Labour has swallowed Blair's revisionism and believes that restoring funding to below that offered by the Thatcher government will suffice, presumably if accompanied by 'reform'.
When an underfunded service continues not to improve, the prescription will be for yet more 'reform' until the original form is unrecognisable.
The NHS was not born in Labour Party think tanks, but in Tredegar where it operated in micro form long before its MP took it to the wider UK.
The UK Labour Party's ownership of the concept is a fraud and politicians of the left here in Wales should be drawing a bold distinction between how we view the institution as opposed to the hybrid, deconstructed version favoured by the servile opposition in Westminster.
For all the opaque, economic theorising of Blair and his successors the choice remains simple: shareholders either profit from you being ill or they don't.
You can find more of The Shrewd View and the rest of Ben's writing on Nation.Cymru by following his links on this map.
---
Support our Nation today
For the price of a cup of coffee a month you can help us create an independent, not-for-profit, national news service for the people of Wales, by the people of Wales.