Opinion
The Labour Party's recent attack ads suggest the next general election campaign could be the most toxic ever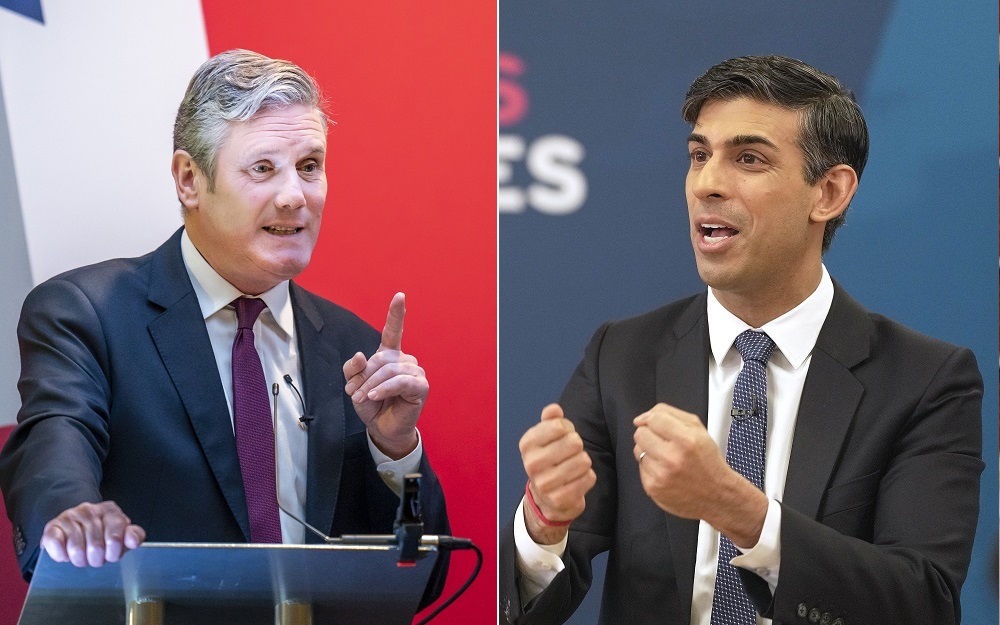 Martin Shipton
Politicians deserve to be held to account for their policies, but was it a step too far to suggest, as Labour did, that Rishi Sunak doesn't want adults convicted of sexually assaulting children to go to prison?
Labour's advert was questionable on a number of grounds.
It was phrased in a way that would give the provocative impression to some that the Prime Minister was in principle opposed to the jailing of all paedophiles – an implication for which there is no evidence whatsoever.
It also suggests that Sunak shared collective responsibility with other Conservative MPs for not introducing legislation to make custodial sentences for such offences mandatory in all circumstances – a view that goes against the long-established view that sentencing guidelines should not, in the main, be determined by politicians.
In addition, it ignores the fact that for five years Sir Keir Starmer was the Director of Public Prosecutions and himself had a locus in sentencing policy.
Details aside, some politicians in both the Labour and Conservative parties were queasy about the personal nature of the attack.

Jimmy Savile
And yet the Tories are hardly in a position to cry "foul" themselves, given that former Prime Minister Boris Johnson accused Starmer of failing to prosecute Jimmy Savile.
There have also been personalised attacks by Conservative politicians on Starmer alleging he is soft on illegal immigration.
Depressingly, it seems that both main parties are ratcheting up the rhetoric over "dog whistle" issues that appeal to voters' prejudices rather than concentrating on the economic plight faced by Britain in a political landscape where the cost of living is rising, wages are not matching inflation and growth is stagnant.
Neither major party wants to mention Brexit – the Conservatives because they have nothing of substance to boast about, despite getting Brexit done – their mantra at the last election – and Labour because the party leadership doesn't want to address an issue that is having a massively negative impact on Britain's ability to bounce back from Covid.
Instead of confronting our problems in a mature way and offering real solutions like a return to the European single market and customs union, we can expect a succession of personal attacks aimed at undermining the main party leaders.
Vicious
Ironically, a vicious election campaign can be expected despite the fact that on many issues the UK Conservative and Labour parties are closer to each other than has been the case for years.
At the general elections of 2017 and 2019, Labour under Jeremy Corbyn offered a policy programme that promised a departure from the austerity measures that had dominated economic management since the Tories took power in 2010, initially with the support of the Liberal Democrats.
In 2017 Labour's overall vote was only 2.3% behind that of the Conservatives, reflecting the popular appeal of policies many saw as offering hope.
Politics then became dominated by the mechanics of Britain leaving the EU, while bitter divisions within the Labour Party gave right-wing newspapers and social media influencers the opportunity to portray Corbyn as an unsuitable leader for the UK – a conclusion shared by many in the party itself, which in 2019 went down to its heaviest defeat since 1935.
Even so, it seems that the next election, likely to take place in 2024, may well be even more poisonous in tone and content.
Deadlock
A senior Welsh Conservative source explained why: "The outcome in 2019 was pretty clear a long time before the campaign itself.
"People were tired of the deadlock in Parliament over Brexit and liked Boris Johnson's simple promise to 'get Brexit done'.
"It was clear that a lot of people in Labour didn't like Corbyn, so we didn't actually have a great deal to do to turn people off him.
"At the next election it will be different. We'll be going into it as the underdog and will be trying to stay in power.
"It looks as though Labour will be mounting vicious personal attacks on Rishi and I think we'll therefore be drawn into doing the same.
"It's likely to get very nasty."
From Labour's perspective, the danger is that Rishi Sunak could succeed in positioning himself as an attractive departure from what came before – Boris Johnson and Liz Truss.
He first became known to the wider British public during the pandemic, when, not long after receiving a big promotion to the role of Chancellor, he presided over the £70bn furlough scheme that kept millions in employment as large parts of the economy shut down.
In putting the scheme together he worked with partners like Paul Nowak, now the general secretary of the TUC, who developed a high personal regard for him.
Sunak may subsequently have reverted to Tory type, but during the election campaign it's likely that the party will seek to present him as a compassionate Conservative who deserves the support of red wall voters.
Privileged
This, for Labour, will justify personal attacks on him and his even more wealthy wife over their privileged status and their supposed inability to empathise with the problems of ordinary people.
Just like the vilification of Sunak for supposedly being soft on paedophiles, such tactics from both main parties will inevitably involve pushing the boundaries of criticism too far.
It will have detractors across the political spectrum, but party managers will be satisfied as social media views of the offending material go through the roof.
Vitriol of this kind will fill the space caused by a lack of debate around the more serious issues that in a less toxic environment would be getting the lion's share of attention.
We have two main parties that agree on Brexit and are committed to a neo-liberal approach to the economy.
With Labour retreating from its previous position on gender ideology following what has happened in Scotland, there isn't even much scope for the pursuit of culture wars.
Yet it seems that we're all set for a general election campaign that surpasses all others in terms of nastiness.
Is there no way of avoiding this and returning to the passionate but civilised debates of the past?
Unfortunately we've reached a point where it's going to be hugely challenging to succeed in such a quest.
Different opinions
Increasingly, people have stopped listening to each other and are no longer prepared to respect the right of others to hold different opinions.
We won't agree on everything, but it's important that we in Wales approach the coming general election campaign as an opportunity to raise the issues that matter to our nation.
Yes we have our own parliament in the Senedd, but, for as long as Wales remains in the UK, Westminster continues to play a huge role in our politics.
We need to be holding politicians, and the parties they represent, to account.
We have important questions that need answering about the future funding of public services, the degree of control we in Wales should be able to exert over our own resources and about political accountability.
Politicians who try to avoid answering questions must be called out.
They may want to concentrate on personal attacks, but we must let them know that we have an agenda too and that we expect them to be candid and honest.
Nothing short of that will do.
---
Support our Nation today
For the price of a cup of coffee a month you can help us create an independent, not-for-profit, national news service for the people of Wales, by the people of Wales.