Opinion
The laughing stock of world rugby?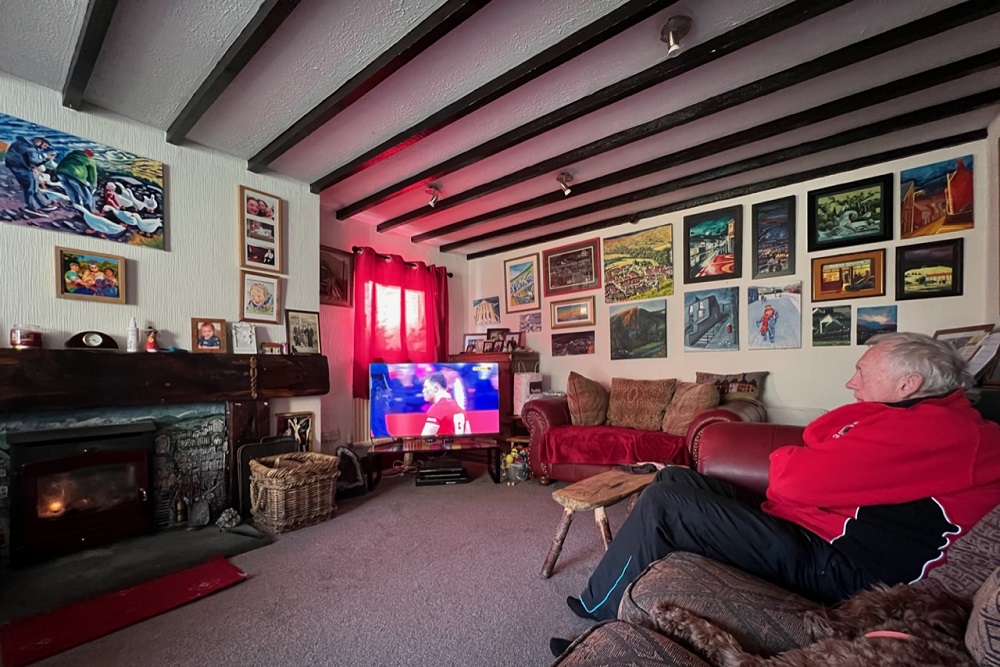 Siôn Tomos Owen
So, nine months before the World Cup, the Holy Grail for Welsh rugby fans and here we are, "The laughing stock of world rugby" as Ken Owens called it this week, so excuse the heavy metaphor but describing the state of the WRU as limping from one amputated chairman to the next shouting "tis but a scratch!" is too easy, so here I'll just talk about my father instead, with whom I've come to watch the match.
We were meant to go to the pub in Treorchy but having returned from a concert last night with Treorchy Male Voice Choir (where they categorically did not sing Delilah), Dad was knackered.
Not as bad as back in November when his recently operated on gammy knee was still ropey and his dodgy hip was causing him grief,  he was hedging his bets on a long awaited fix.
After his hip op, he was visibly different, albeit still struggling a little, but after any big event, the old aches and pains were back.
Dad hates talking about glory days, he's not yearning for the body he had in the 70 and 80s s playing for Aberavon and Pontypridd, all he's asking is for functional limbs to do the basics.
Ok, so I am going heavy on the metaphors but what else have I to go on at the moment? Am I going to talk about the fact that Halfpenny had been picked again but may not even make kick off due to another warm-up injury?  The excitement that Owen Williams is being given a chance at ten?  The new young centre pairing prospect of the giant Mason Grady with Joe Hawkins?
No, because overshadowing everything is the utter pantomime of the WRU not sorting players contracts and forcing the threat of strike action on arguably the biggest calendar match of the year.

Hybrid beast
Two interviews stood out this week before the game.  Like the BBC still rolling out Farage at any whiff of a Brexit fart, the Dr Moreau of Welsh rugby, David Moffat is still insisting on vivisecting clubs into whatever hybrid beast works for Welsh rugby to be "a successful business", while captain Ken, the poor dab at the coal face, slumped with a literally battered face, sighs as he insists the players are ready to face the old enemy…which they did on Wednesday to resolve their contract issues and are now eager to get on with playing England.
I know, I know, that was too easy and all….
Ok, how about we talk about the game? [insert Ken's sigh here]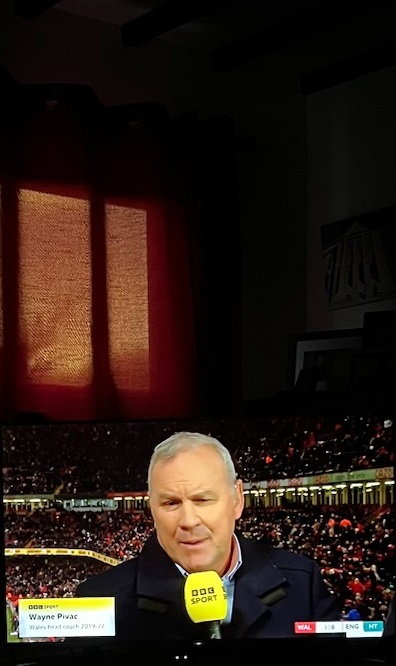 From kick off, the sound of Swing Low was almost as deafening as the gasp of astonishment at home when we saw Gabby Logan asking, "if you were in coach in that dressing room, right now, what would you say?" to none other than Wayne Pivac!
"Iesu mawr!" Mam exclaimed before sparking some joy telling me that is also Christ Tchinza's Welsh language nickname.
The first half was dominated by two things we fans bemoan the most, kicking away possession and the ref's scrum decisions which nobody understands.
Wales were determined to kick to Freddie Steward almost as much as we were kicking ourselves, and Stewart had all the time in the world to give a player of the match performance, as comfortable under the high ball as Halfpenny was being used as an admirable human tacklebag.
As is customary, I complain about tactics that makes no sense and dad frustratingly explains them, "We're kicking it out of our half to play in theirs, it's obvious even if it is boring to watch…the game will change when we're in their half."
But if this was the plan, like Farrells lizard eyed kicks, we were lacking accuracy to pull it off.
Disappointed
At half time, Pivac had to be woken up to be asked more, "if you were coach" questions, while Sam looked like a stern disappointed teacher and Johnson rightly claimed England should be much further ahead, as did the stats.
Wales started well as Rees-Zammit finally pinched an interception and got some grass to show how fast he can be, but nowhere near as fast as Mathieu Raynal was to award Sinkler's try under the posts beneath a pile of bodies. But fast, Wales were not.
The effort was undeniable, young and old were clearly trying, Faletau breaking lines, Tuperic's heroic tackle count, Refell's try saver but tactically, why we kept gifting England's back line right to the very end was baffling.
Dad by this point was getting annoyed at my rhetorical scum complaints, muttering and refusing to repeat his answers, while mam had begun scrolling social media offering other's unwelcome opinions and I wished we had gone to the pub.
At least there, complaints and gripes are taken as a post-match cathartic right, answers are rarely offered, but dad's optimism is waning as he tries to make sense of it all.
At the end of the match one passage summed it up, an energetic Tompkins took the ball in and was held up by Farell and gave away a scrum, with Tompkins claiming, "I was on my knees!", yes we are, Nick, yes we are…cut to Gatland looking up the replay, but is it a replay of 2003, the last time we lost all of our matches?
10-20 but it should have been more. We were poor but England weren't great either.  The table shows us at the very bottom with -60 points. Even Italy has -30 but their playing is a joy to watch at least.  There's no joy in this.
"What a tremendous game…stroll on," says Dad, manoeuvred his leg, "I'm seizing up."  As Ken signs into another interview, I follow dad to the kitchen where he starts stirring dinner with a wooden spoon.
That's it, I'm done with the metaphors.
---
Support our Nation today
For the price of a cup of coffee a month you can help us create an independent, not-for-profit, national news service for the people of Wales, by the people of Wales.