Opinion
The right wing wants to target the sick. What we really need is a fairer UK economy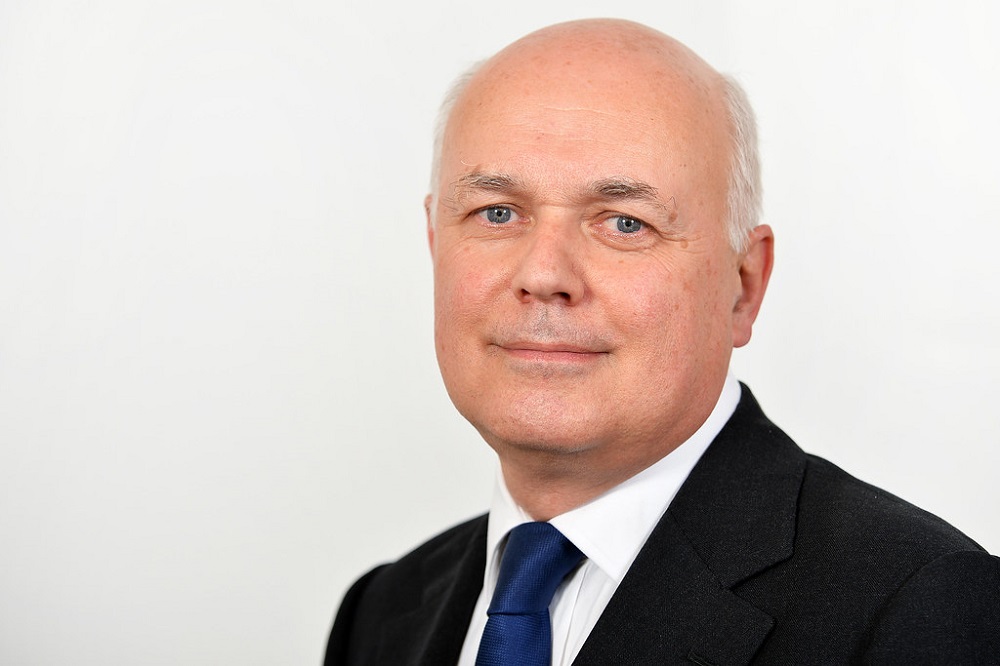 Martin Shipton
According to the Tory-supporting Spectator magazine, the biggest scandal in UK politics is that as many as 5.4m people are being kept by the state on out-of-work benefits.
I agree, but my take on the scandal is different to that of The Spectator, which harks back to what it sees as the golden era of welfare reform when Iain Duncan Smith was Secretary of State for Work and Pensions between 2010 and 2016.
Duncan Smith has long been one of my least favourite politicians, so when his name is invoked in favour of a particular policy, my instinct is to be not simply suspicious, but positively hostile.
For many years he was seen by the Conservatives as something of a guru on welfare matters – the author of what those on the right of the party saw as a programme to deal punitively with benefit claimants in a way superior to that of Margaret Thatcher, whose attempts to tackle the issue were never more than half-hearted in comparison.
Mrs Thatcher's spending cuts and attacks on "the enemy within" like the mining industry certainly resulted in millions of job losses. But much of the money that was supposedly saved was squandered on welfare benefits that had to be paid to those who were banished from the employment market.
Duncan Smith's solution – implemented when he entered the Cabinet in the Tory-Lib Dem coalition that came to power in 2010 – was to put the squeeze on benefit claimants in a way that hadn't been attempted with such zeal since the Depression years of the 1930s. This resulted in social misery for many, not least in the poorer parts of Wales.

Deranged
I've interviewed Duncan Smith on two occasions, the first time during his two years as Conservative Party leader between 2001 and 2003. I quickly formed the opinion that he was just as humourless and dull in person as he was on TV, but also that he was slightly deranged – a conclusion I reached when he sought to portray Rhodri Morgan, then First Minister, as a dangerous Marxist.
My second interview with him, months after taking office in David Cameron's Cabinet, remains more vivid for me. During a brief trip to south Wales, he visited a rehabilitation centre for alcoholics, drug users and sex workers at Abertillery. Appropriately, the centre had been built during the Victorian era, and Duncan Smith addressed those undergoing rehabilitation as if he was the manager of a workhouse run on Spartan lines. His level of condescension towards those he doubtless regarded as "fallen" men and women was off the scale and he could have ad-libbed his way through the entire screen adaptation of a Dickens novel.
Despite being a backbencher since 2016, Duncan Smith continues to have influence and last week he was praised by The Spectator magazine in a special report it published about a rise in the proportion of people claiming sickness benefits, especially due to mental health conditions like stress and depression.
Introducing a searchable database on its website covering every local authority area in the UK, The Spectator's editor, Fraser Nelson, wrote: "It shows that now, with a worker shortage crisis so acute that immigration has been running at a million a year, 5.4 million are being kept on out-of-work benefits. This figure includes those on sickness benefit who are excluded from the official unemployment figure.
"It's a huge waste of money but, far worse, a waste of human potential. Tens of thousands are, once again, being written off. The progress of the Iain Duncan Smith era was washed away by lockdown and things are back to where they were. And things are expected to get much worse."
Signed off
Fraser contrasts the availability of jobs in cities with the numbers signed off as too sick to work: "In our great cities, the situation is stark. In Glasgow, Liverpool and Manchester one in five people in the working-age population are claiming out-of-work benefits. You can go to these places and see employers crying out for workers: Adzuna shows 11,000 jobs in Glasgow at an average £35,000 each. Liverpool has 9,000 jobs averaging £34,000 each. Manchester offers 22,000 jobs at £39,000 annual average.
"But let's juxtapose this against the working-age population of each city that is on out-of-work benefits. 7.6% of Glasgow is on incapacity benefit while 11.3% of the city on the workless component of Universal Credit (what used to be known as Jobseeker's Allowance) — so 19% in all. Almost one in five. It's a similar picture in Manchester and Liverpool, but higher at 23% in Middlesbrough and 25% in Blackpool.
"The new problem is sickness benefits claims (especially mental health). Far too many are being written off, now, as unfit for any work. This is not just a waste of taxpayers' money but, worse, a waste of human life and potential. The vacuum in the labour force sucks in immigration which, in turn, puts pressure on public services. To fix welfare would be to remedy the root problem. But to do so is often the toughest task in politics, as you can be accused of being cruel to the most vulnerable.
"It's often easier, politically, to abandon these people and grow the workforce by immigration rather than try to set up the support and advice that is needed by the 5,000 a day who have been claiming sickness benefit, a figure that has doubled since the lockdowns."
Abuse
The right-wing narrative, then, some of it explicit and some implicit, is that in cities, there are large numbers of pretty well paid jobs laying vacant at the same time as an increasing number of people are being signed off as incapable of any work as a result of health problems – and that the state should come down hard and stop such abuse.
I see various red flags here. Firstly, The Spectator is placing enormous faith in an online private sector employment agency for its rosy view of the employment opportunities on offer. When I visited Adzuna's website, I received a calculation telling me that there were 2,140 jobs available within 10 miles of Grangetown, Cardiff. In fact the first seven opportunities were all McDonald's jobs, with the first one mentioned being that of a crew member at Duffryn, Newport, a difficult place to get to without a car, and with remuneration of between £8 and £10.50 per hour.
The next 64 (yes, 64) jobs were with a chilled food company, the first being at its plant in Rogerstone, near Newport, working 11 hour shifts a day for £9.91 per hour, starting at 7am. To catch the first train in the morning I'd have to leave home at around 5.45am, be lucky enough to get a bus to the station, assume the train was on time and then walk 17 minutes from Rogerstone station to the factory, arriving with three minutes to spare before the shift starts. This seems like a recipe for exhaustion, if not worse.
Blaenau Gwent
As for the other side of the equation, the DWP's statistics show that Blaenau Gwent – ironically the constituency containing Duncan Smith's "workhouse" – has the highest rate of incapacity or sickness claimants at 9.3% of the working age population. Together with the other categories of economic inactivity, the workless proportion of the population is 23.0%, the third highest in the UK.
Alun Davies has been the Welsh Labour MS for Blaenau Gwent since 2011. He told me: "The high levels of economic inactivity in my constituency and elsewhere are the result of poverty brought about by a highly centralist economic policy agenda pursued in the UK for 100 years and designed to benefit London and the south east of England.
"I believe that radical change will be necessary to make things fairer. This will include distributing UK Government resources so they are based genuinely on need rather than on a population calculation – in other words getting rid of the Barnett formula, which was devised as a temporary means of distributing money to Scotland, Wales and Northern Ireland in 1978. Other regions of England would benefit from this kind of needs-based redistribution too. To achieve this, I would break up the Treasury, which is highly resistant to reform.
"I would like to see an incoming Labour government elected next year recognising the need for such a redistribution and committing itself to radical change of this kind."
Over-centralisation
Mr Davies' analysis of the damage caused by the over-centralisation of the UK economy is correct, in my view, but there are other points to be made too.
It's not plausible to attribute the rise in economic inactivity to the impact of historic heavy industry. The industrial diseases which affected those working in the mining industry, for example, don't have much saliency today.
Whole swathes of jobs are being swept aside in a new technological revolution and fresh opportunities are harder to come by outside the EU and the single market. Poverty – and the lack of a perceived way out of it – leads to bad physical and mental health. The pandemic made a negative situation even worse.
Radical change is needed – but not of the punitive kind favoured by the right wing. For as long as Wales remains part of the UK, we have a tangible interest in changing it for the better.
Whether Keir Starmer's Labour Party has the inclination or the ability to effect such change if, as expected, it wins the next general election must, however, be a matter of considerable doubt.
---
Support our Nation today
For the price of a cup of coffee a month you can help us create an independent, not-for-profit, national news service for the people of Wales, by the people of Wales.