Opinion
Watch out kids! Michael Gove is gunning for your parents
//= do_shortcode('[in-content-square]')?>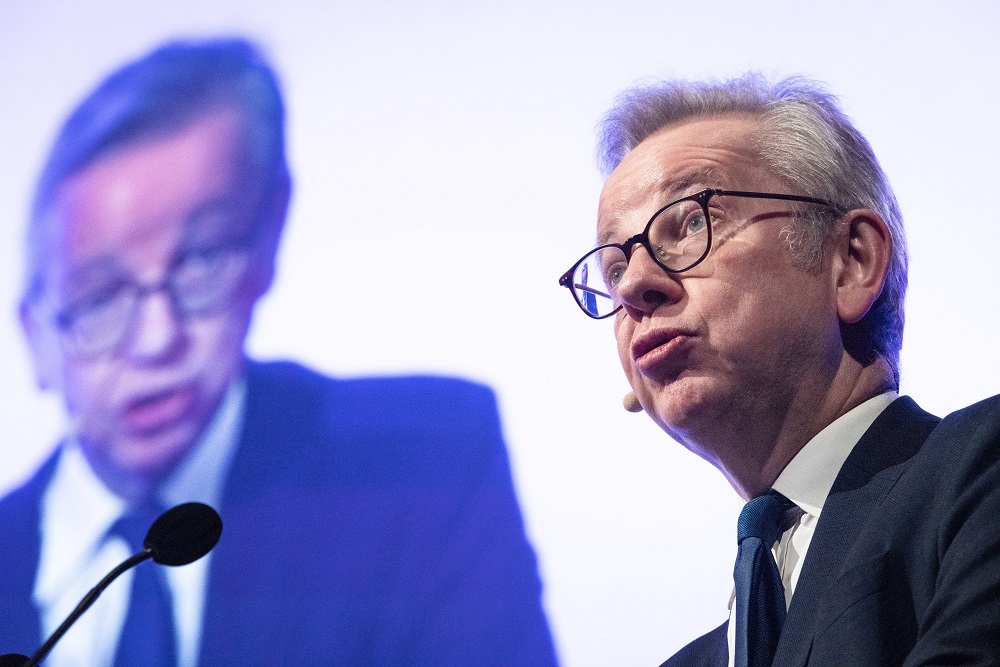 Ben Wildsmith
When Rishi Sunak was writing prize essays at Winchester School calling for the UK to leave the European Union, he can't have imagined that he'd end up hawking sovereignty round the streets of Belfast like knock-off aftershave.
His new, improved Brexit now comes with Single Market membership for Northern Ireland so the Del Boy of Downing Street is left in the unenviable position of selling Brexit with 50% less Brexit.
All the high-priced edumacating that the PM's folks invested in him seems not to have provided him with the awareness that telling 'You guys' (on this occasion the people of Northern Ireland) that they are in 'an unbelievably special position' thanks to Single Market access is not going to go unnoticed by the rest of us guys who aren't.
It strikes me that Sunak isn't a solipsistic ethics-vacuum like Johnson; nor is he a froth-mouthed zealot who would sit easily in the ERG. His position, however, is entirely defined by their combined malfeasance and idiocy.
Like Theresa May before him, vanity and ambition have led him to ignore the evident truth that there is no advantageous outcome to Brexit that will satisfy the people who still believe in it. Northern Ireland is where theoretical politics meets reality.
Hare-brained plans might meet elevated grumbling here in Wales, perhaps peaking with a march by a few hundred people down Queen Street. Get it wrong in Belfast and bullets can start flying without notice.
With that risk-assessment in place, it is telling that we have heard very little infantile squealing this week from Mark Francois, Bill Cash, Steve Baker et al. There are times, it seems, when the draping of a union flag over a problem seems unwise even to them.

'Vindicated'
With the room finally occupied by adults, the safest solution to Brexit for Northern Ireland was deemed to be as little Brexit as possible. It will be interesting to see if that idea gathers momentum elsewhere.
Johnson, of course, ran his potential objection to Sunak's protocol up the flagpole to see if it rallied support for his return to the top table. That it didn't may indicate that we are finally seeing the end of a career that would be considered a disgrace by anybody capable of feeling shame.
With his behaviour during lockdown once again under scrutiny, he responded to the charge that he had misled Parliament with the typically unsubstantiated boast that he had been 'vindicated'.
For Johnson, the term 'vindicated' is indistinguishable from 'got away with it' and that he was allowed to get away with so much for so long is how history will explain a great deal of the grave problems facing us all now.
It should be a matter of alarm that the opposition is proposing no constitutional reforms to facilitate the removal of bad actors from power.
Exacerbate poverty
Character, though, is for little people. Whilst Johnson sails off to millions on the speaking circuit, and Rees-Mogg is rewarded for lying to the queen with his own show on GB News, Michael Gove is preoccupied with the parents of truanting children.
Another Brexiteer who found it convenient to keep his mouth shut about Northern Ireland this week, Gove suggests that benefits be withdrawn from the parents of children who miss school regularly.
Whilst this seems straight out of the worn Tory playbook ‒ see also teenagers becoming pregnant to secure council flats ‒ Gove's particular take on it is revealing.
To begin with, we have his blithe assertion that the parents of truants are reliant on benefits. He has crafted a solution to a problem that, by definition, only addresses it as it relates to the poor. If, though, we were to accept his proposition that truancy arises from poverty, then his solution to it is to exacerbate poverty.
So, in a crowded field, this week's exemplar of Tory governance goes to Michael Gove. Ignoring entirely the week's significance for Brexit, of which he was a principal author, Mr. Gove chose instead to propose a policy that, by its own logic, cannot work.
He managed to incorporate stupidity, cruelty and self-interest into his offering and impressed the judges with his willingness to demand punctilious responsibility from the public whilst evading all accountability himself.
Well done Mr. Gove.
Matt Hancock was ineligible for this week's prize due to imminent incarceration.
You can find more of The Shrewd View and the rest of Ben's writing on Nation.Cymru by following his links on this map
---
Support our Nation today
For the price of a cup of coffee a month you can help us create an independent, not-for-profit, national news service for the people of Wales, by the people of Wales.