Opinion
Who wants the poisoned chalice of the Plaid leadership now that Adam Price has quit?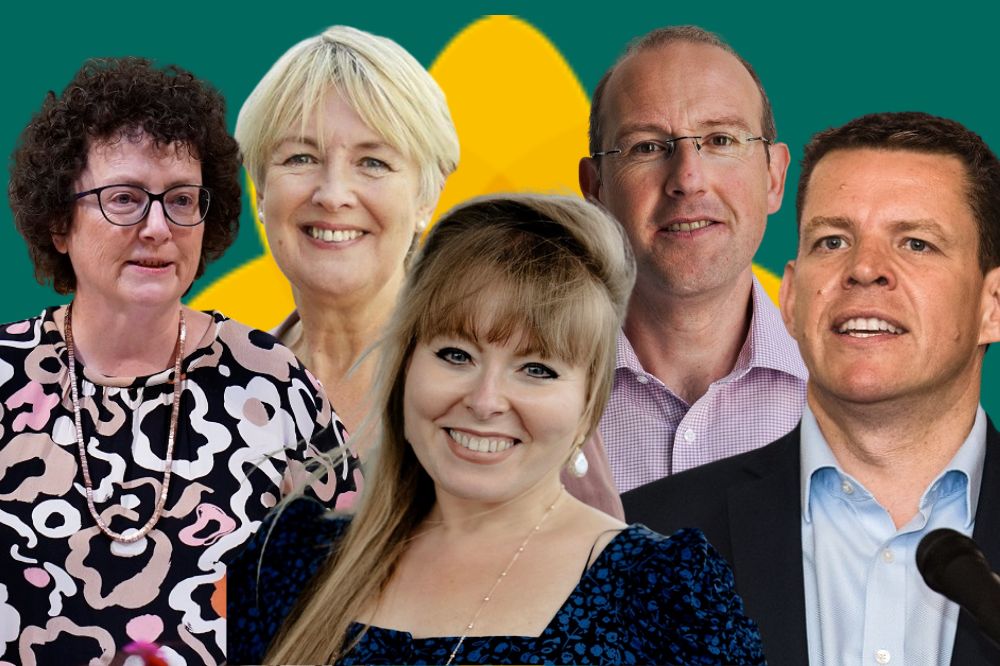 Martin Shipton

As poisoned chalices go, few could be more toxic at present than taking on the challenge of leading Plaid Cymru.
There were immensely high hopes for Adam Price when he won the last leadership election in 2018.
In winning the contest he humiliated his predecessor Leanne Wood, who despite seeking re-election was pushed into third place behind Mr Price and Rhun ap Iorwerth, a former BBC journalist who now represents Ynys Môn at the Senedd.
Ms Wood herself had been seen as an outsider when she surprisingly became leader in 2012 at a time when Plaid Cymru was once again in the doldrums after performing poorly in the previous year's election and being ejected from government after serving in a coalition with Labour.
Ms Wood, as Plaid's first leader who wasn't a fluent Welsh speaker, was initially seen as someone who could finally act as the catalyst required by the party to supplant Labour in the Valleys.
But she didn't live up to her early promise, with critics accusing her of devoting too much energy to niche issues rather than devising a credible plan to improve Wales' economy that would appeal to the wider electorate.

Freedom
The party's MPs were also scathing about her apparent inability to offer leadership over how to negotiate the Westminster stalemate over Brexit.
Mr Price had long been seen by many in Plaid as the party's greatest hope, who really would be able to take Wales forward to independence.
He had charisma, was an eloquent and persuasive speaker – a talent he had learned as a young lay preacher in his native Carmarthenshire – and was able to inspire his audience to believe that he could lead Wales to its freedom.
Sometimes he went over the top – like the occasion when he described posting his referendum ballot paper from Boston while he was a student at Harvard as if it was a momentous event of historic significance – but it was all part of the theatricality he used to enthuse party members who had suffered countless disappointments over the years.
In the run-up to his election as leader, he set out a plan to take Wales to independence in little more than a decade. The first task was to lead a government after the 2021 Senedd election, then to prove that such a government could make Wales a better place, then to win a second term in 2026 and before the election after that to persuade a majority to vote for independence.
It was always, in truth, a tall order, but one that Mr Price, at least initially, gave the impression that he passionately believed was achievable.
For the well-meaning idealists who formed the core of the party's membership, he was the real deal. What made his vision so compelling was that, as a trained economist, he went beyond romantic nationalist rhetoric and set out some innovative policies aimed at improving Wales' prosperity.
Reassurance
He was doubtless helped in this by the fact that the home patch where he was brought up straddled the borderland between rural and industrial Wales.
To get his messages across to a wider audience, Mr Price courted the London media, of which he'd had experience as an MP years before, writing op-ed pieces for the Sunday Times and persuading network TV programmes to invite his participation.
He did so in the knowledge that many people in Wales pay less attention to Welsh media than one would like them to.
But then the plan went adrift. To a large extent he was thrown off course by Covid. First Minister Mark Drakeford, who took office three months after Mr Price became the leader of Plaid, was at first seen by many as too lacking in charisma for his role, coming across as a professor rather than as a politician.
Yet with his daily TV appearances at a lectern during the pandemic, he encapsulated for most in Wales the epitome of reassurance, in contrast to the bumbling insincerity of Boris Johnson.
That's not to say that mistakes weren't made in Wales – of course they were – but the perception was in Mr Drakeford's favour, with Adam Price as good as airbrushed from the scene.
But Mr Price's decline is about more than Covid. As time went on, there were fewer inspirational speeches, less pungency to his performances at First Minister's Questions and an increasing sense that he was sometimes just going through the motions.
The 2021 election was, yet again, a huge disappointment for Plaid Cymru. Instead of moving forwards, it was confirmed as the third party of Wales behind the Conservatives.
Ms Wood lost her seat in Rhondda and the dream of making inroads in the Valleys came to nothing again. To add insult to injury, not even Mr Price's Plan B was a runner.
Plan B would have entailed entering a coalition with Labour on a genuinely equal footing, preferably with Mr Price as First Minister for half the term like the alternating Taoiseachs in Ireland.
Such an outcome would have given Plaid a powerful influence over the Welsh Government's policy agenda. This was seen as a plausible outcome, but after the votes were counted the maths didn't stack up and Labour was able to govern alone.
Plaid negotiated a cooperation agreement with Labour, but the party had no ministers and the policy areas covered were limited. Many of those voters who took an interest found the ambiguity puzzling.
Fester
Instead of striding forwards with his team towards independence, therefore, Mr Price found himself stuck in opposition for another five years. It hasn't been difficult to discern that he's not been enjoying himself.
The poor election result has allowed bitternesses to fester, Leanne Wood has never really come to terms with her defeat by Mr Price in the 2018 leadership election.
Her supporters, who effectively control the party's national executive committee, haven't made life easy for him. Some of the grassroots "Leannistas" have not been shy about expressing schadenfreude over Mr Price's plight in recent days.
But overshadowing all of this has been a succession of allegations made by people in the party that there has been a toxic culture where sexual harassment and bullying has effectively been tolerated.
The damning report from former Assembly Member Nerys Evans made Adam Price's position untenable. It's probably fruitless to speculate whether this point would have been reached if Plaid had made a triumphant return to government in 2021.
The challenge facing whoever becomes the new leader is truly Herculean. The party's reputation has been dragged through the mud and detoxifying it will not be easy.
No wonder none of its MSs seem to be chomping at the bit to step into Mr Price's shoes. The old adage that people within political parties hate each other more than they hate their opponents has come into its own in Plaid Cymru.
Yet there are many loyal party members far away from the machinations of Cardiff Bay who feel bewildered at what has been going on.
Things won't get better for Plaid until the sexual harassment, the bullying and the factional manoeuvring – all of which are elements of the same toxic culture – come to an end.
Next leader
It will be interesting to see who comes forward to stand as leader – a post that can only be held by a Senedd Member.
Rhun ap Iorwerth, the runner-up last time, might seem the obvious successor, except that he wants to go to Westminster and has been selected to stand for Ynys Môn, the seat he currently holds at the Senedd, at the general election.
How susceptible might he be to arm twisting in his party's hour of need?
Some have mentioned Elin Jones, currently serving her second term as Presiding Officer. But she was a losing candidate in 2012 and may well consider it madness to relinquish her current role for what in comparison would surely be a nightmare posting.
Two other MSs – Siân Gwenllian and Llŷr Gruffydd – have been at the Senedd for seven and 12 years respectively, giving them the advantage of having some experience. It's fair to say, though, that neither has been touted as a serious leadership contender in the past.
Six of the remaining Plaid MSs were first elected as recently as two years ago. None of them, at least for the time being, look like leaders.
The one remaining MS in the Plaid group is Delyth Jewell, who joined the Senedd after the tragic death from cancer of Steffan Lewis.
Ms Jewell has been spoken of as a potential leader and a senior Labour politician once commented, for what it's worth, that a Plaid Cymru led by her could possibly pose a genuine challenge to Labour.
Eradicating the toxic culture is an urgent priority for whoever becomes the new leader, but that won't in itself win elections.
Politicians should be ambitious for their party and their country.
Do any of Plaid Cymru's potential leaders have the vision to pull it out of its current troubles? For the moment that remains an unanswered question.
---
Support our Nation today
For the price of a cup of coffee a month you can help us create an independent, not-for-profit, national news service for the people of Wales, by the people of Wales.