Opinion
Why I am supporting World Duchenne Awareness Day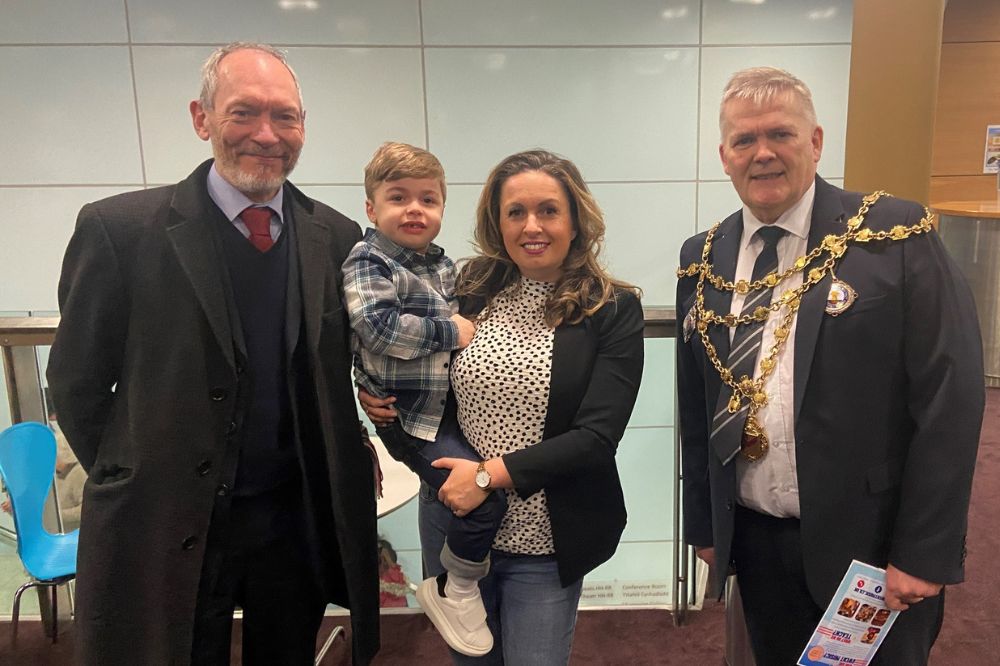 John Griffiths MS
If you asked people in Newport city centre, what they knew about Duchenne muscular dystrophy (DMD), I suspect the majority would know very little or even look at you blankly. Before this year I didn't know much either. This was till I met 5-year-old Elliot and his mum Lucy, who is campaigning to raise awareness of the condition and bring clinical trials to Wales, where at present there aren't any.
DMD is a severe muscle wasting condition (mainly affecting boys) that causes progressive muscle weakness and is triggered by a lack of a protein called dystrophin. This leads to muscle fibres breaking down and being replaced by fibrous or fatty tissues, meaning the muscle gradually weaken. Some of the symptoms include difficulties running, jumping and climbing stairs, difficulty getting up from the floor and a waddling gait (walking on their toes with an arched lower back). The majority of those with Duchenne, sadly don't live beyond their twenties and thirties.
When I was first introduced to Elliot and Lucy, I saw them at the Llanwern Bull, one of our local eateries in Newport. Whilst his mum and I chatted, Elliot was playing in the children's area. As well as being a politician, I am also a grandparent and away from the Senedd, I spend lots of time with my grandchildren. My youngest is close in age to Elliot. Hearing his story and what the family have had to go through has been very moving and it has only drove my determination to help campaign for them and other families across Wales.
Duchenne is a rare disease and affects around 2,500 people across the UK – but the fact that it is rare, mustn't mean it should be forgotten. Today is World Duchenne Awareness Day (7th September) and it's why I am so pleased that many Welsh councils and organisations have agreed to light up their buildings to mark the day – from Penarth Pier to Cardiff Castle to the fairytale setting of
Castell Coch in Fforest Fawr, all of which (and many more) will be lit up in red tonight in support of children like Elliot and others in Wales who have this condition.

No cure
Raising awareness is only one half of the job though. At the moment, Elliot and his family are having to travel regularly from Newport to Newcastle – a journey by car, which can take more than seven hours for a clinical trial because there is nothing yet in Wales. Sometimes the trial will simply just involve a quick blood test.
Other families are in a similar situation and through working with organisations like Duchenne UK, Health & Care Research Wales and pressing Welsh Government, I am optimistic we can start to change this. Following a recent meeting of the Senedd's Cross-Party Group on Medical Research,
there have been some encouraging conversations between Lucy and the Paediatric research leads in Wales about bringing clinical trials and Duchenne specialism here.
Time is very much of the essence though! At present, no cure has been discovered for Duchenne. This is of course a worry, but the good news is that lots of research (some of it very promising) is taking place in this field. As a Member of the Senedd, my job is to ensure policy makers continue to
take this condition seriously, so those with the condition see better health outcomes as they progress into young adulthood.
I want to end by going back to World Duchenne Awareness Day. This year's theme is "Breaking Barriers" and that is because of the physical, healthcare and social barriers those with it face. It's so important we all take on some responsibility to help break down barriers for people living with Duchenne.
To learn more about the condition and show your support click here.
---
Support our Nation today
For the price of a cup of coffee a month you can help us create an independent, not-for-profit, national news service for the people of Wales, by the people of Wales.