Opinion
Why I marched for Gaza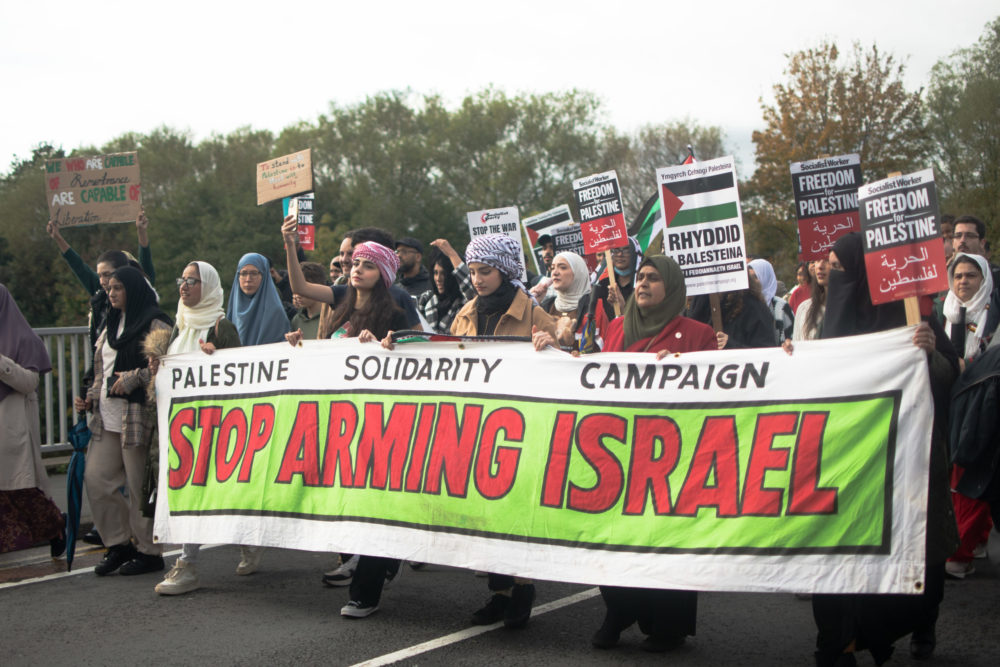 Adam Johannes
The majority of Tory and Labour MPs overwhelmingly support Israel's war on Gaza, while the latest YouGov poll shows the majority of the public overwhelmingly wish to see an immediate ceasefire.
This weekend I attended a political demonstration in Cardiff, part of a day that saw an estimated 300,000 people march across the UK for Palestine in what may have been the biggest wave of anti-war protests in Britain in twenty years.
I have been an organiser in the Welsh peace movement over several years, and a supporter of the Palestinian cause for over two decades. So when somebody once emailed me asking how and why I was such an ardent advocate of Palestinian freedom, they seemed taken back when I mentioned that I had actually once been ardently pro-Israel. I would like to share my reply to explain why I changed my mind and why I now march for Palestine:
When I was growing up the creation of the State of Israel seemed to me a noble endeavour. Historical events like Israel's 1948 war of independence seemed glorious like the battle of Masada in 70 AD or the Warsaw Ghetto Rising, Jews again courageously fighting against impossible odds, only this time with a happy ending! My religious upbringing made the return of Jews to Israel after 2000 years seem natural and right.
Palestinians who had lived there for centuries didn't really exist in my mind. I thought how Israel treated them wasn't great, but it was very vague to me who the Palestinians actually were, and besides there had to be an Israel because of the Holocaust, and maybe Israel only acted like it did sometimes because all the surrounding Arabs wanted to drive the Jews into the sea!

A miracle
My late mother once described Israel to me as a 'miracle'. They had made the desert bloom. She described her feelings of anxiety as a teenager in England during the Six Days War and joy afterwards. This new society I once believed had even created experimental socialist communities called the Kibbutz where I hoped to spend the summer of my 18th year.
I remember as an 18 year old philosophy student, a woman who became one of my most cherished friends at the time had just arrived from France, she was Jewish and mentioned she was looking for where the synagogue was. She said even though she wasn't particularly religious, it was important for her personally to be connected and preserve her religious tradition and culture because 'they tried to exterminate all of us'.
My father brought me up with a strong sense of identification with Jewish oppression. The bookshelves in our home were well stocked with Jewish writers like Isaac Bashevis Singer, Primo Levi, Martin Buber, and I was encouraged to read the diaries of Anne Frank and Victor Frankl's book 'Man's Search for Meaning' based on his experiences as a survivor of a death camp.
He loved old films like Assisi Underground, about how Italian Christians had hidden Jews from the Nazis. I still believe that the Holocaust should never be forgotten and the lesson from history must be 'Never Again' for anyone, and it makes me feel sick when even today you sometimes hear people spouting outlandish conspiracy theories about Jews controlling the banks, media, America, the world and so on.
My father had grown up part of the post-war generation in the shadow of the Holocaust and had seen Jewish schoolfriends in London still suffer antisemitism. With good intentions then my father till recently was strongly pro-Israel and I remember him once being upset when I told him that he had got it all wrong and it was the Palestinians who were the underdog. An argument erupted where we both shouted angrily accusing each other of being a racist. He said I was racist because I said Israel had no right to exist. I said, no you are the racist supporting an apartheid state.
Biased
But that was later, I remember the week after 9.11 getting involved in the emerging anti-war movement and meeting socialists and Muslims who were very pro-Palestine. At first they seemed very biased to me, I felt they were way too one-sided never highlighting Palestinian suicide bombers and a bit extreme. Some even said Israel shouldn't really exist though I was relieved to discover they didn't want to drive Jews into the sea, but rather said that Arabs and Jews could live together and we shouldn't concede the racist idea that they couldn't.
I also discovered that in the socialist group I had joined that its founder was Jewish and there were many other articulate veteran Jewish campaigners in the party who always took the side of the Palestinians. At the same time it was hard to oppose America and Britain occupying Middle Eastern countries and not notice what was happening to Palestinians.
But I was still confused. I would try to follow debates between supporters of Israel and Palestine but they always seemed filled with facts and figures, claims and counterclaims and I would get bogged down in a tangled web of history that I couldn't navigate.
Finally in exasperation I went to Cardiff Central Library and over six months read virtually every book they had on Israel/Palestine from every perspective, Zionist, liberal Zionist, anti-Zionist, left wing, right wing, Pro-Palestinian, anti-Palestinian. I read book after book.
I remember slowly noticing that the Palestinian narrative of what had happened had more logical coherence than the Zionist narratives I was reading which seemed to lie on key facts. For example, one famous book absurdly arguing that actually there had been no Arabs in Palestine and that they had come to the empty land only after the beginning of Zionist colonisation attracted by the economic development created by Zionist settlers.
I remember the first eureka! moment when it finally clicked what the conflict was about, and that far from being complicated as most people I knew seemed to think it was actually really simple.
Palestinians had lived in their houses and on their land for generations. Suddenly other people started arriving from Europe. These people didn't want to live alongside the people already living there as many small Jewish communities had for centuries, but to displace and replace the native Arab population and exclude them and drive them off their own land.
There are complications that the settlers were often themselves fleeing an existential threat or leaving societies where they had suffered racist persecution, but the central truth that Israel could only be created and then maintained on the basis of racist violence towards Palestinians became clear to me, and from that point I was an advocate for Palestine, or rather became one only after the second eureka! moment.
Humanise
This was reading an anthology of writings by a Palestinian intellectual freedom fighter, Edward Said, in essays like 'Zionism from the Standpoint of Its Victims' he calmly and eloquently – while refusing to compromise on his own people's history, experience and national rights – sought to also humanise and understand his oppressor arguing that a common future lay in creating a dialogue between two people's histories and narratives to move forward.
It was Edward Said's deep humanism and positive vision of coexistence that could liberate the oppressor and the oppressed alike that finally won me to realising that like the U.S. civil rights movement or anti-apartheid, Palestine was a universal struggle for universal human rights that anyone who believed in justice had to support. Edward Said believed Arabs, Muslims, Christians and Jews would one day live as equals in one democratic state of Palestine-Israel stretching 'from the river to the sea'.
And it is this principle of Arab-Jewish coexistence on the basis of equal rights that continues to flame my political imagination.
Edward Said always loved to quote these words of Carribbean poet Aimé Césaire –
"And no race holds a monopoly of beauty, of intelligence, of strength, and, There is a place for all at the Rendezvous of Victory."
---
Support our Nation today
For the price of a cup of coffee a month you can help us create an independent, not-for-profit, national news service for the people of Wales, by the people of Wales.