Opinion
Why I support the Welsh Govt's new 20mph default speed limit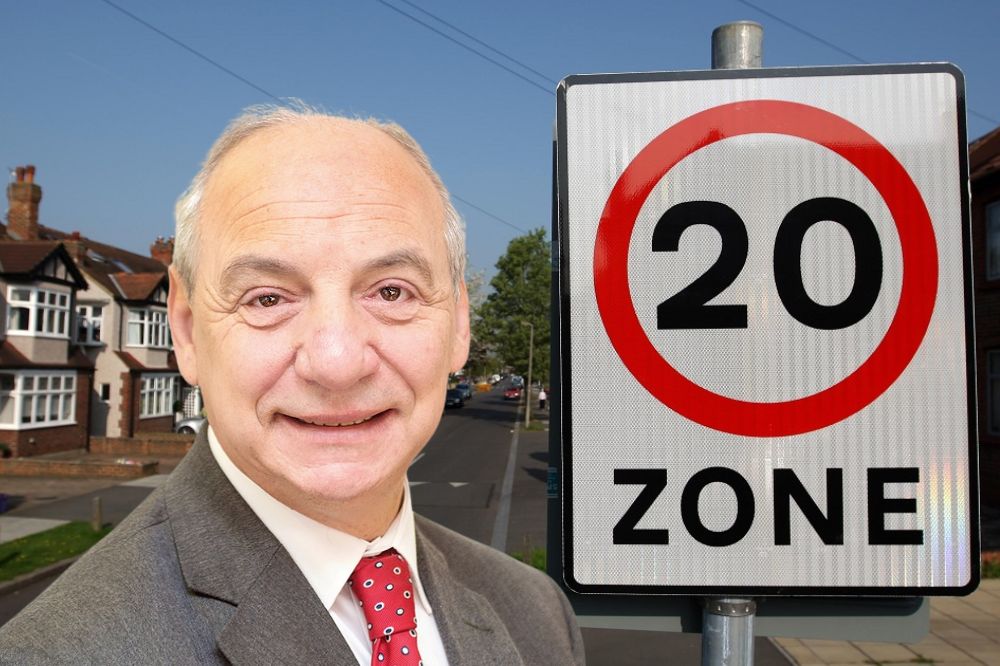 Mike Hedges MS for Swansea East
I am writing this from my constituency office and not a hospital bed because I drive at 20mph or less on residential roads.
Twice in the last month I would have been in a serious accident if I had driven at 30mph.
The first was on Pleasant Street where my office is situated. Pleasant Street, like lots of roads in streets made up of terraced houses with no off street parking, is essentially a one lane road with passing places in between the parked cars.
A car drove up at 30mph which was inside the current legal limit. I was travelling down at 15mph, and we stopped about a metre apart. If we had both been doing 30mph, a head on collision would have been inevitable.
The second incident was when a car pulled out from a parking area near the Guildhall Swansea. Again I was travelling at less than 20mph and I stopped without a collision. At 30mph I would have had a collision.
There is a consensus that 20mph is a suitable speed limit on estate roads, especially by people who are living on them..
When I travel to my office in Morriston, the distance is almost exactly one mile, but the sat nav tells me it will take 5 minutes which is an average speed of 12 miles an hour.
There are motorways where the speed limit is either 50mph or 70mph and these will not be altered. The problem with the motorways is that there are too many junctions close together in Wales.
The M4 has more junctions in Wales than there are in England despite the English section being much longer.
The road system consists of A roads which are major roads intended to provide large-scale transport links within or between areas.
B roads are roads intended to connect different areas, and to feed traffic between A roads and smaller roads on the network.
Unclassified or unnumbered, which are smaller roads intended to connect together unclassified roads with A and B roads, often link housing estates or a villages to the rest of the network.
These are similar, to 'minor roads' on an Ordnance Survey map and sometimes known unofficially as C roads.

Safe
Unclassified are local roads intended for local traffic. The vast majority – over 60% – of roads in the UK fall within this category.
I regularly drive around Swansea and find that I need to drive at no more than 20mph on estate roads where most are effectively single lane with passing points in between parked cars due to cars parked on both sides of the road.
Areas of older terraced housing and council estates where houses do not have a drive mean that people cannot drive safely at 30mph.
There is parking both sides of the road as people seek to park near their home. Even newer estates where there are drives, cars still park on the road especially where drives are either very steep and have a significant slope going down or coming up.
There are areas with large houses that do not have parking on the road which exist in the more affluent parts of Wales.
Roads that are main roads or A and B designated should not have their speed limit changed – unless passing directly in front of an entrance to a school or through a shopping area.
Whilst individual councils will decide the speed limit of each road, I would expect the change to mainly effect unclassified roads.
I was contacted by a constituent who lives in Manselton on a road which is already 20mph.
They accepted that a 20mph speed limit is needed in residential areas and said that they did not wish a return to 30mph on their own street – but they also said they did not wish the speed limit to be reduced elsewhere.
I have also been told you should drive to the road condition, but as the condition is the same for everyone, why do vehicles travel at different speeds.
I would suggest if people think that 30mph is not appropriate for the road they live on, they should petition the council and if over half of the houses in the street do not want the speed limit reduced – it is not.
My experience with discussing this with people objecting to 20mph is that it is usually not for the road they live on, it is for another road they drive on.
Traffic movement at junctions should improve with a 20mph speed limit, but certainly in urban areas, A and B roads exceeding 20mph safely is currently impossible.
Finally, the key to the new 20mph speed limit working is enforcement – as long as the Police and GoSafe enforce 20mph like any other speed limit, then it will work.
---
Support our Nation today
For the price of a cup of coffee a month you can help us create an independent, not-for-profit, national news service for the people of Wales, by the people of Wales.